Kodo & Setsudo Yoshikawa 吉川壺堂雪堂 , The Kanbara, in Snow, Ukiyoe, hand carving Japanese Tokoname Kyusu Teapot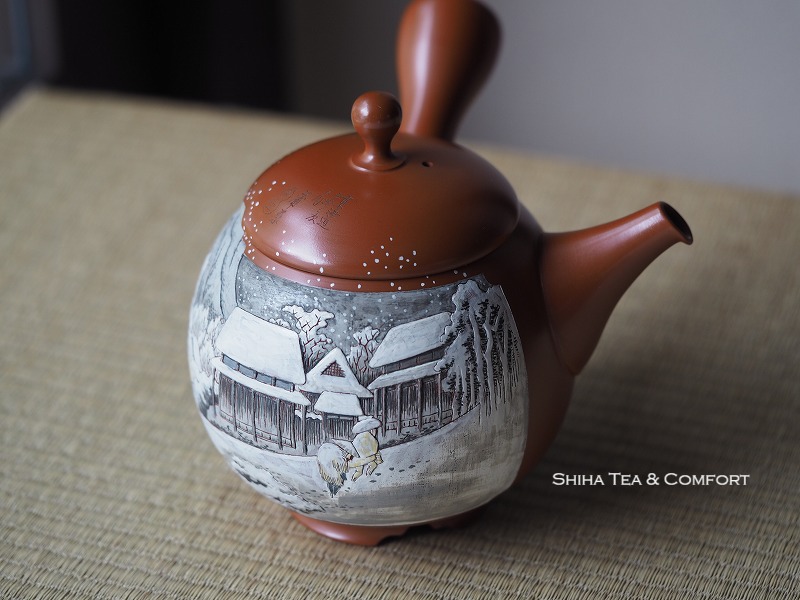 Item ID: YK003 / Status: Sold out
Artist: Kodo Yoshikawa (carving), Setsudo Yoshikawa (teapot)
Box: Wooden box
Brand new. Ukiyoe Kanbara Station out of Fifty-three stations on the Tōkaidō (Edo-Kyoto highway in Edo-period Japan), Hand carving of Kodo Yoshikawa from Tokoname Japan.
Deep white snow at night in old time of Japan, nostalgic and emotional scene.
Kodo Yoshikawa (elder brother, in his early 70's) He carves on teapots.
Setsudo Yoshikawa (younger brother, in his late 60's) He forms teapots.
Teapots of Fifty-three stations of Tōkaidō have been made in Tokoname more than 40 years. The teapots have been collected by many teapot lovers.
Ukiyoe Art of Edo period (approx 200 years ago) and tea culture and clay art were put together in one. It brings you fullness in your mind.
Style of Fifty-three stations teapots has been changed from simple line carving to detail carving with color in the past decades.
Colored teapots are only made with detailed delicate carving. And the delicate carving is only made on fine clay. The surface has to be very smooth.
Setsudo's teapot is well known for the smoothness of surface and silky texture. Kodo's beautiful delicate art carving is only made on Setsudo's teapots. Only Kodo & Setsudo can make this teapots.
No glazing inside/outside, Very good clay of Japan. Good water flow and good stopping of water from spout. Detail work of strainer (hand made holes) .
Kodo's carving technique has been qualified as Important intangible cultural property of Japan. Yoshikawa brother's collaboration teapot is beautiful in eyes and function (brewing)