Koie Hiroshi (Reiko) Silky Red Clay Kyusu Teapot – Shiha Original 玲光朱泥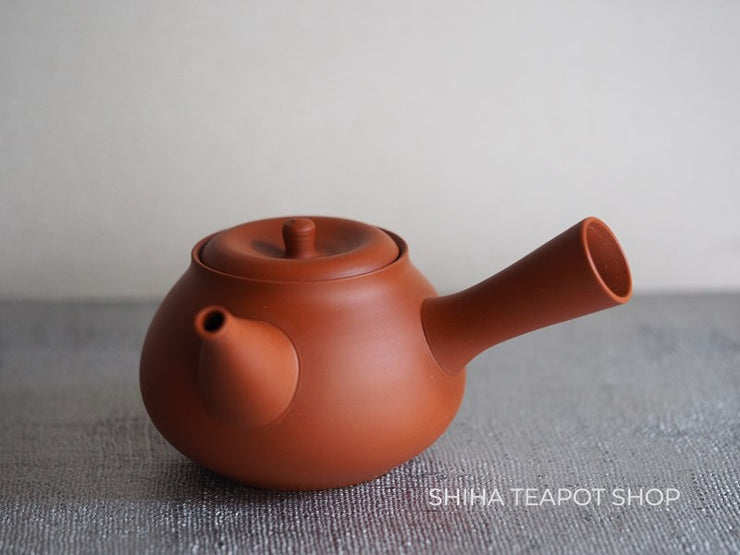 SHIHA TEAPOT SHOP Online Store: https://shihateapot.com
Shiha Original 
This is SHIHA TEAPOT SHOP's  Original teapot. We designed and collaborate with a Tokoname Teapot Artist, Koie Hiroshi. 
Teapot for Tea lovers
Simple, good clay, pretty red teapot with good size (200ml)
Ideal Specification
Water flow is good. Stopping water is good, too.
Lid is just fit – Good feeling of placing lid in the position.
To satisfy tea lovers need, we designed as follows;
* Right-size to brew tea (around 200ml)
* Good clay – Make taste of tea richer (especially green tea)
* Simple – Simple & natural are basic mind of tea.
* Classical – Body Shape, angle of handle are following teapots of old time of Japan. It may bring inner joy. 
Special Red Clay
Reiko's red Clay is very fine. You may able to tell from the photos. 
He mixed clay taken UNDRER THE POND of Tokoname 20 YEARS AGO and one from 40 YEARS AGO. 

After purification, the clay became smooth and fine– and then clay has natural shine(glow) and become more tasteful.  As you use it will have more shine(glow). 
The texture gives you calmness in your mind, every time your eyes catch the teapot, it will bring you a joy. 
The clay make good brewing effect. 
All the process of teapot making has been done by Reiko himself alone. From clay selection/making to firing. Holes on strainer was also made by himself.
 Handmade Filter Production (You Tube)
The shape of the filter is molded out of square, thin, still soft clay, and holes are drilled by hand, one by one. The tools are specially made for this purpose. The size and shape of the holes are based on years of experience and suitable for Japanese tea culture (considering various types of green tea). The number of holes and the direction in which the holes are drilled are also important. There are many techniques that go into making a beautiful and functional kyusu.
Artist: Koie Hiroshi (Reiko)
Koie Hiroshi has been accredited as the holder of Intangible Cultural Property by Tokoname City of Japan.
His style of works is CLASSICAL and ELEGANT. Not only total impression, even detail parts (lid, lid knob, openings of teapot, curves…) have the taste. It satisfies your aesthetic sense.

He makes tea ware for Sencha tea ceremony. It means that his works are selected and used by masters of  Japanese Sencha Ceremony. Only selected artists and studios make tea ware for Sencha tea ceremony in Japan. 

Please read about Senchado tea ceremony ware. https://shihateacomfort.com/reikocups/