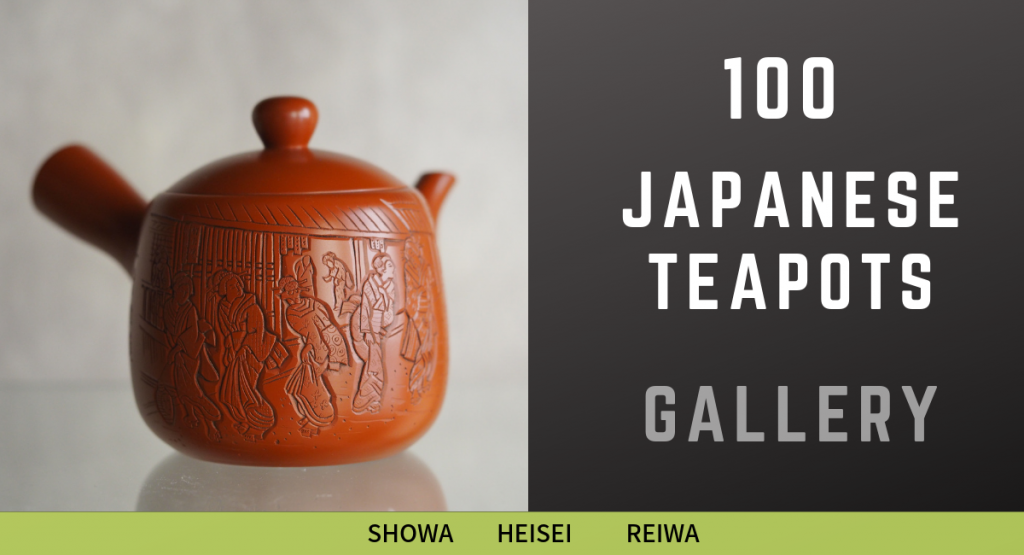 SHIHA TEAPOT SHOP – Online Store : https://shihateapot.com
Shiha Tea & Comfort is Japanese Teapot shop in Tokyo, Japan. We would like to share 100 lovely & traditional Japanese Handmade Teapots. Those are handmade & made in Japan, mainly Tokoname-yaki, Kyo-yaki(Kyoyaki) and Banko-yaki.

Japan produces excellent teapots along with the deep tea culture and long ceramic history. Some of the teapots in this page are for sale. Please check our online shop.
我們是一家在東京的日本茶壺店。给大家分享一下日本精美茶壶。日本的悠久陶瓷历史和深远茶文化为基础,现代作家们制作精美茶壶。我们网店也介绍各种茶壶。欢迎来看看。
Current Situation and Background of Japanese Traditional Handmade Teapots
Some of the teapots shown in the video and on this page may no longer be produced. Like other traditional Japanese crafts, the Tokoname-yaki teapot industry is suffering from a lack of successors.
The potters (teapot artists) who make handmade teapots introduced in our store are very skilled craftsmen who have been making teapots for over 40 or 50 years, and their techniques are now at their peak.

Most of them are in their 70s. For about half a century, they have thoroughly thought through the tea culture, people's life and values of each era, preserving tradition incorporating new beauty, changing some things, leaving some things unchanged, and "protect" and "challenge" have been continued.
All of the teapot artists you can see on our website(blogs) have make the same effort to create wonderful teapots that are both functional and beautiful.
SHIHA TEAPOT SHOP has been introducing many photos and contents for over 10 years in order to convey the charm of these artists and their works to the world.
Beautiful Japanese Traditional Teapots (YouTube Version)
---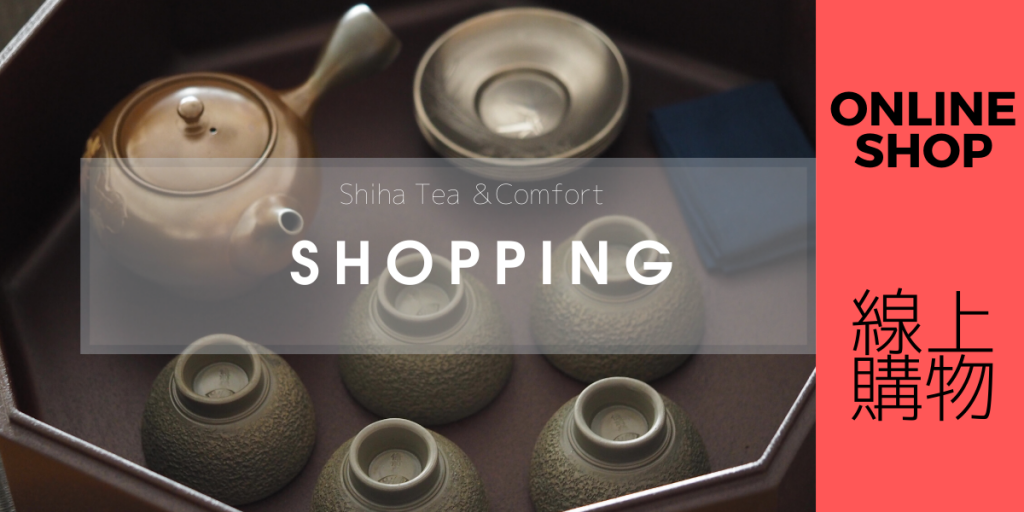 100 TEAPOTS, 100 BEAUTIES 百壺百美
Graceful red clay teapot with Maple. Artist: Housei Yamada & His mother (carving) (Tokoname)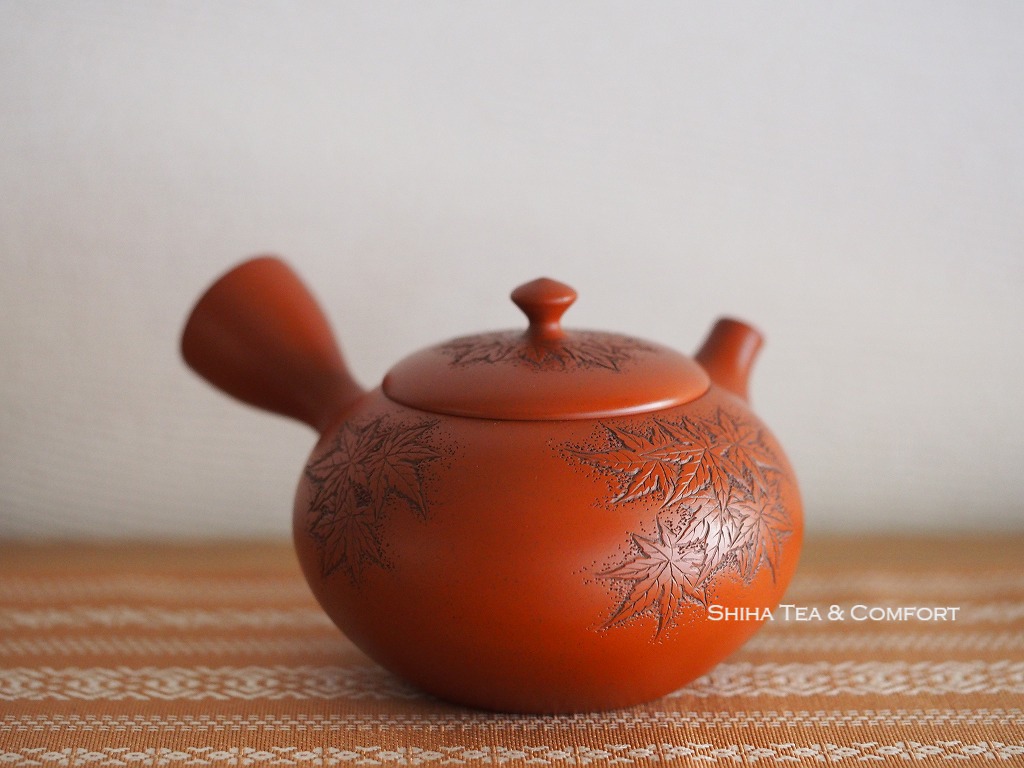 Kyoto porcelain teapot , Blue & White hand painting bamboo, thin body. Elegant. Artist: Kato Seisho (father and son) Father makes body and son paints.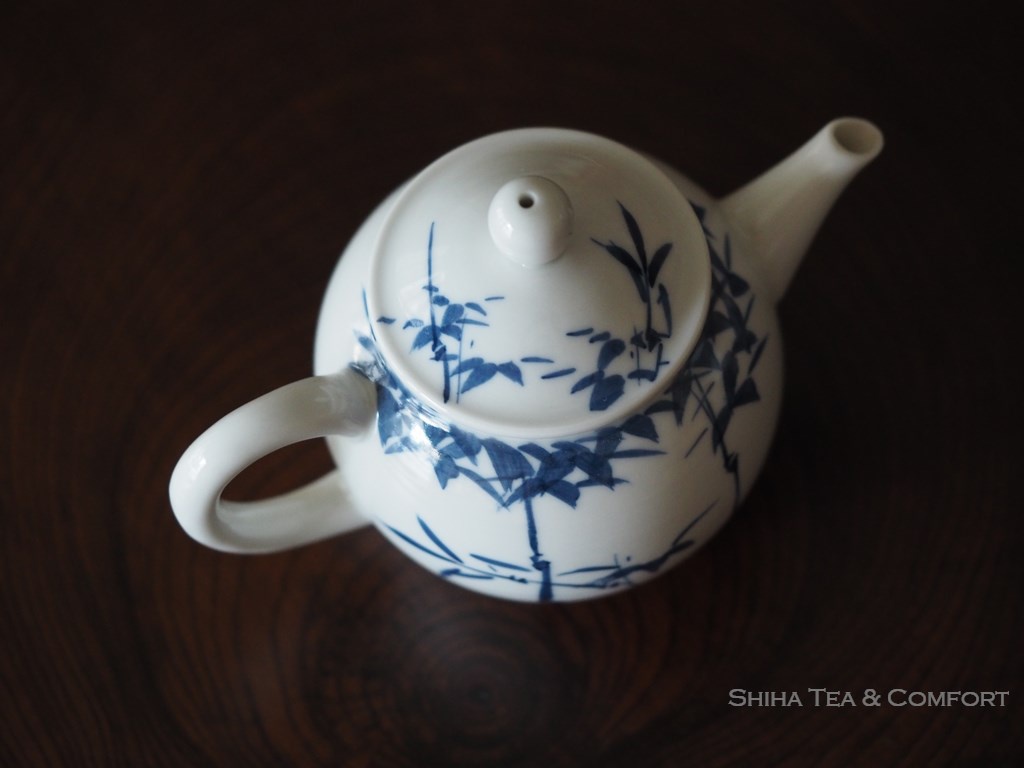 Setsudo(potter) & Kodo(caver) , beautiful white cranes flying on river in the dark. Graceful motion of the cranes. Crane make us think myth of Japan. (Tokoname)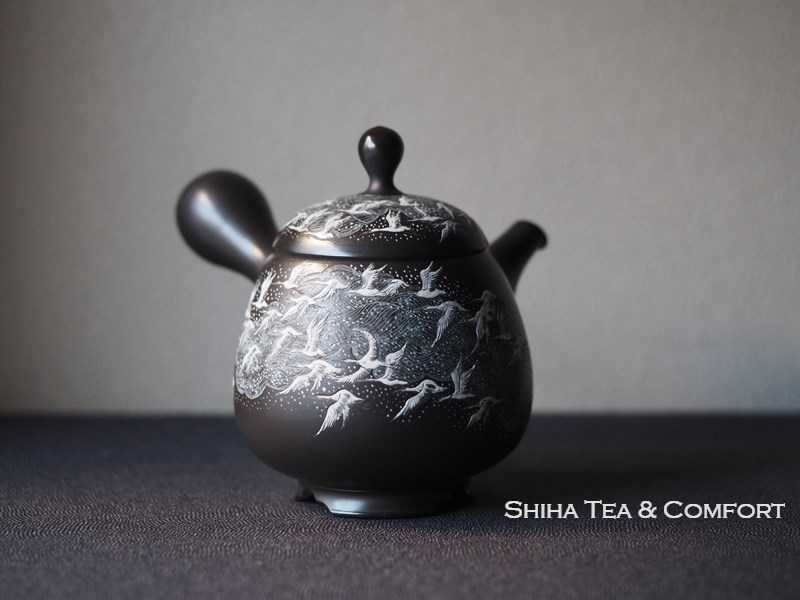 Motozo Kameoka, flat red clay teapot with cloth-pattern on surface. Taste of Motozo's handmade. (Tokoname)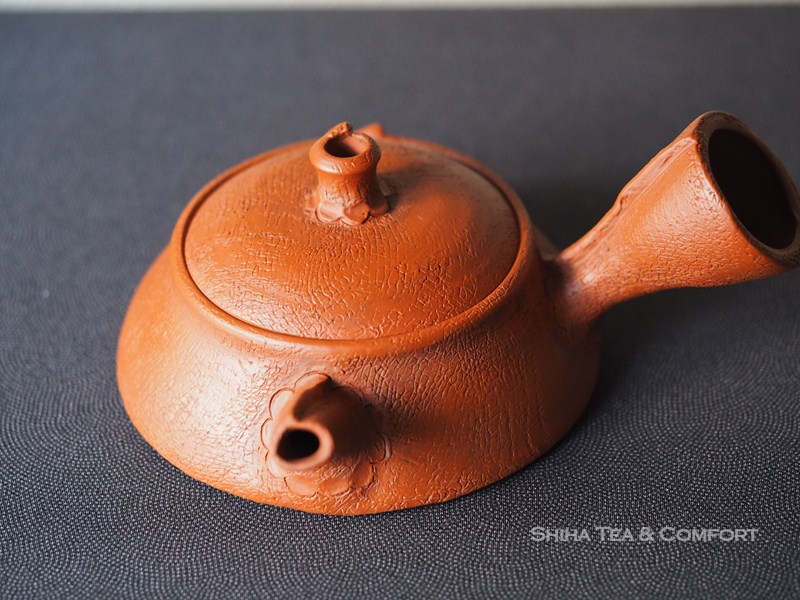 Sabi-beauty. Artist: Jinpachi Ogawa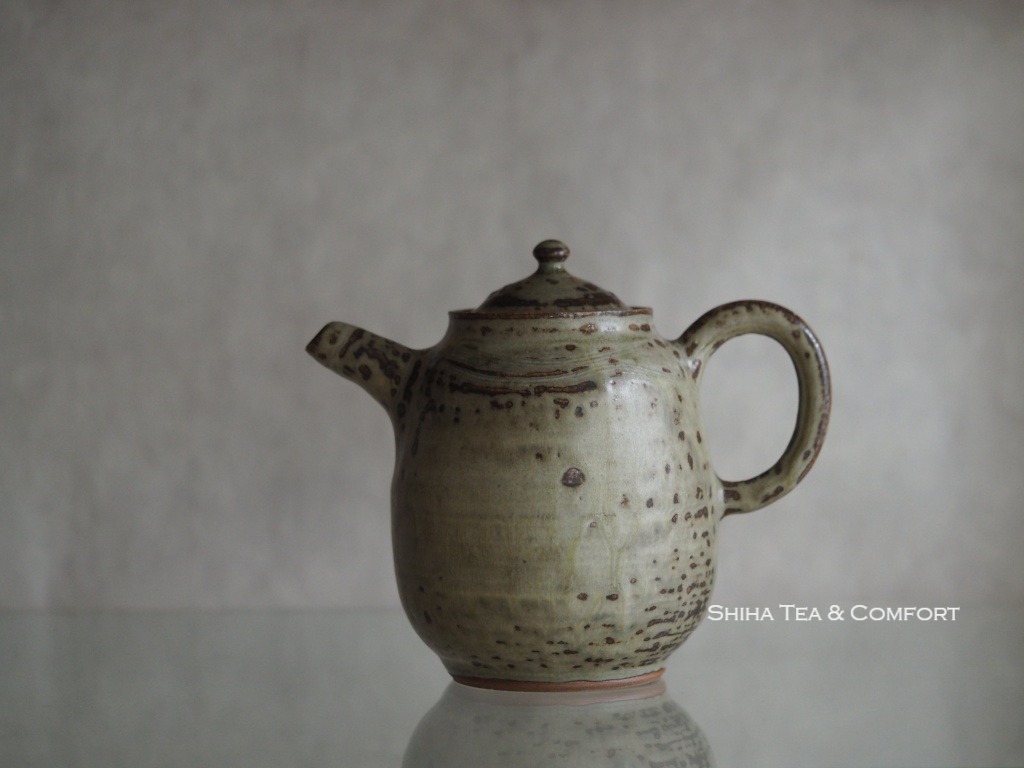 Shoryu Blue Dew Teapot. Outside is coated with blue, inside is unglazed. It is beautiful like a dew in nature.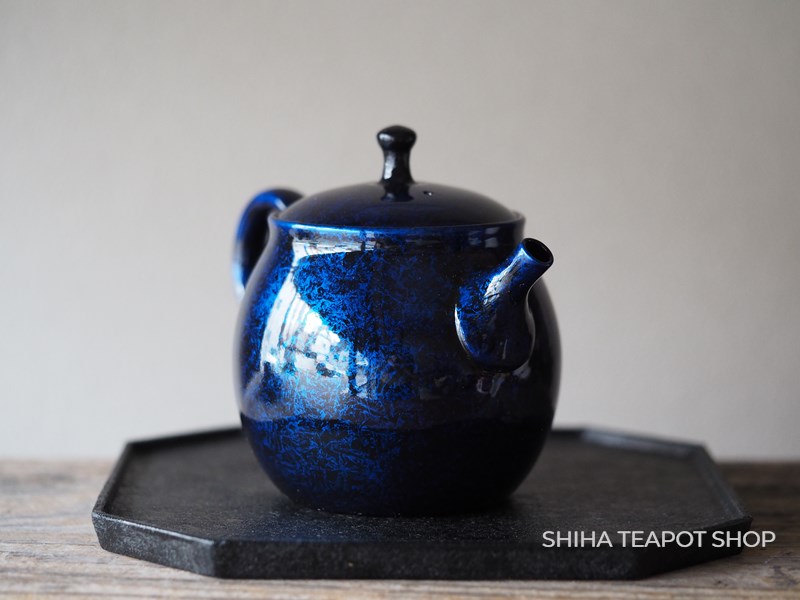 Lacy red clay double wall teapot – Shunen the second invented the unique style. Artist: Shunen Mano (Shunen the second) (Tokoname)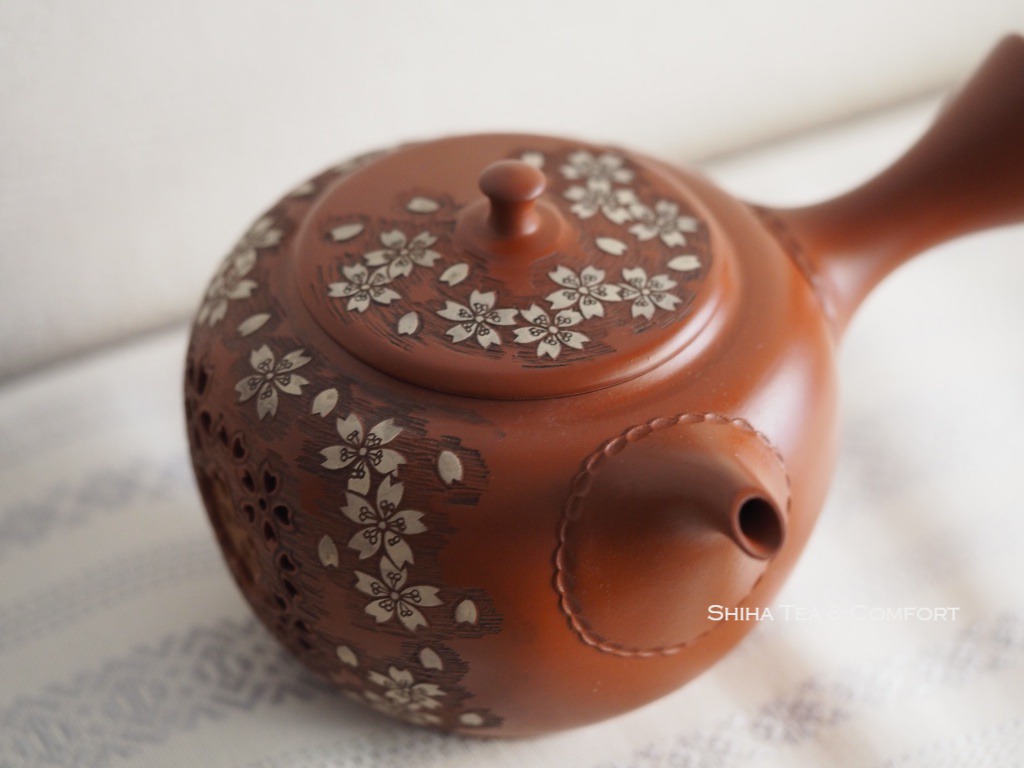 Fine red clay and rough mountain clay mix together. Sophisticated shape and very thin. Yokei Mizuno. (Tokoname)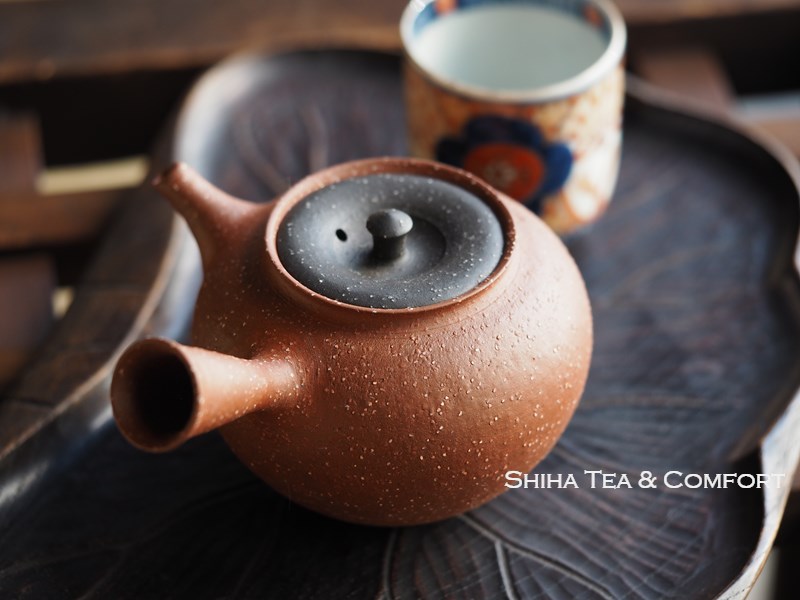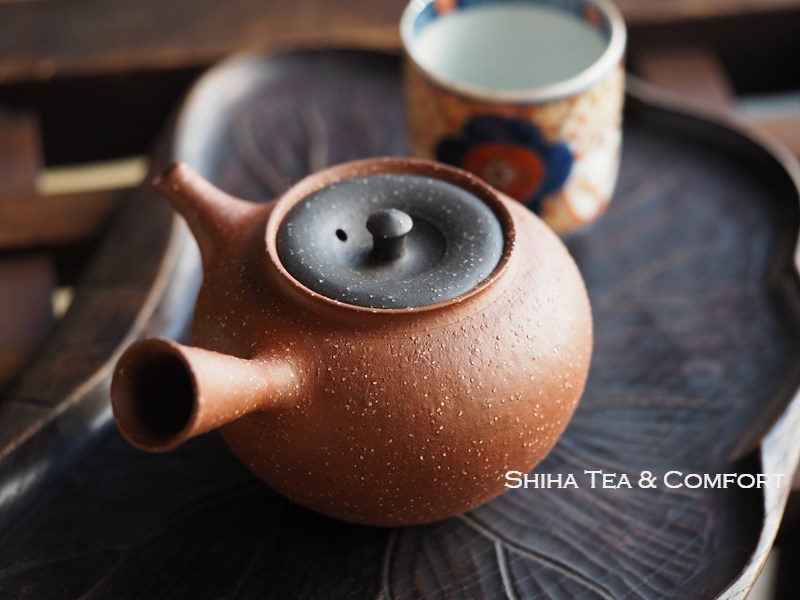 Warm, stylish, sensation of clay.. It is so natural. "Sensation of underground soil" and "what teapot express" has to be the same, Hokujo says.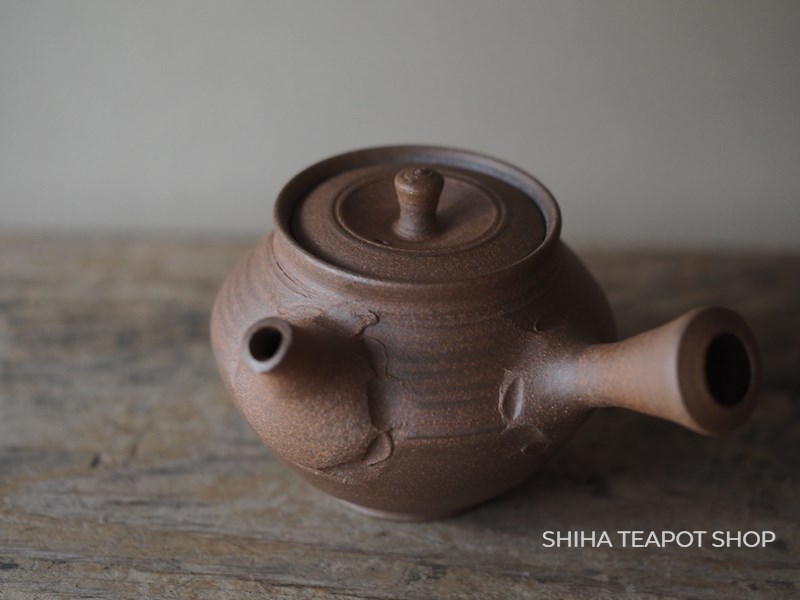 Setsudo(teapot) & Kodo(Carving) , Tasteful, harmony of calligraphy, picture. Carving letters on spherical is a technique. (Tokoname)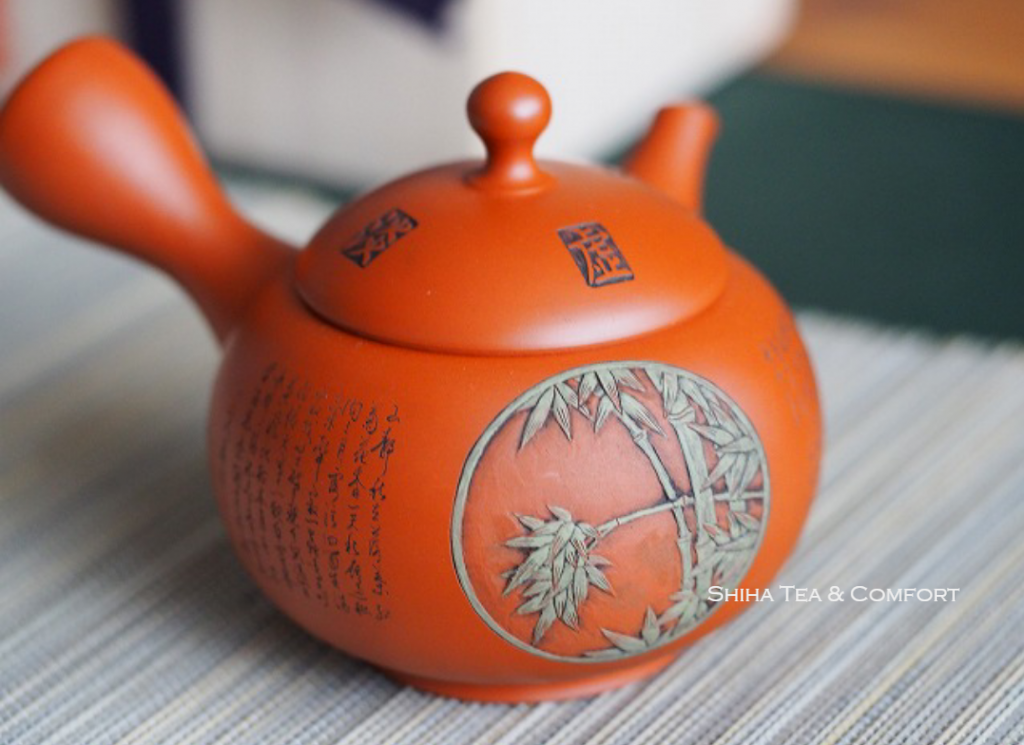 Full relief carving of Sakura. Housei (potter) and his mother (carver)'s work. Elegant and gorgeous. (Tokoname)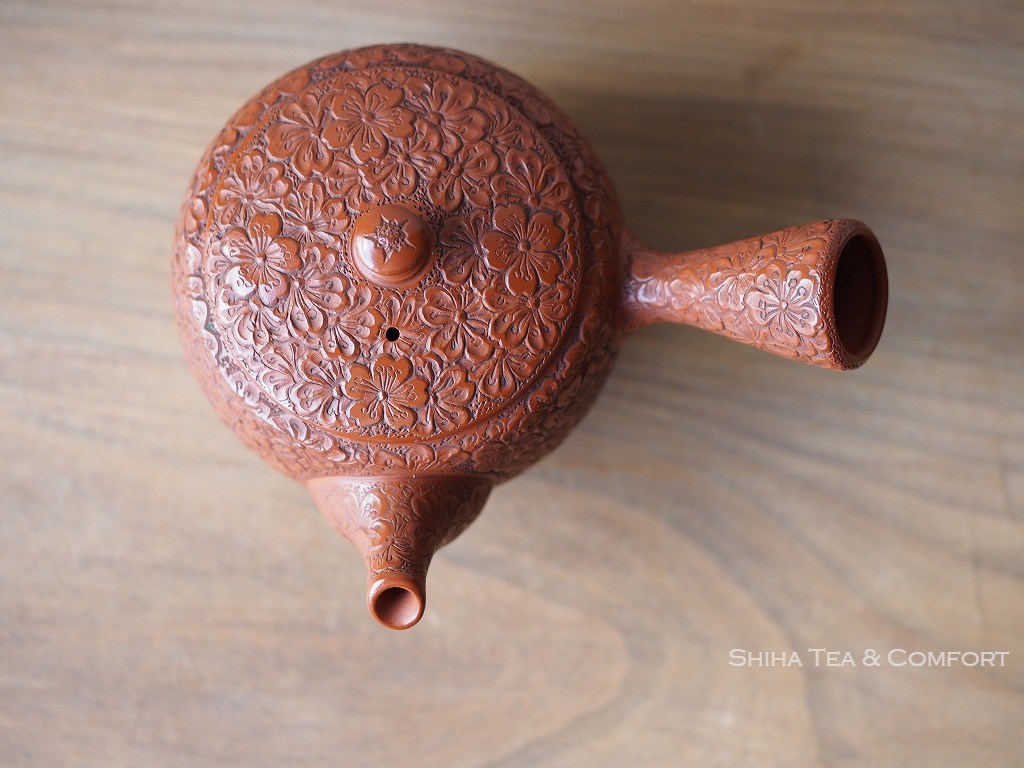 Seiho red clay teapot. Textue of surface is natual – water clay is applied for the texture. Stylish.(Tokoname)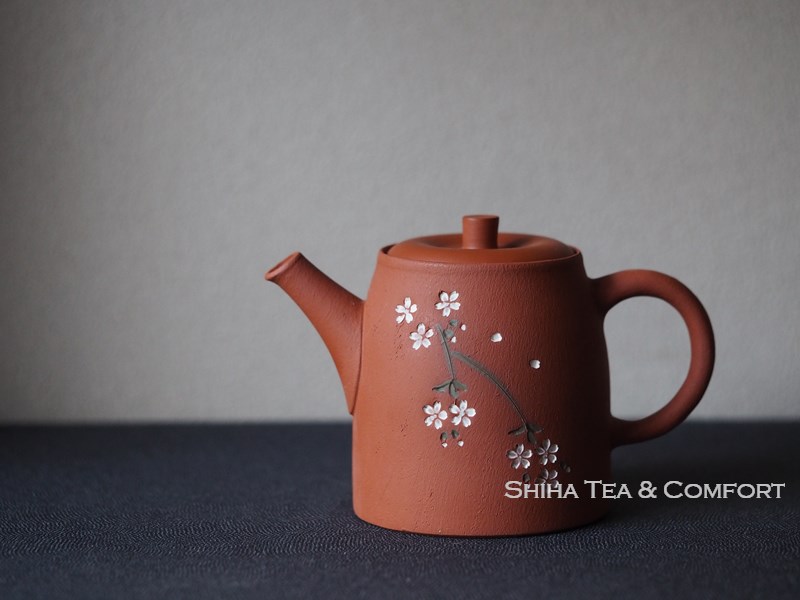 Kodo Yoshikawa carving on red clay Houhin, calligraphic carving, art, texture and tea..so much to enjoy while having tea. (Tokoname)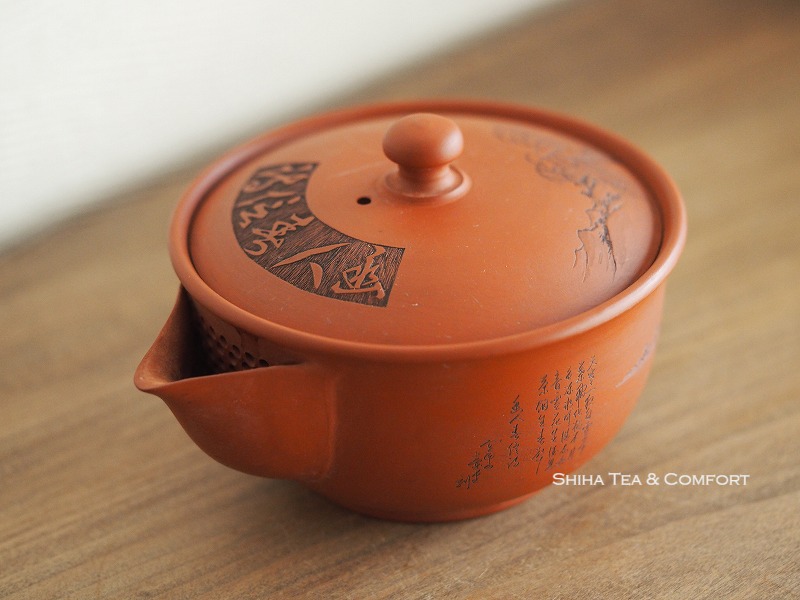 Bizen small Houhin teapot. Primitive, nature, pretty shape. Wabisabi beauty.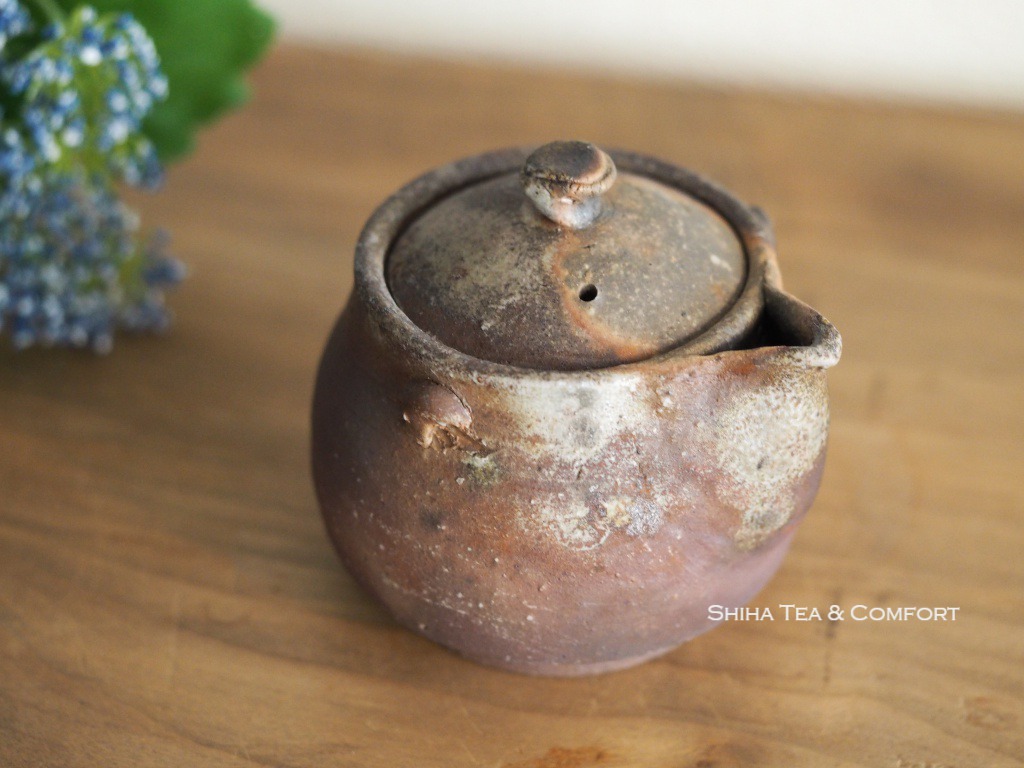 Jinshu (Ito Seiji) white teapot with metal handle. Line art was made of real seaweed. They were bound on the body of teapot and fired in kiln. (Tokoname)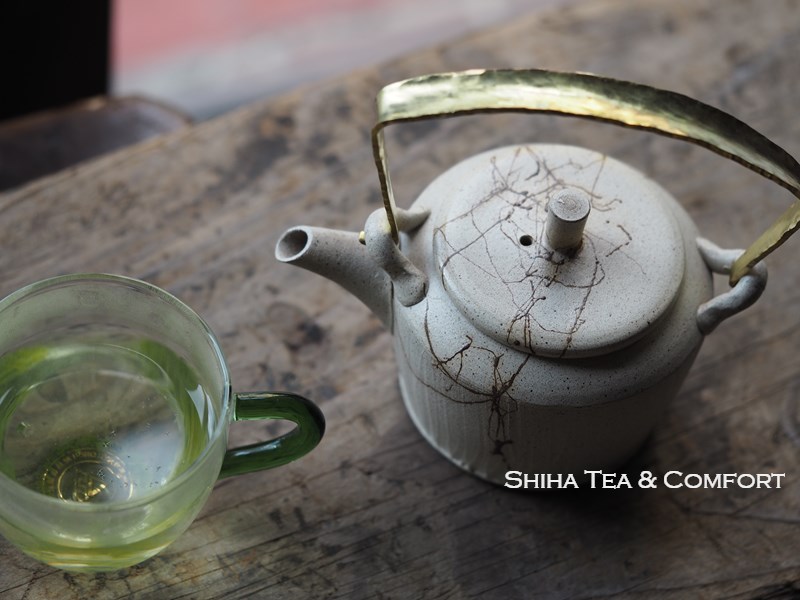 Jinshu (Ito Seiji) Flat Teapot with oyster shell powder. It is like gold on white body. Design of inside (mesh filter) is also stylish.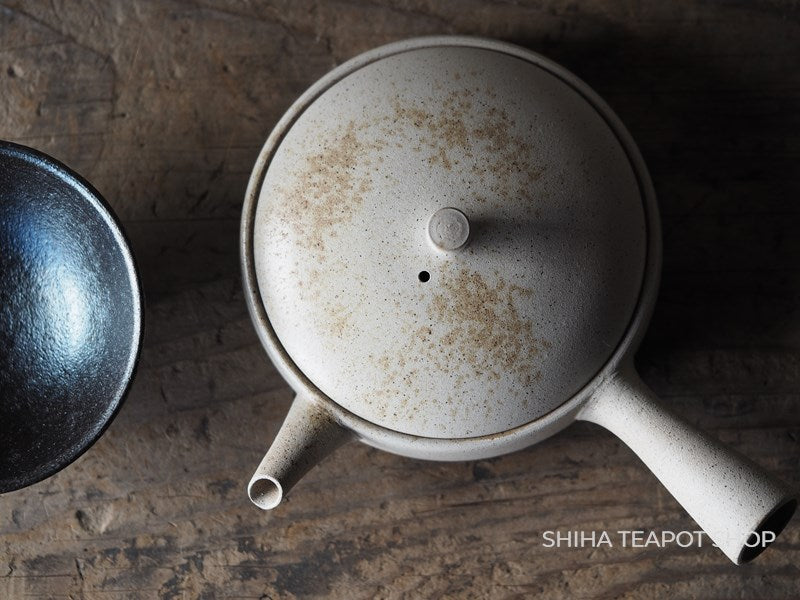 Shoryu's stamped flower and circle teapot, beautiful black! From 30-40 years ago. (Tokoname)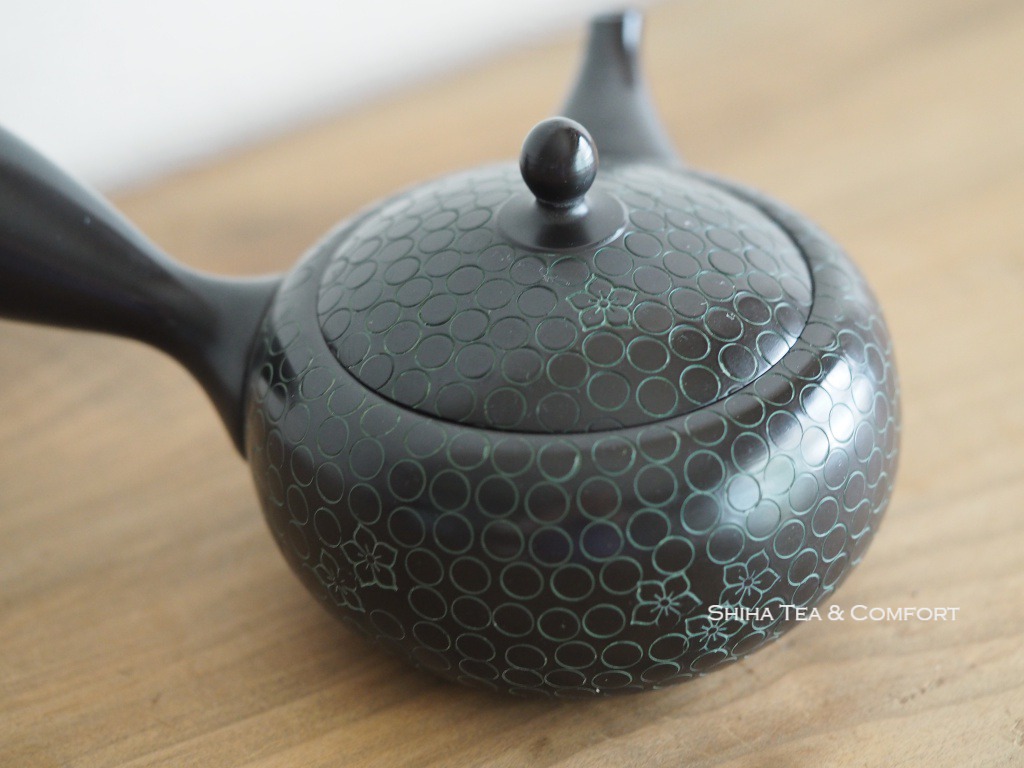 Motozo's Snowy red clay – smoked black teapot. He also wove the handle. His works are timeless. (Tokoname)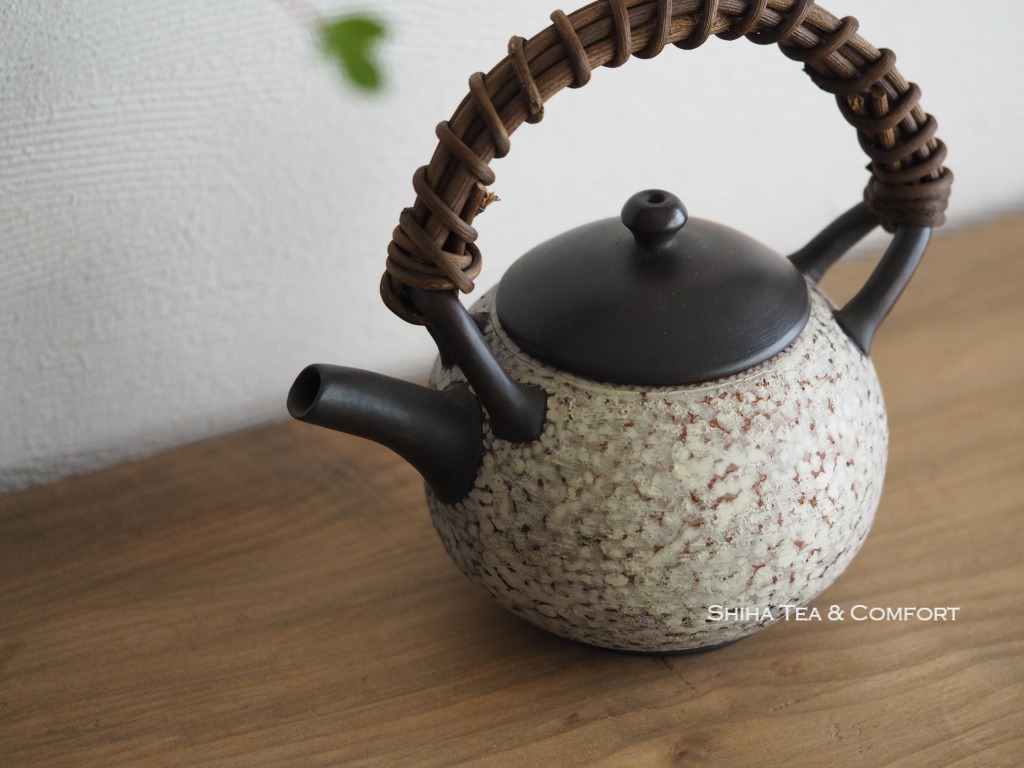 Bizen Teapot. Bizen's clays contain lots of various organic material. It shows so many color after firing Flame and Clay made the color.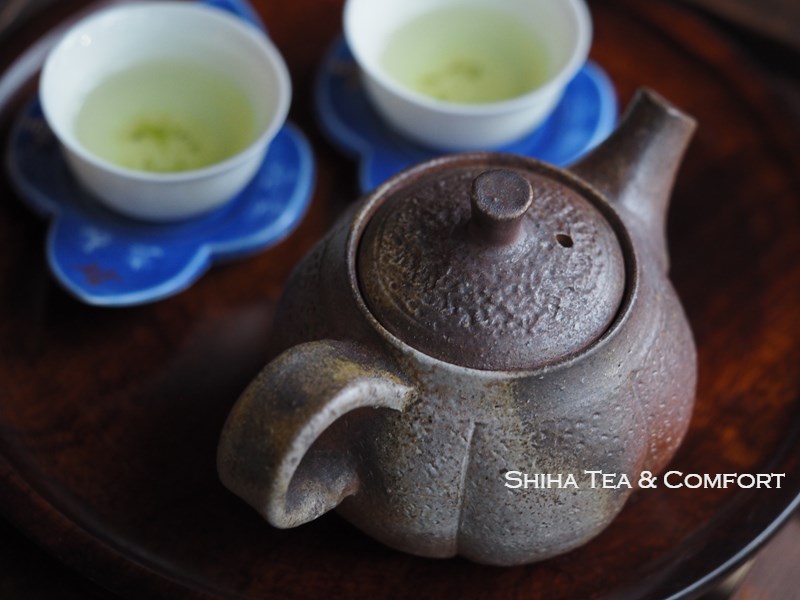 Ogawa Jinpachi, Iron Glaze, Frog lid, harmonious. He loves tea as well.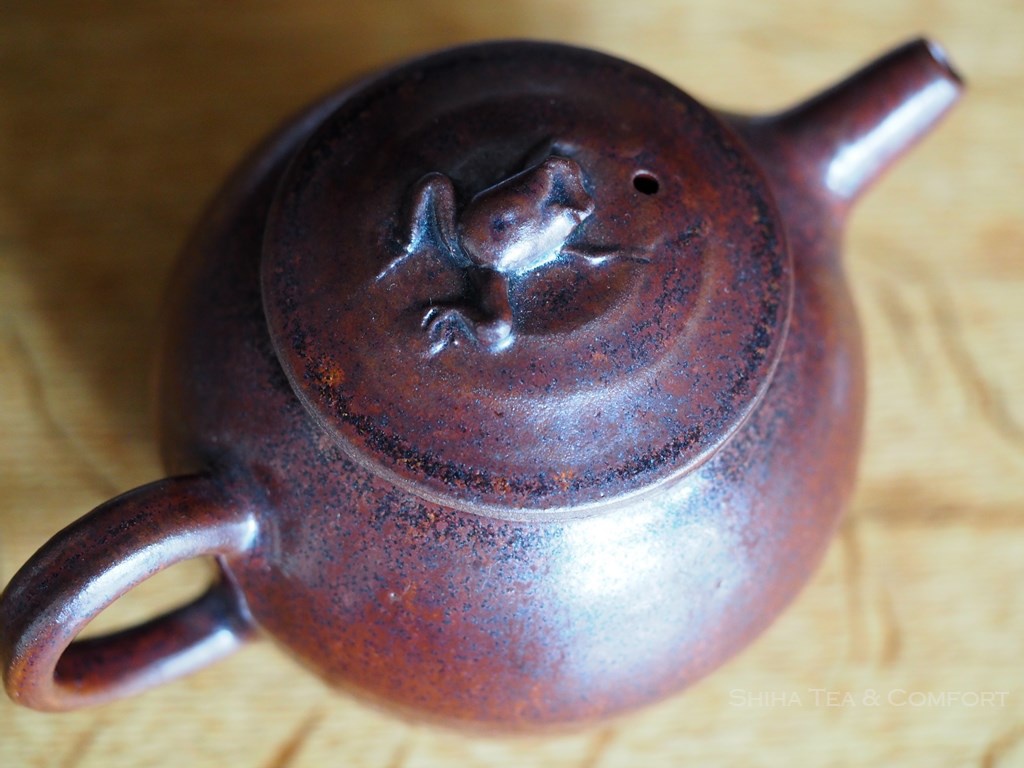 Suzu ware (Suzuyaki) Artist, SHINOHARA TAKASHI wood fired black teapot. His black is very soft, and with gray ash, it is so sacred. Quiet beauty.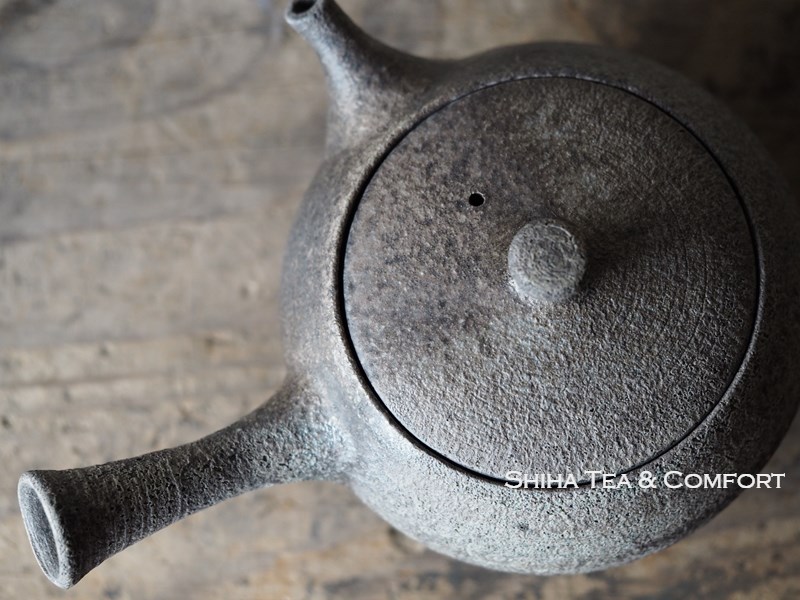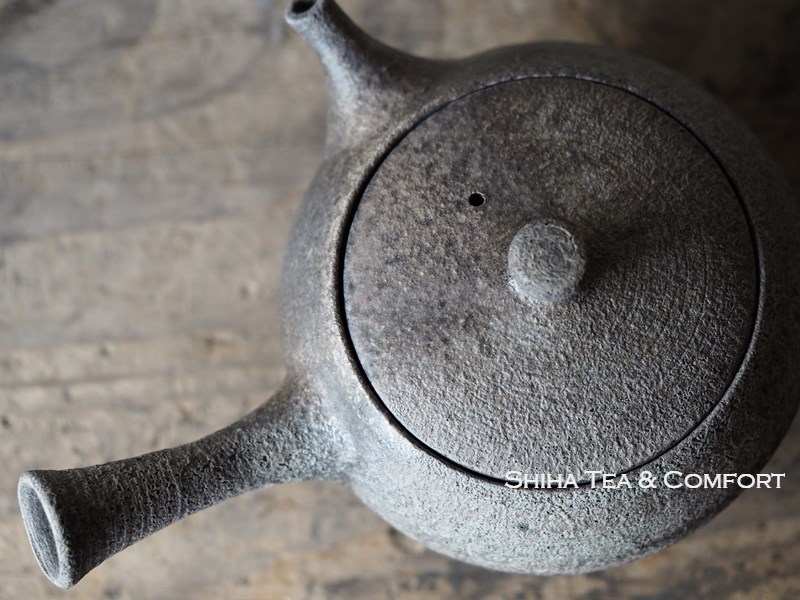 Light orange lines on white clay is so artistic. The lines were made from rice straw in kiln. Jin's Houhin teapot.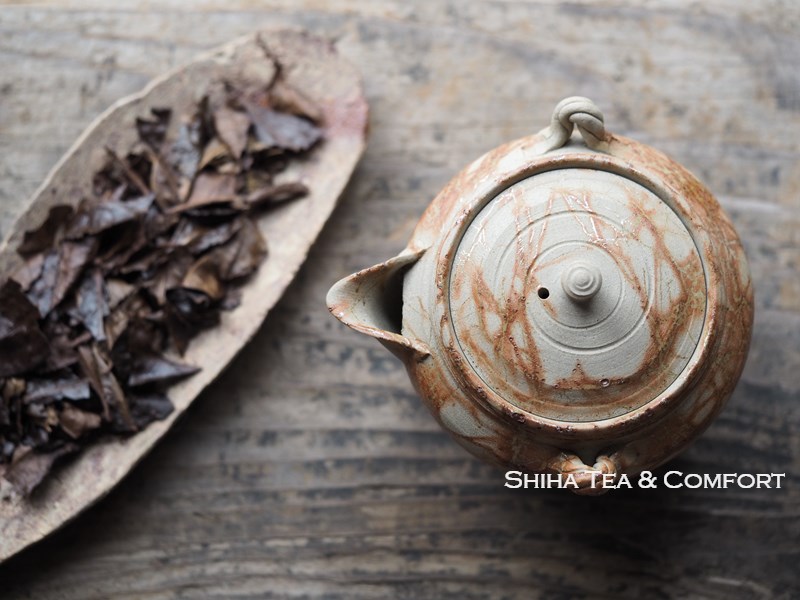 Kodo & Ssetsudo, Various carving technique of Kodo's in the picture. (Tokoname)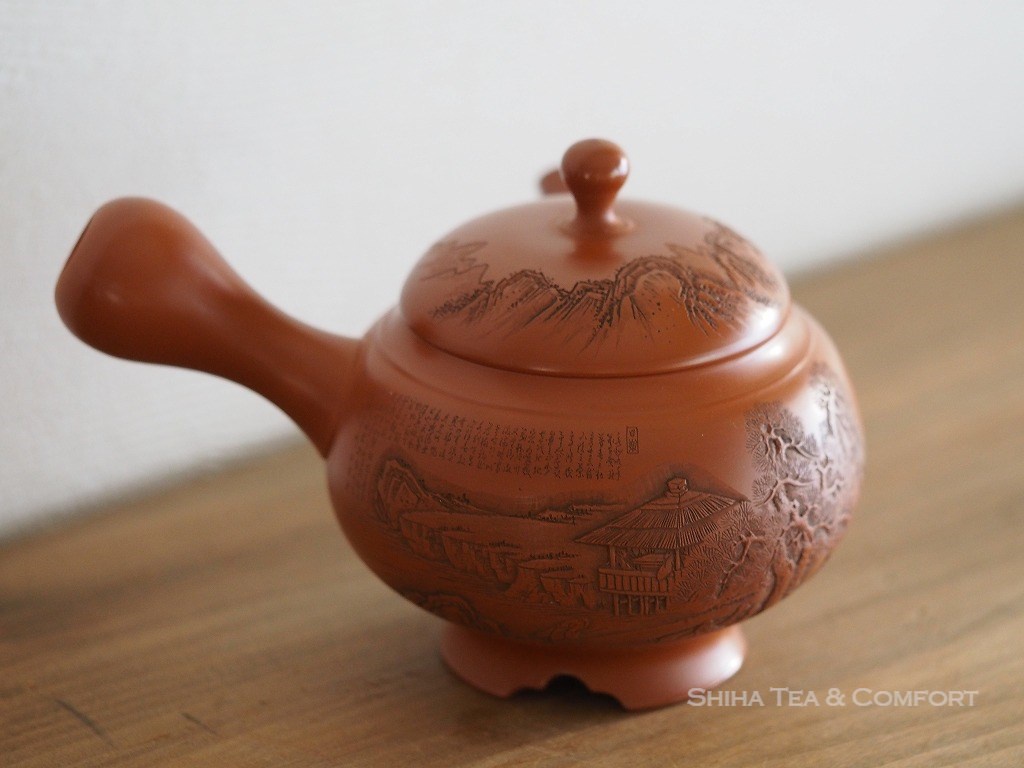 Bizen pumpkin shape, fruits lid knob, white, yellow, brown color on the body which were made in kiln. Bizen ware has one of 6 old kiln in Japan – Hard, Unglazed, Colorful clay.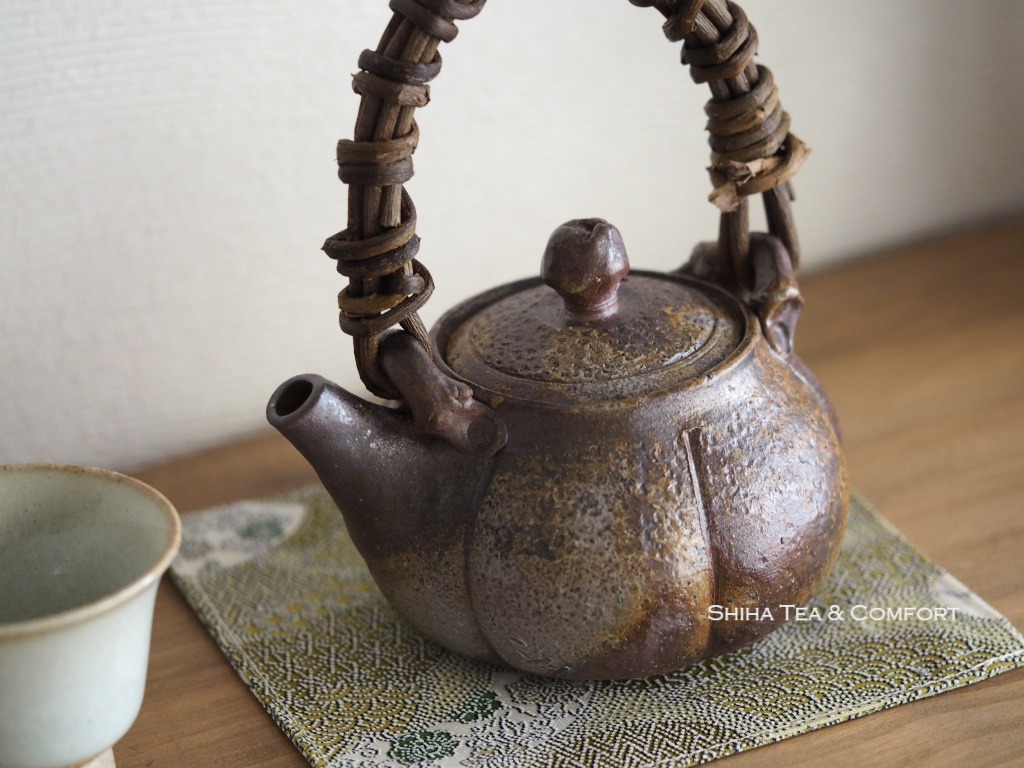 Elegant form, nuance color and gradation with beautiful ash on the body. Rich texture. Harmonious and elegant teapot. Wood-fired. Made by Shiraiwa Taisuke.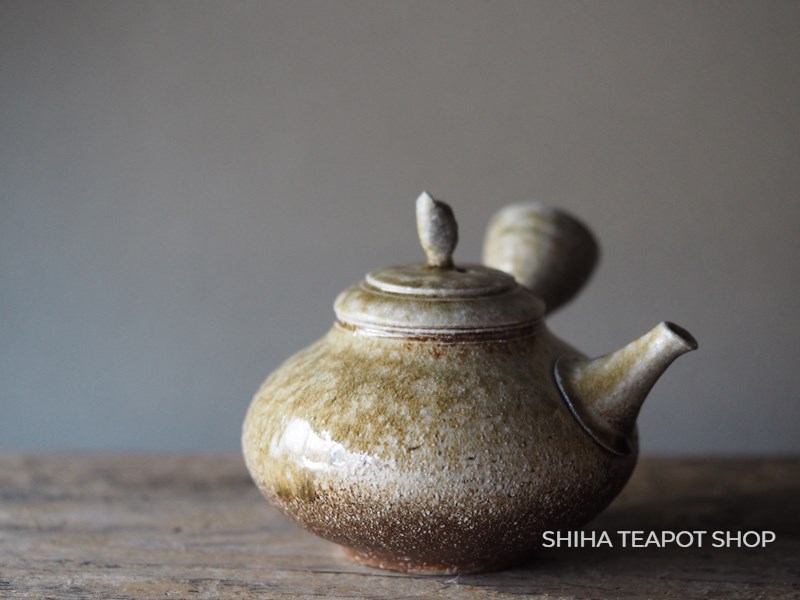 Shoryu Teapot. Oil drop pattern with delicate shine, gold lid knob,5 times of firing. 20 years ago, he saw a teapot in his room beautifully reflecting sunlight coming from net window screen. He has been longing to create such a teapot, and this is it! (Tokoname)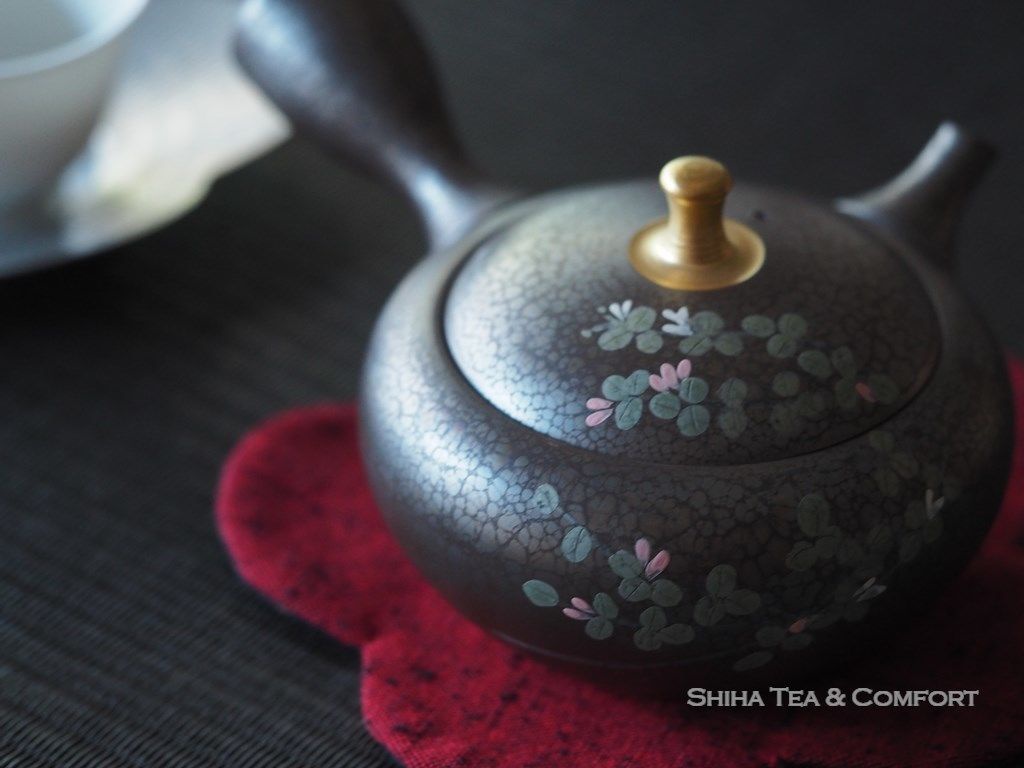 Zojoji Temple in Snow, old time of Japan. Building of temple in red and red clay in harmony. Hand carved by Kodo Yoshikawa.(Tokoname)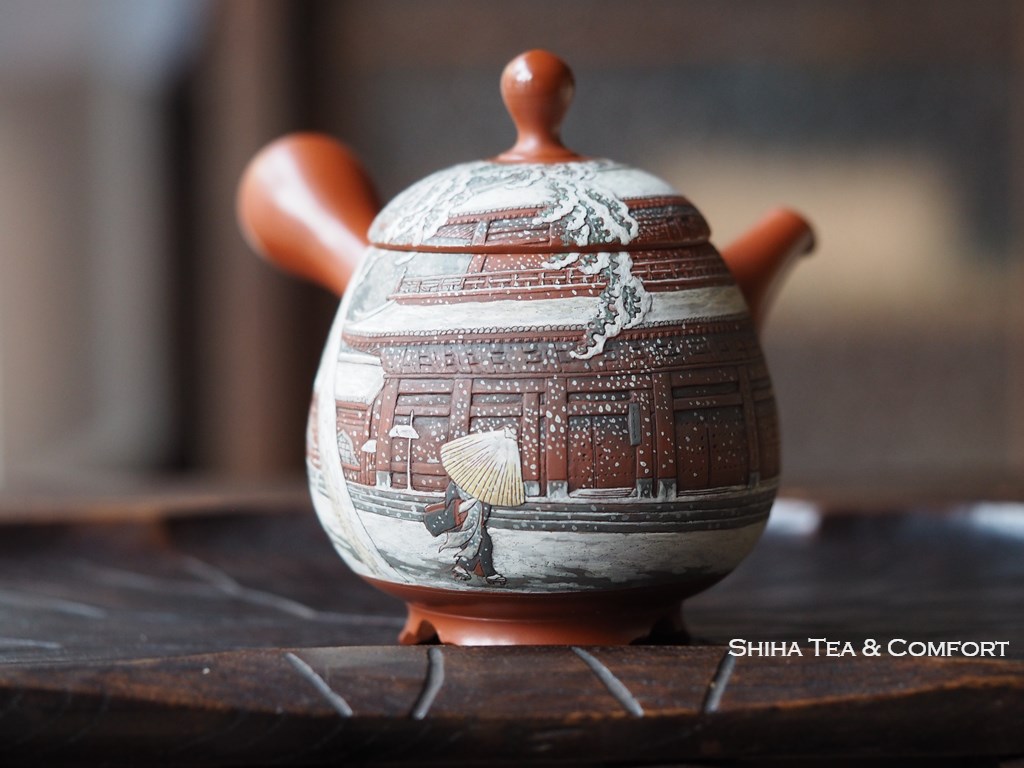 Hakudo's detailed carving from 40 years ago. (Tokoname)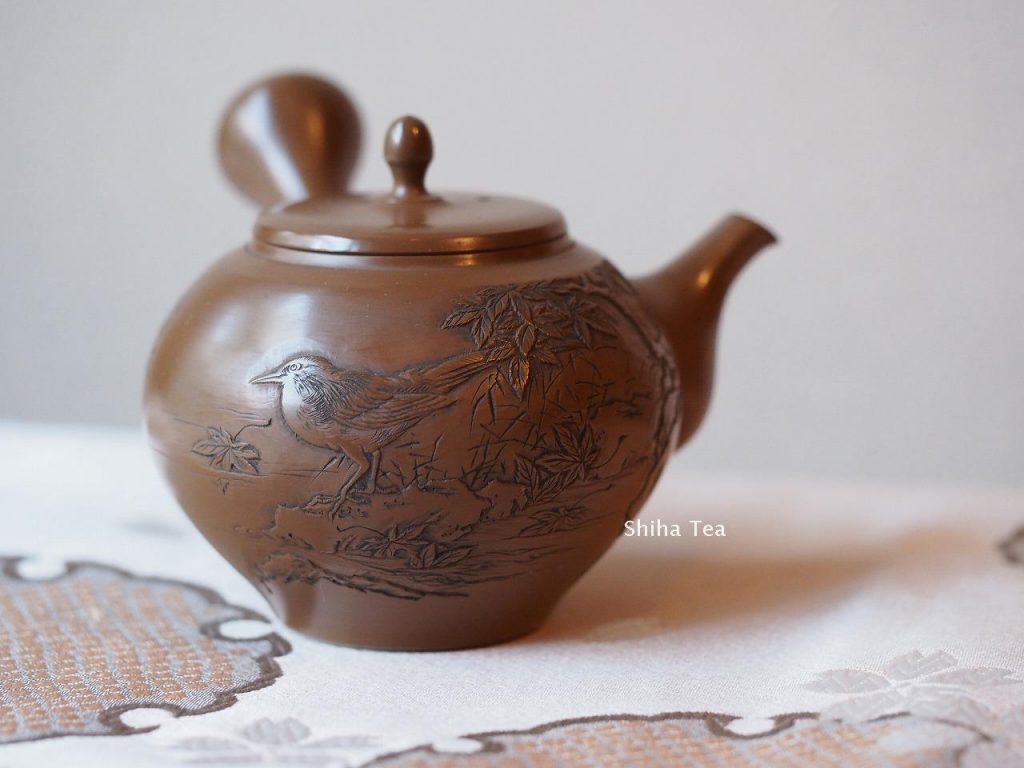 Hakusan's teapot is along with nature. Feeling very light, soft like wind.(Tokoname)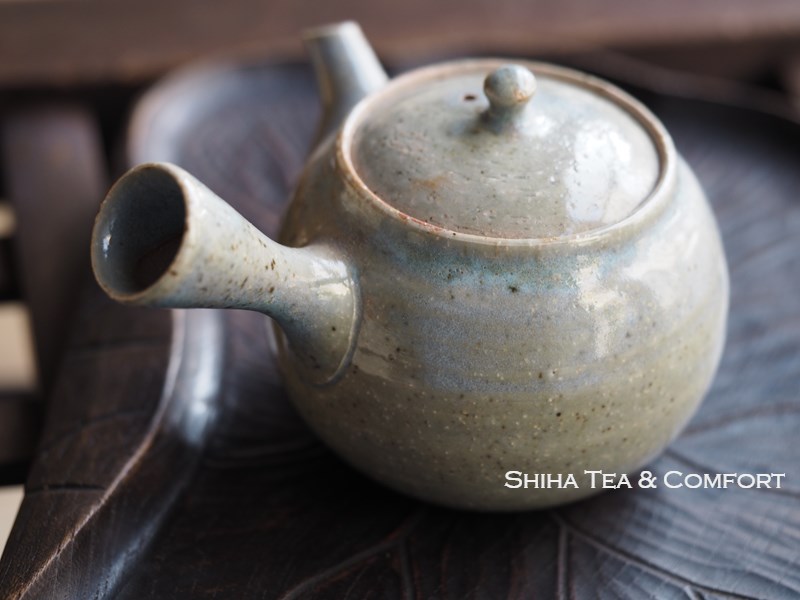 Housei's teapot has elegant shape and graceful carving. Very noble.(Tokoname)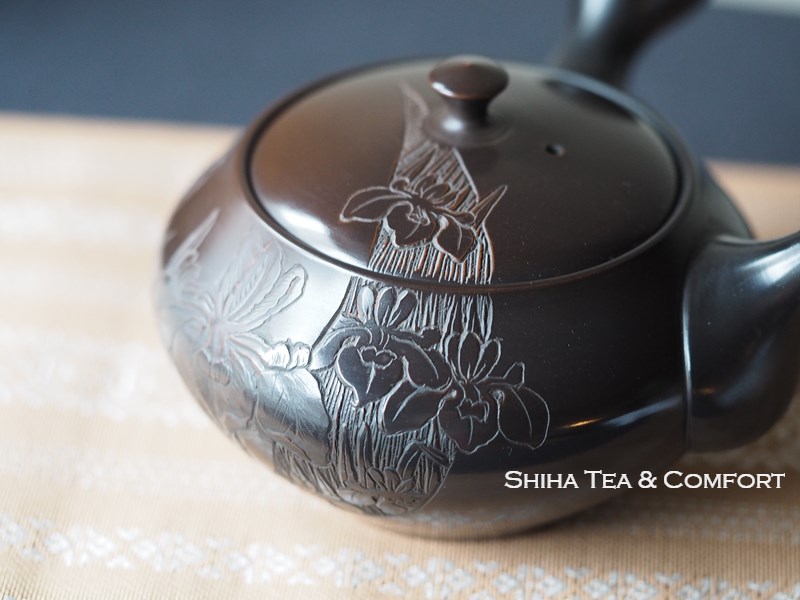 Houhin made by Hiromi Yamamoto, who is worshiped by many teapot artists.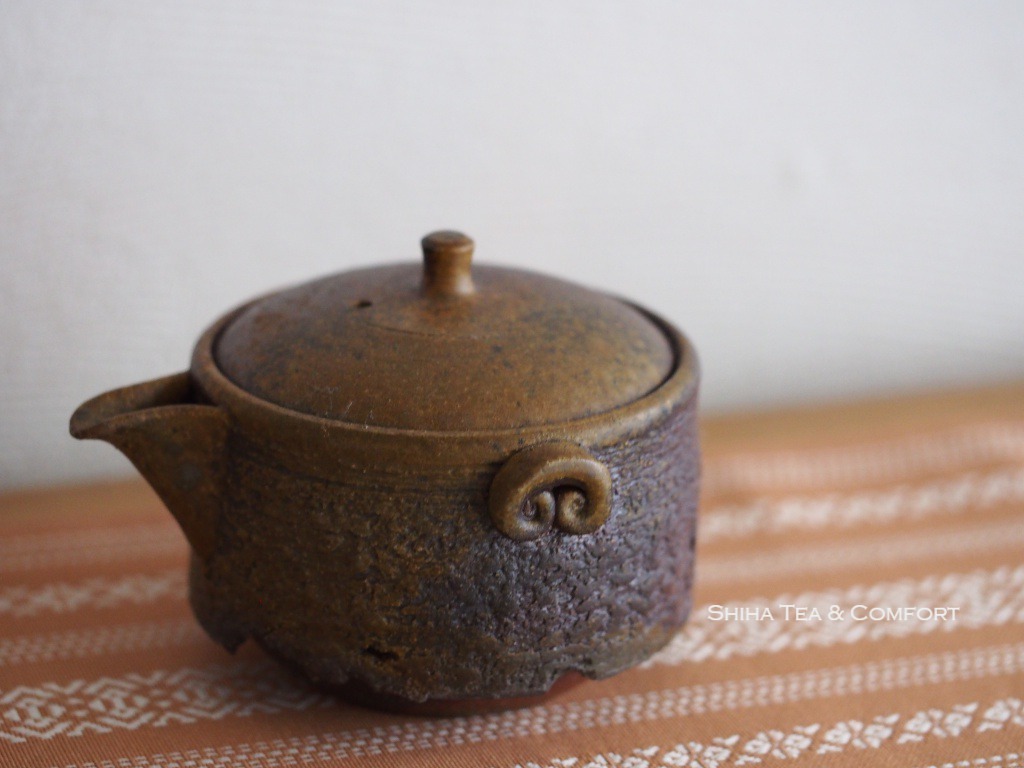 Old Kutani teapot. Porcelain. Kutani is one of porcelain production areas of Japan.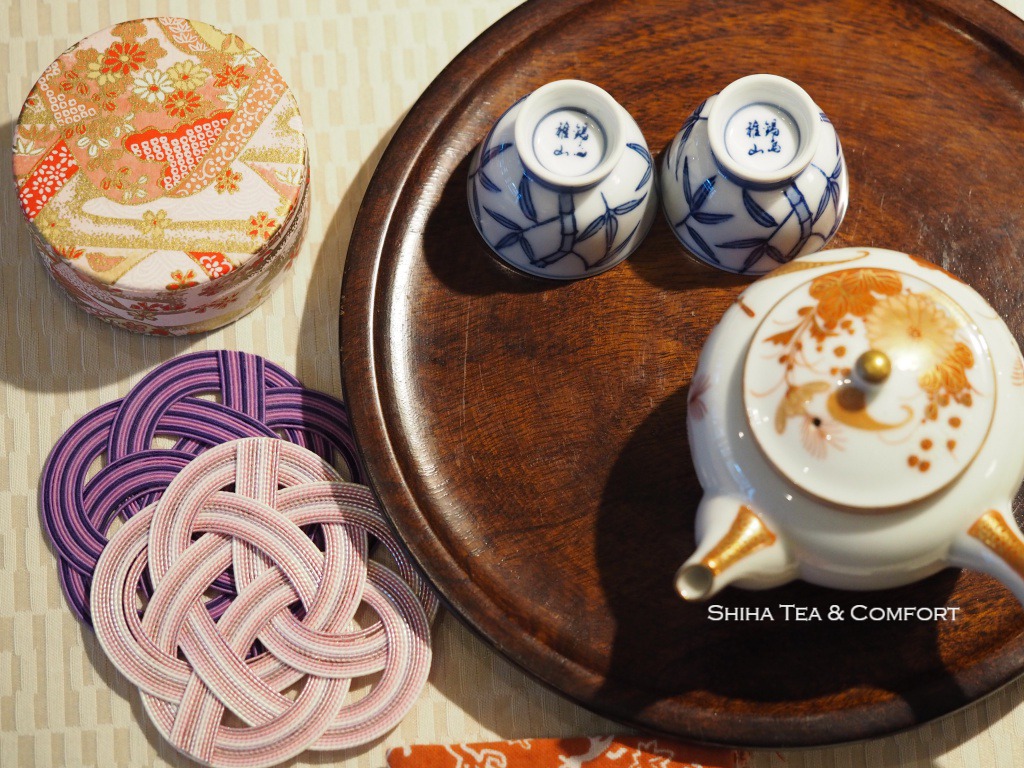 Shunen, Red fine clay fine carving, Pine-Bamboo-Pulm tree, Japanese lucky plants. (Tokoname)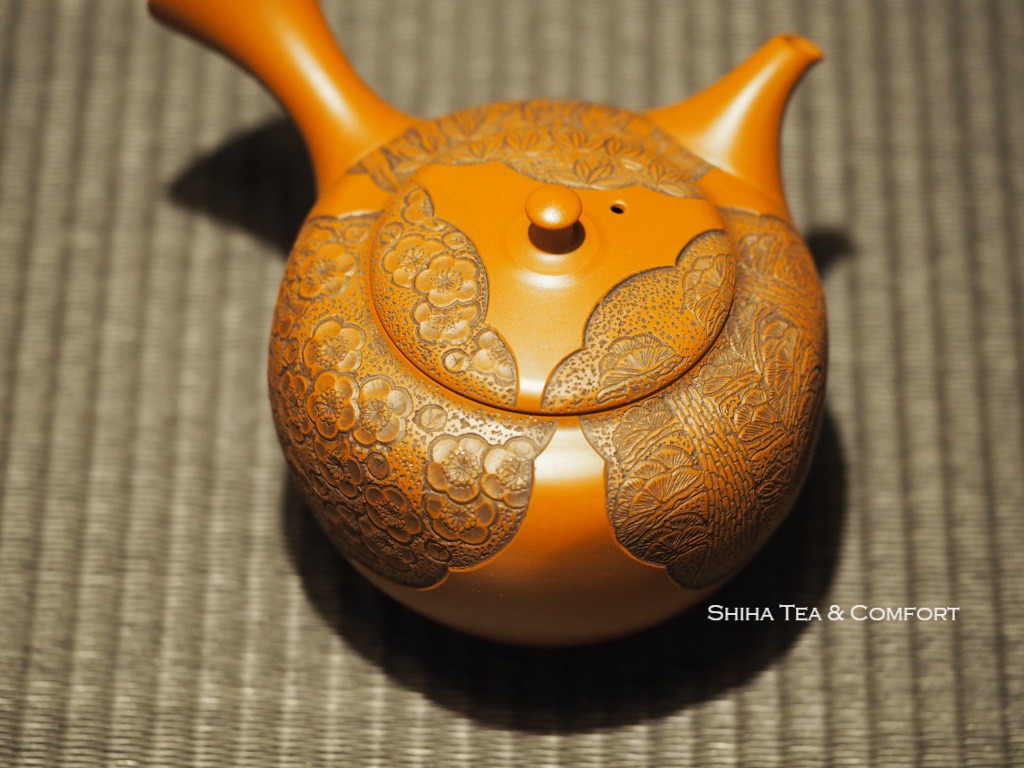 Kodo Yoshikawa, Setsudo Yoshikawa's work. Sword that the crow holding is famous "Kogarasumaru" (Tokoname)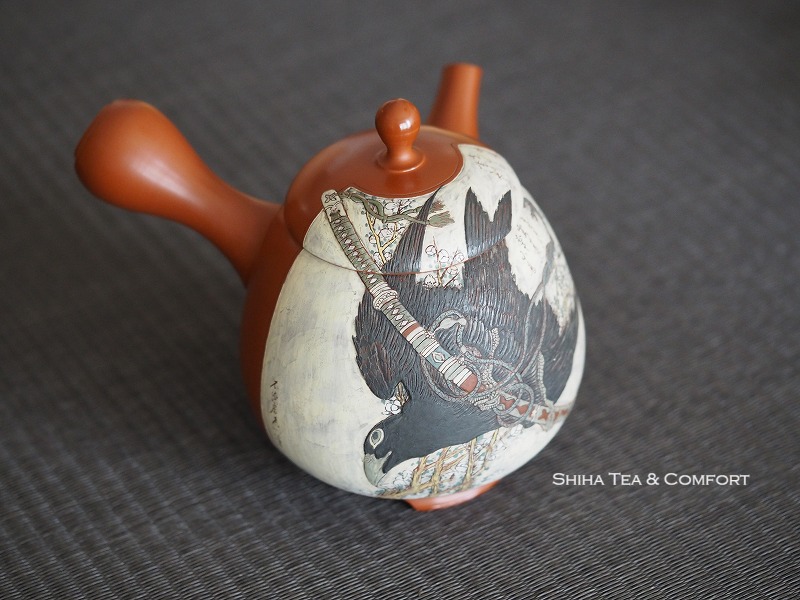 Shunen, Green clay lacy, double wall, red clay is shown in the plum shape window . He creates different style of teapot from his father. (Tokoname)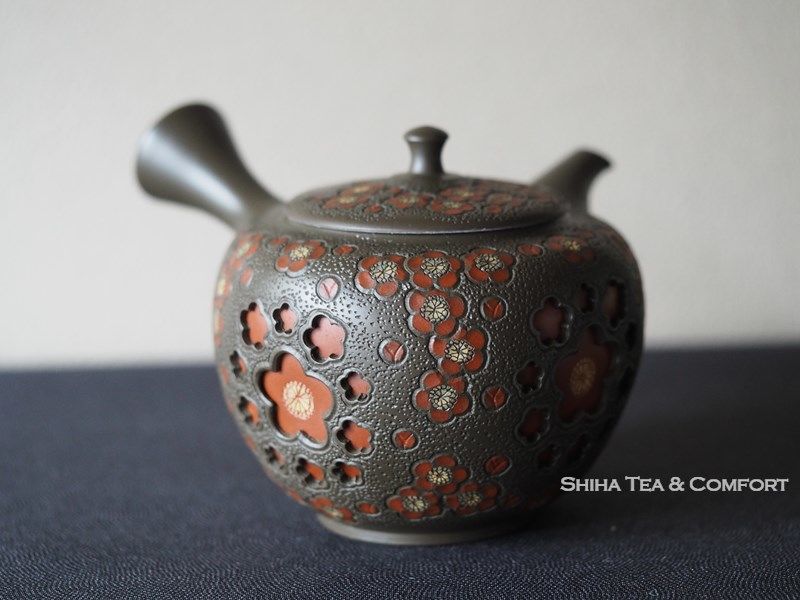 Junzou who research clay from many of different places of Japan , small teapot with rough texture clay, different impression under light and without light. Rustic beauty. (Tokoname)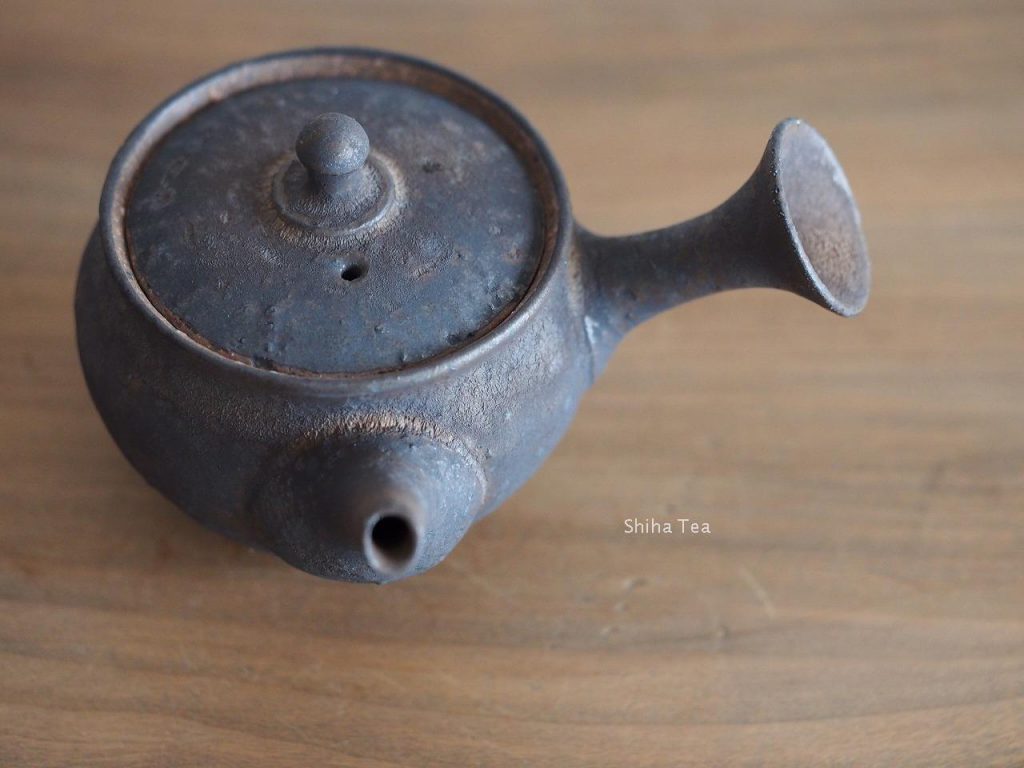 Red clay teapot represent Tokoname, makes green tea taste silky. Japanese tea culture is deeply connected to pottery art. (Tokoname)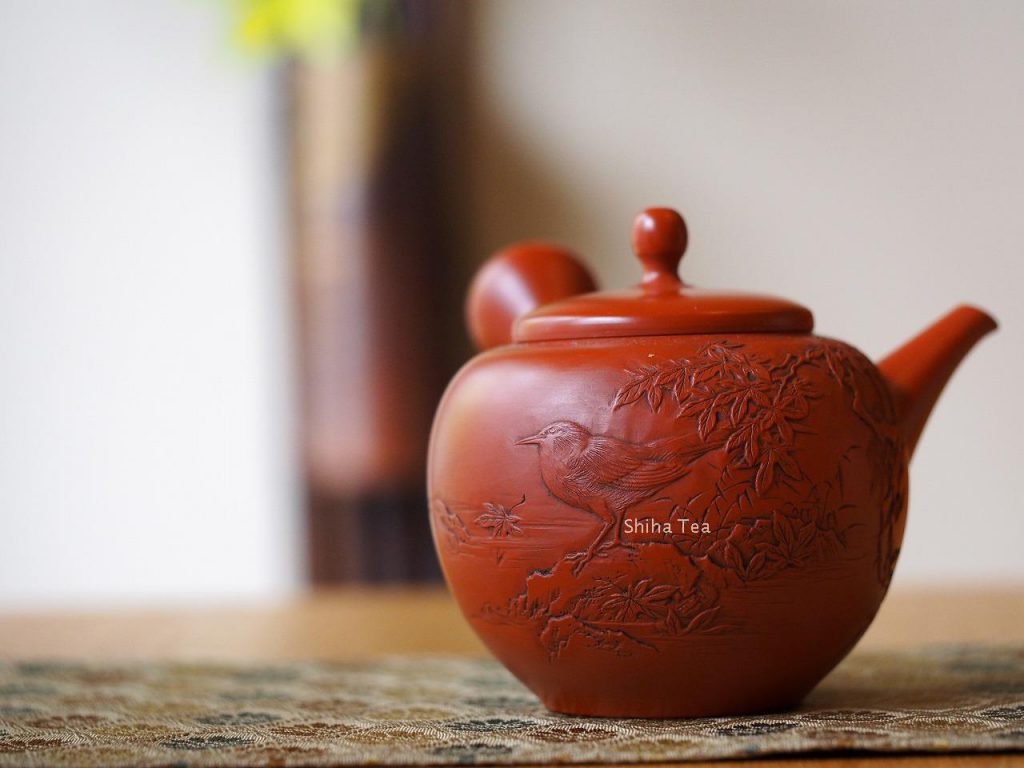 Shiha Tea & Comfort original red clay teapot, a style of old time teapot. Simple and pretty, delicate clay. (Tokoname)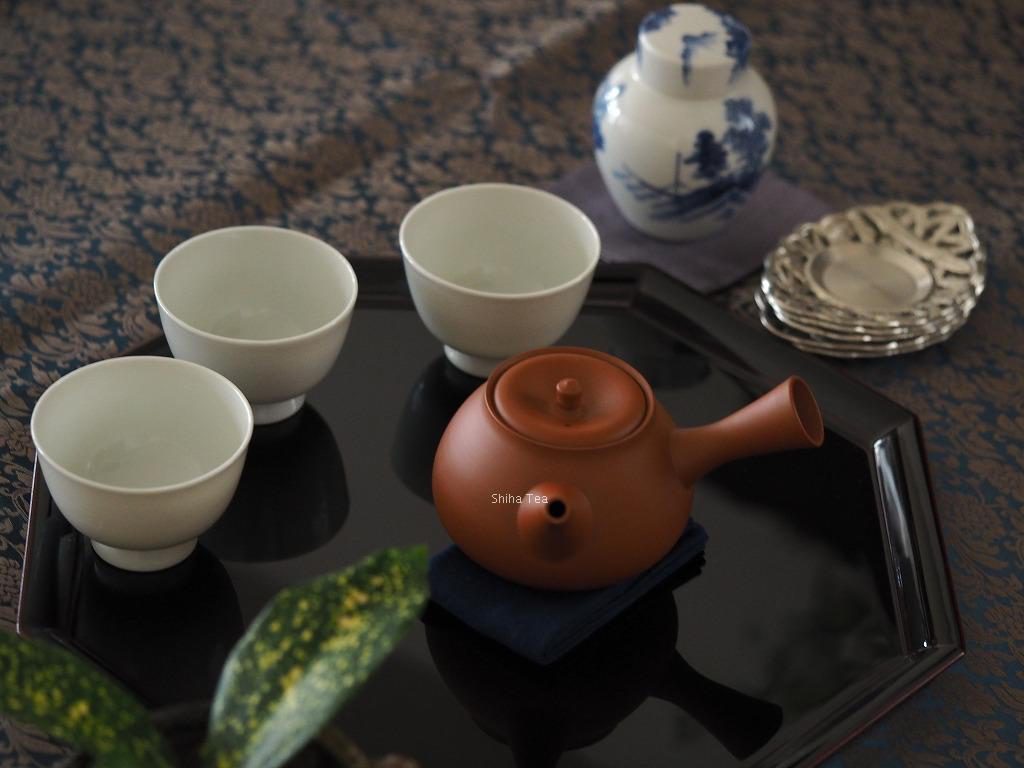 Kodo carved Fujin & Raijin on a red clay teapot. Setsudo made the teapot, Yoshikawa brother's work. (Tokoname)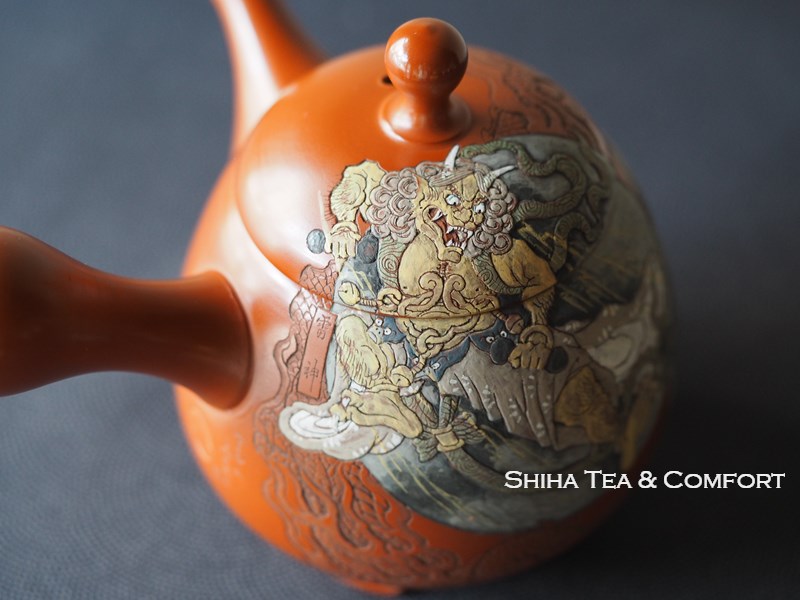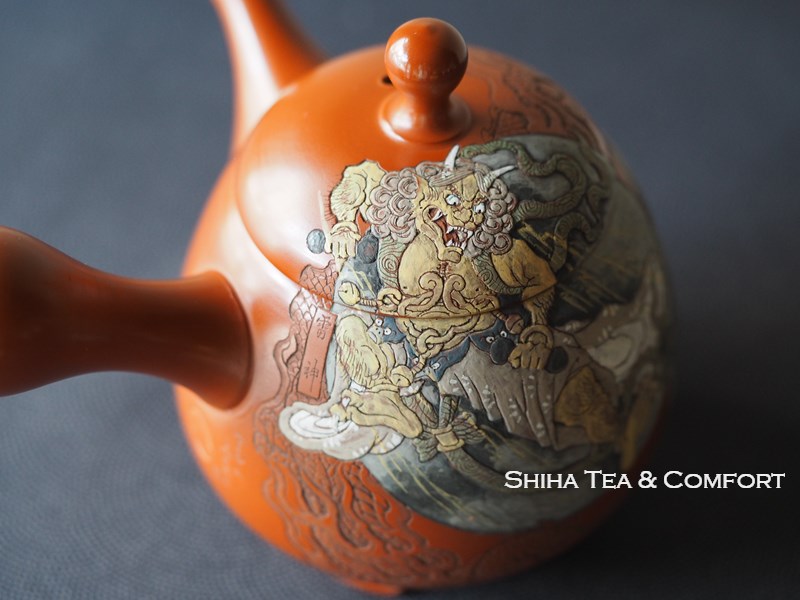 Banko teapot. Typical Banko clay is purple clay. Surface of the body and lid is cut artistically, contrast of texture is attractive.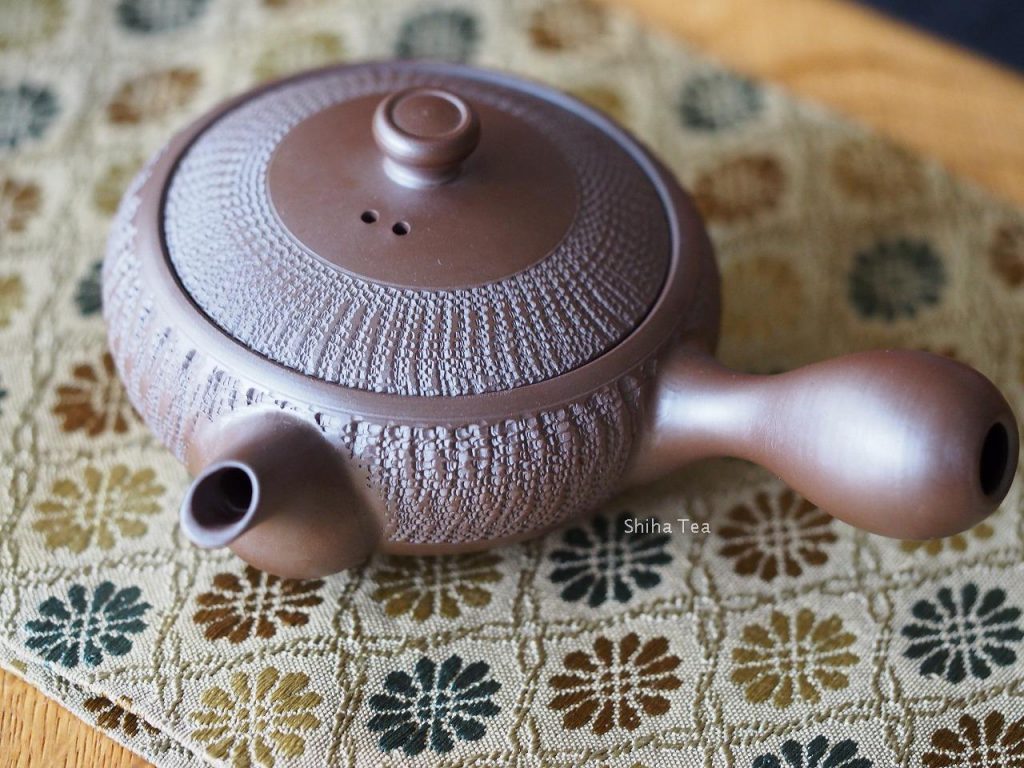 Yoshiki who makes various style of tea ware, red clay smoked black Shiboridashi, good to brew Gyokuro. (Tokoname)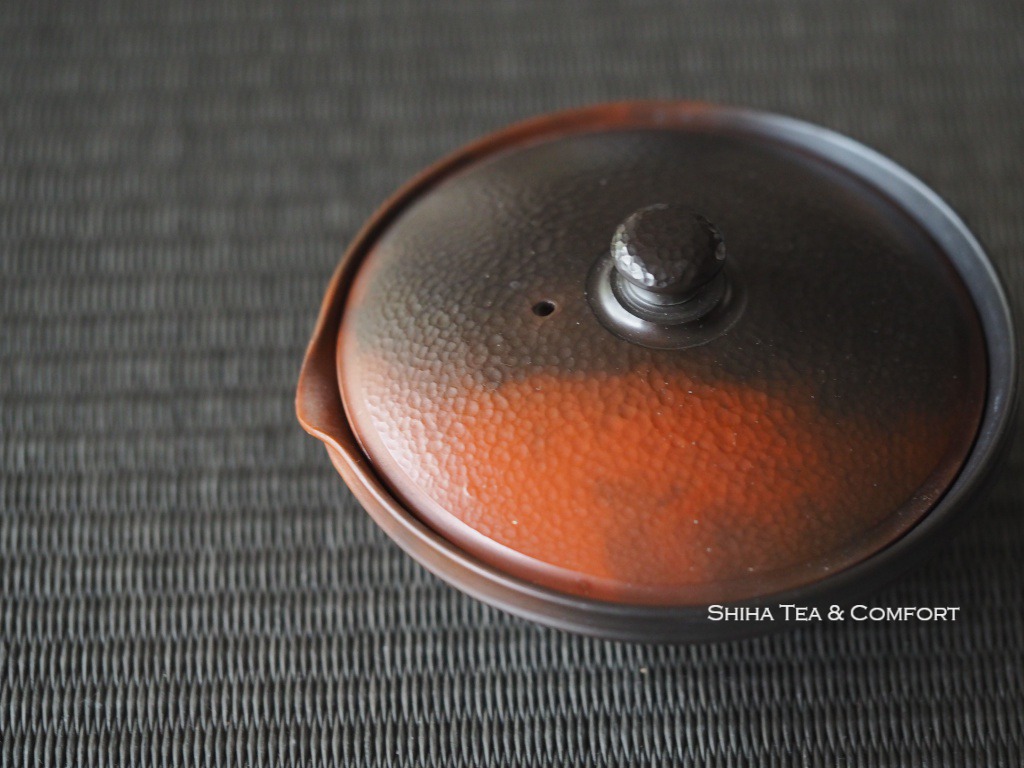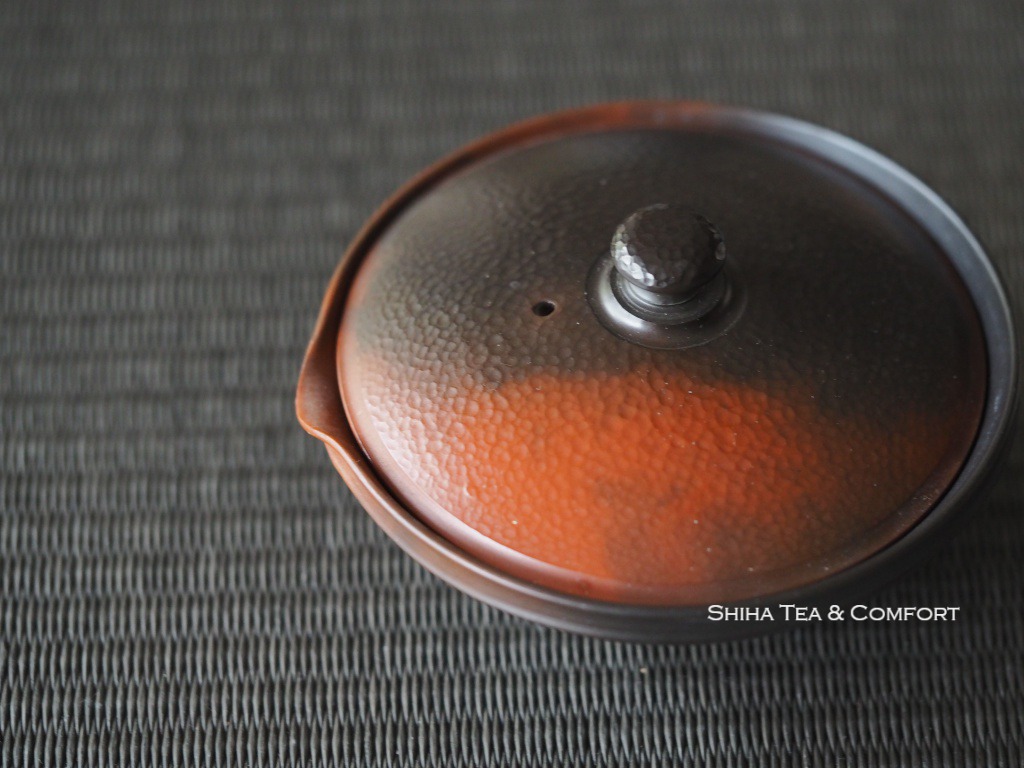 Shoryu Teapot. 20 years ago, he saw a teapot in his room beautifully reflecting sunlight coming from net window screen- he has been longing to create such a teapot, and this is it! (Tokoname)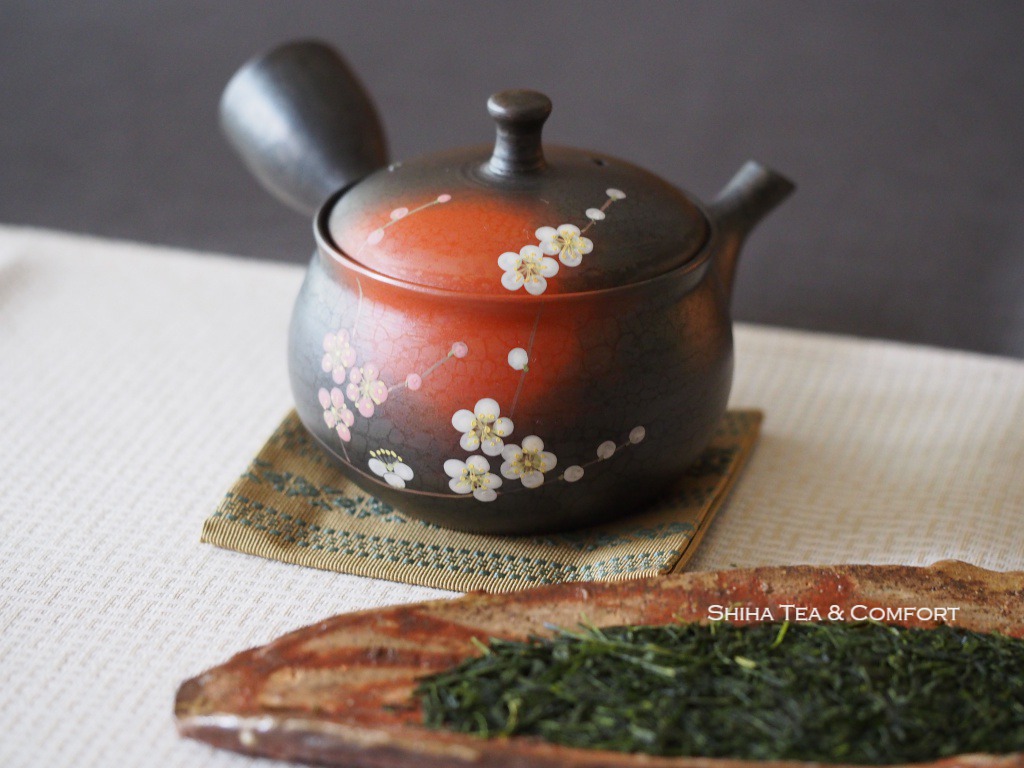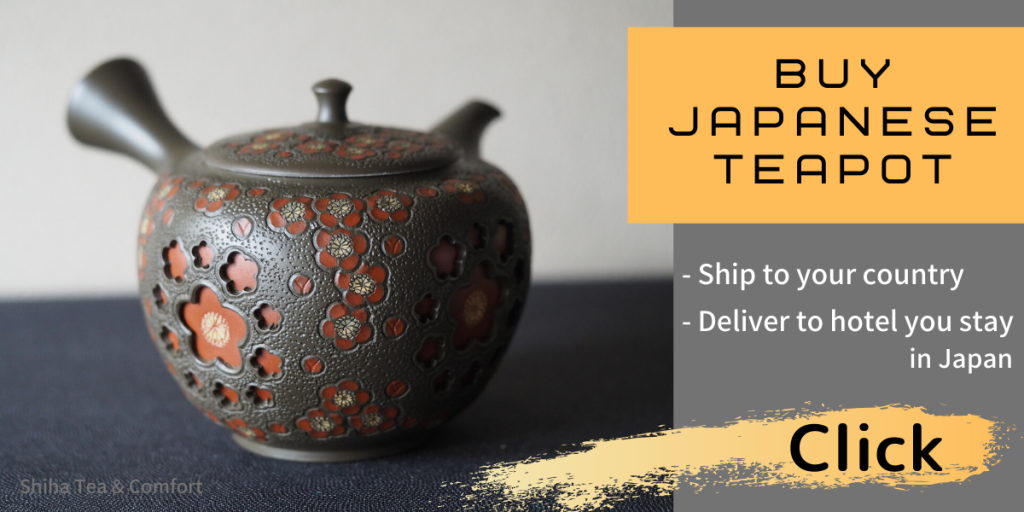 Soukou who was called teapot master, Showa era, very light(thin) and sophisticated shape.(Tokoname)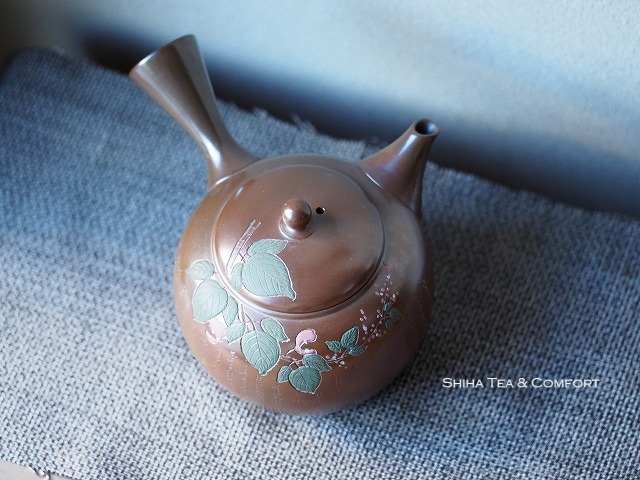 Touju, Houhin, potter with over 70 year's work, Created unique style of teapots making the most of his clay. This looks wood or iron.(Tokoname)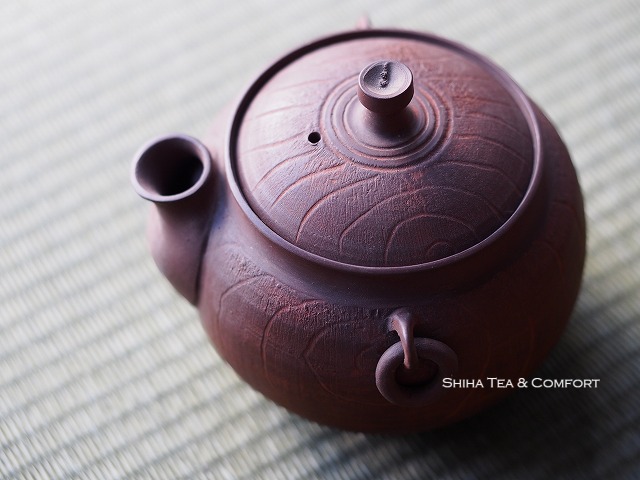 Simple, warm, nature – Hakusan's work. Shiboridashi with real seaweed pattern.(Tokoname)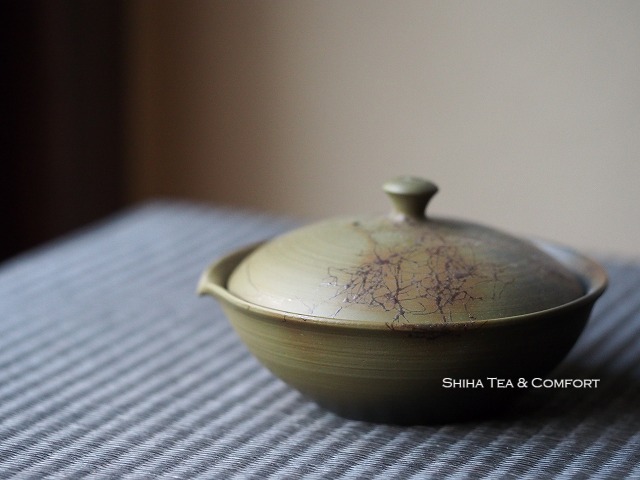 Setsudo, red clay teapot, famous for the silky texture. Water flow of his works are perfect.(Tokoname)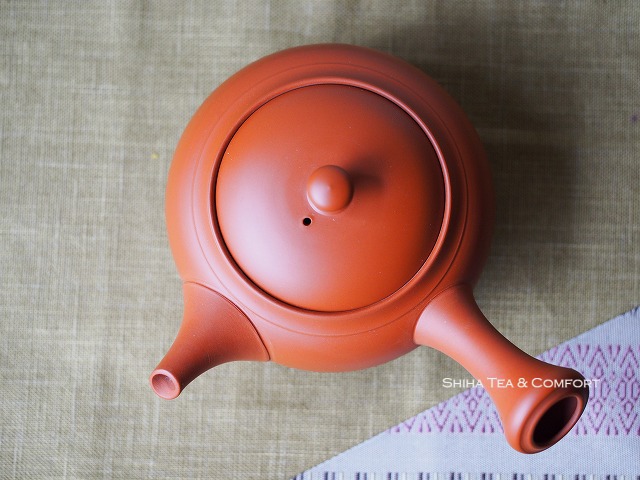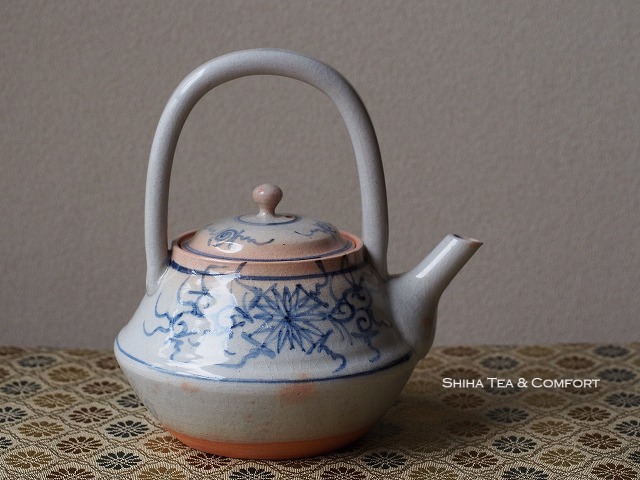 Left: Motozo teapot, red clay smoked black. Uniqueness, Warmness are his style
Right: Red clay Pearl shape teapot from 30-40 years ago.(Tokoname)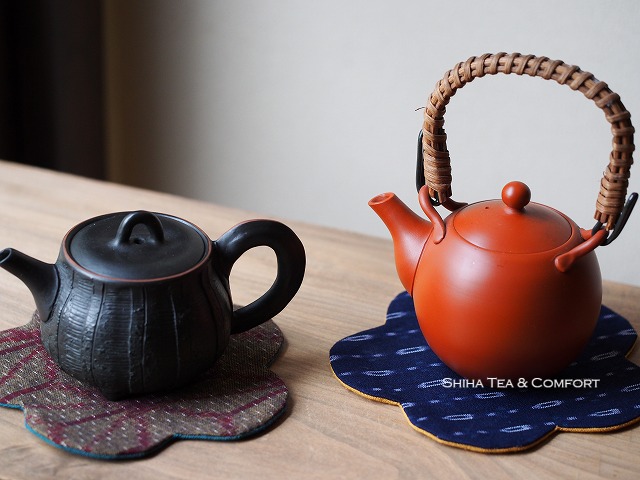 Bizen Houhin, received lots of ash in kiln, imagine fire, nature. deep – never get bored watching.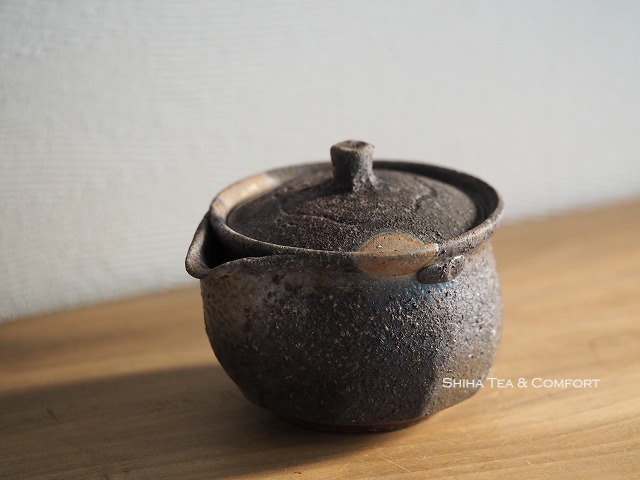 Banko teapot from some decade ago. Banko is famous for the purple clay. Simple and traditional.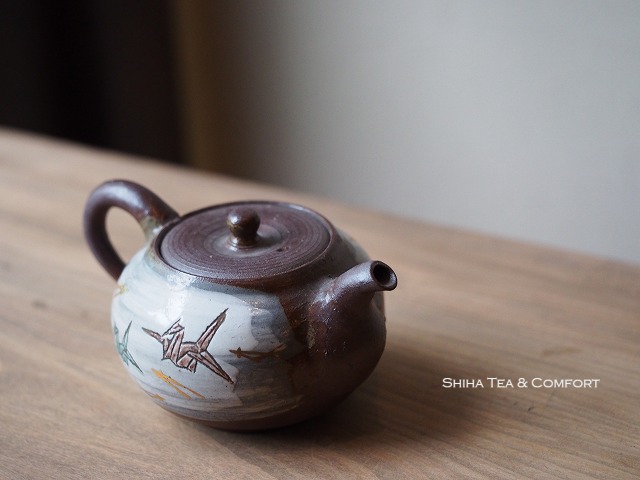 Bizen salt glazed teapot. Bizen is unglazed pottery, Fujiwara makes special works from generation to generation.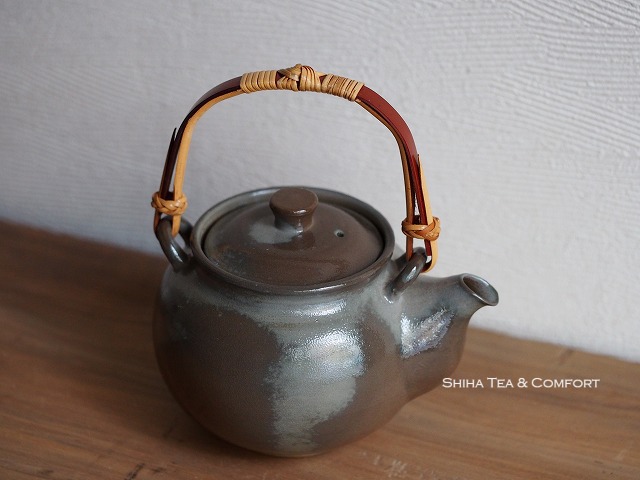 Blue & white porcelain from Kyoto. for brewing tea or put in brewed tea.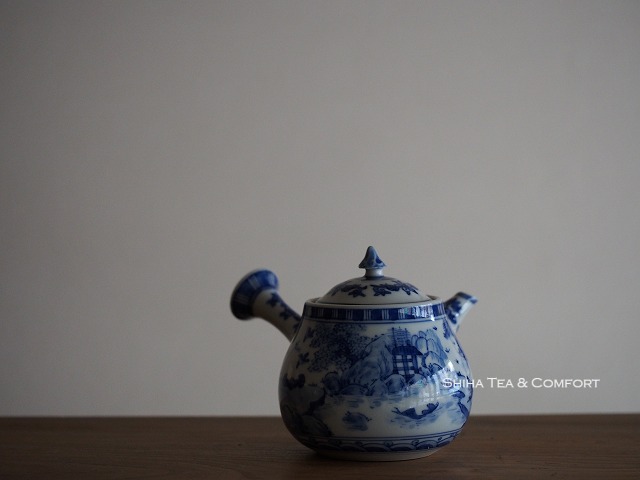 Kyoto porcelain teapot. Koto Seisho's tea ware is graceful.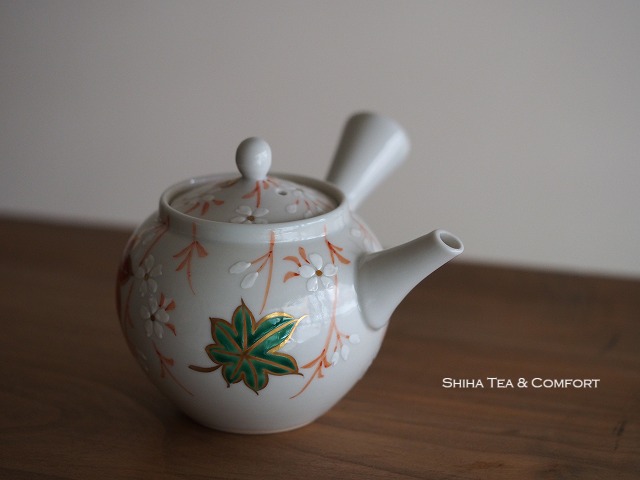 Wood fired yellow ash, Kiko Ando, Stylish and cool.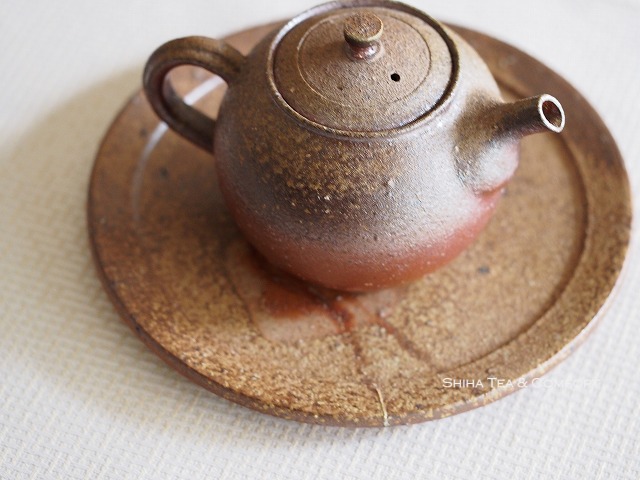 Kodo Yoshikawa, Crows – order made at Shiha Tea & Comfort(Tokoname)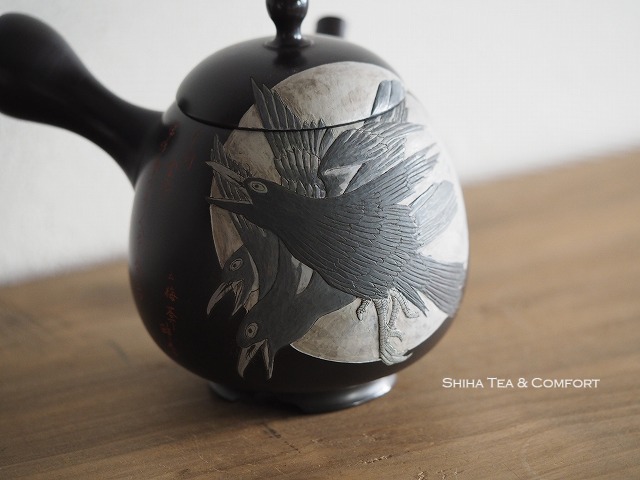 Houhin of Kyoto Porcelain. Houhin is to brew high grade green tea. Please see what is Houhin.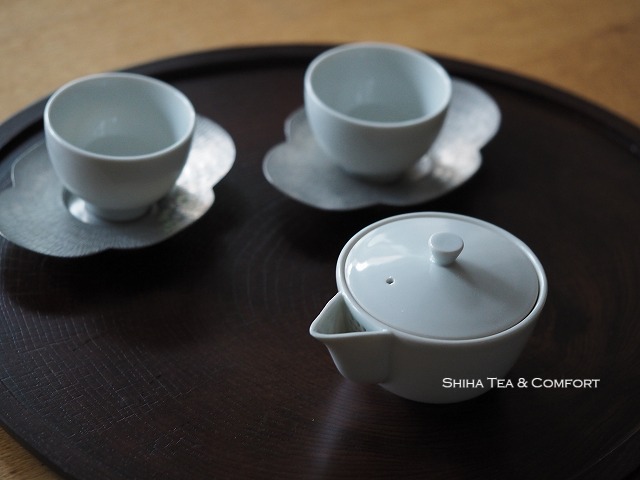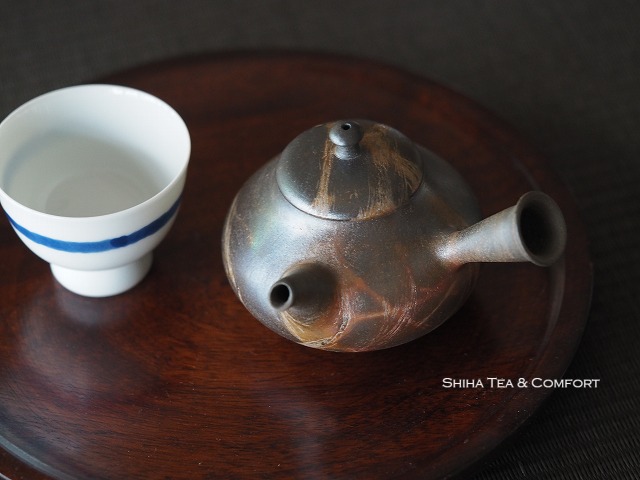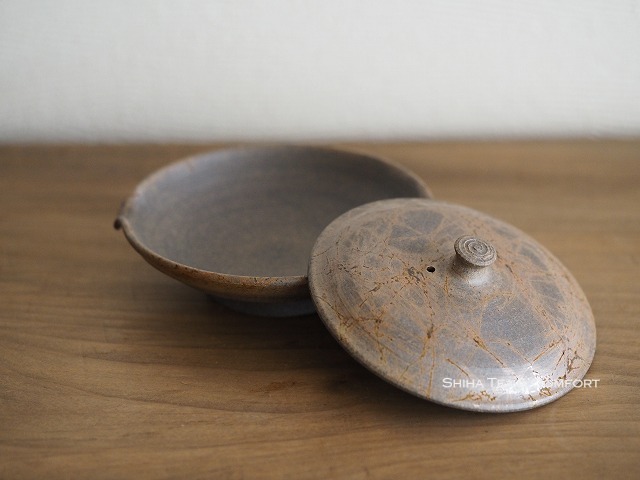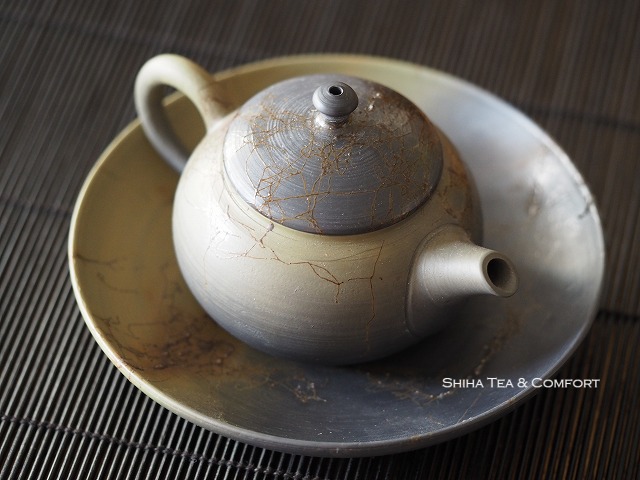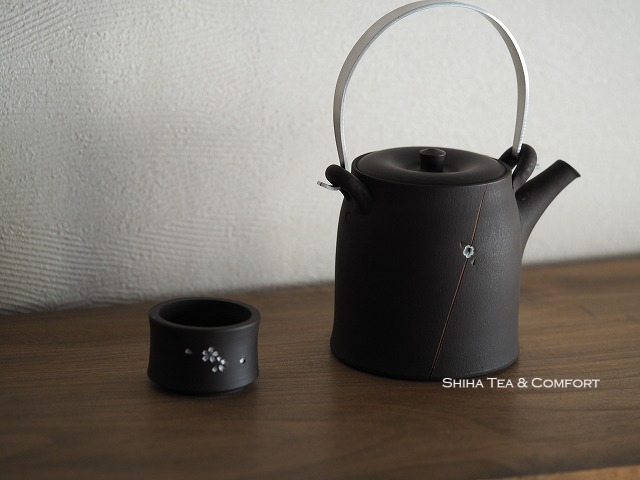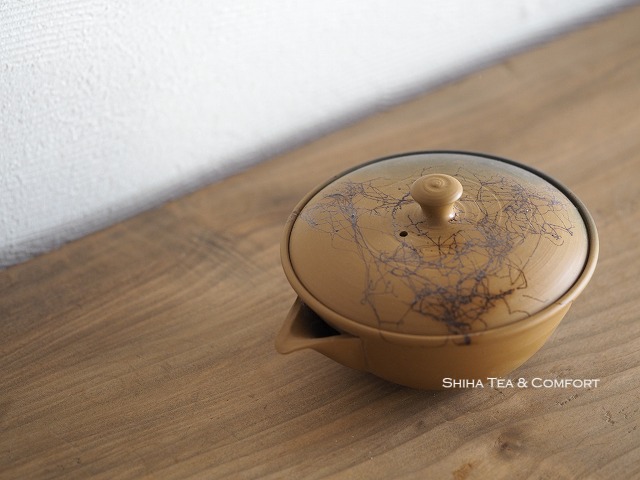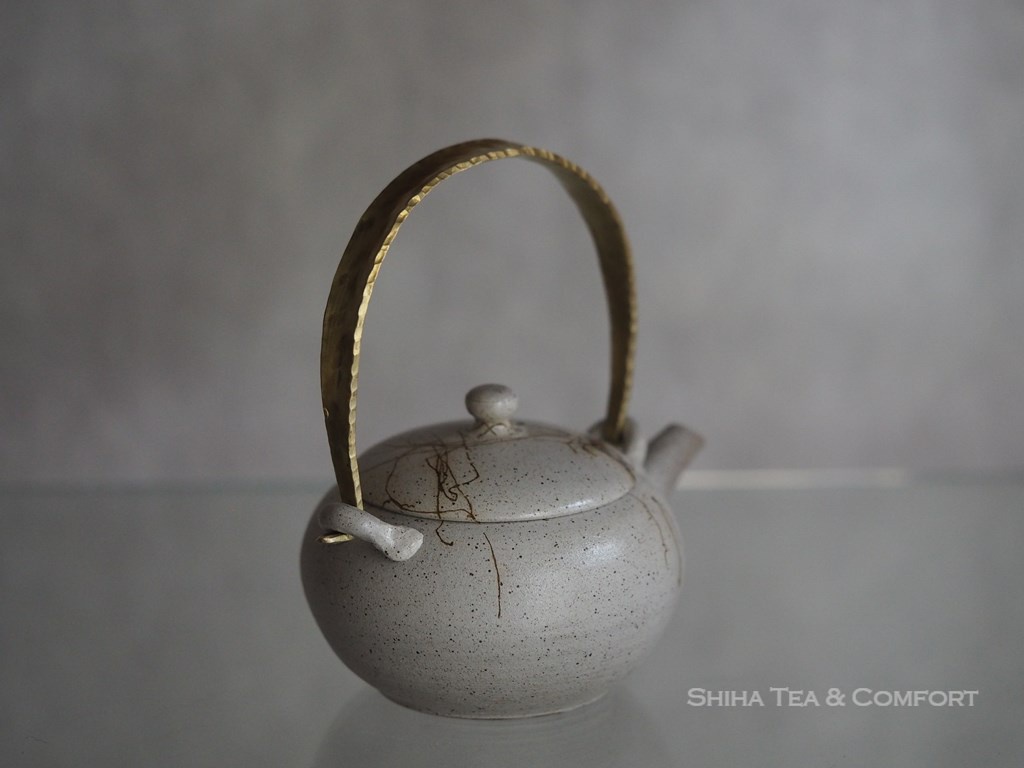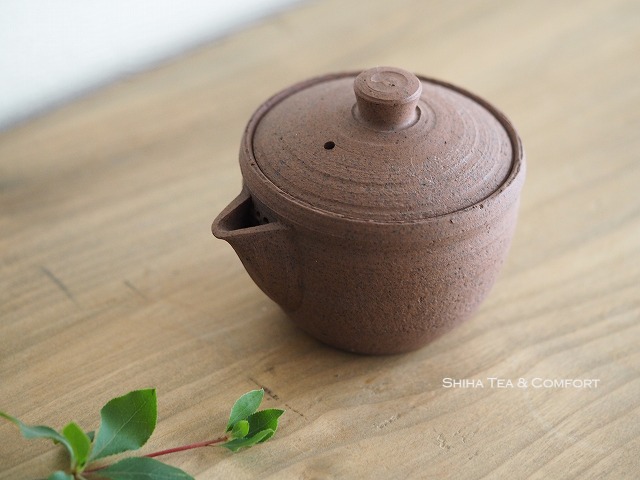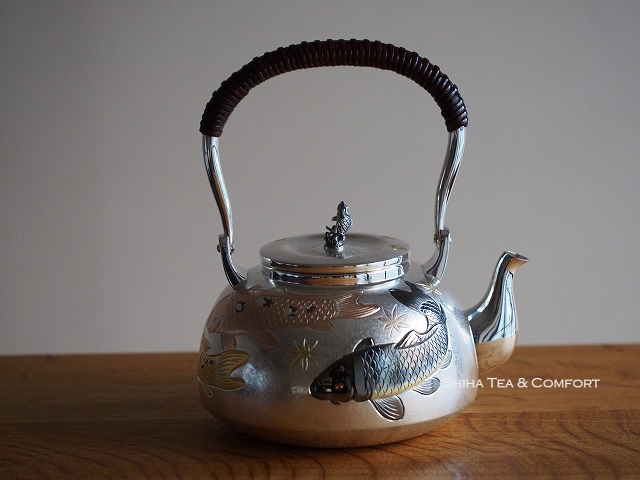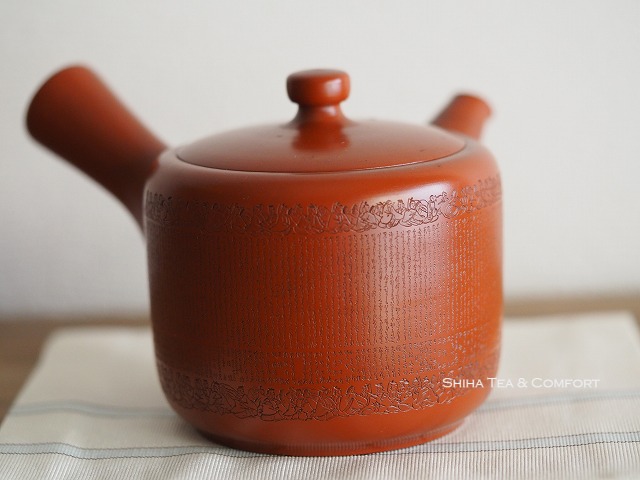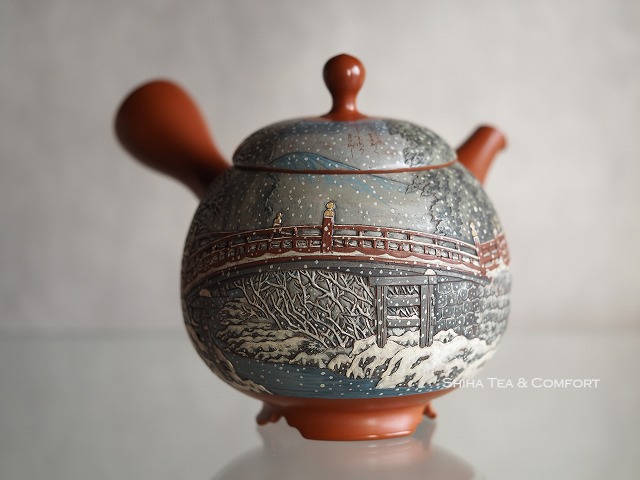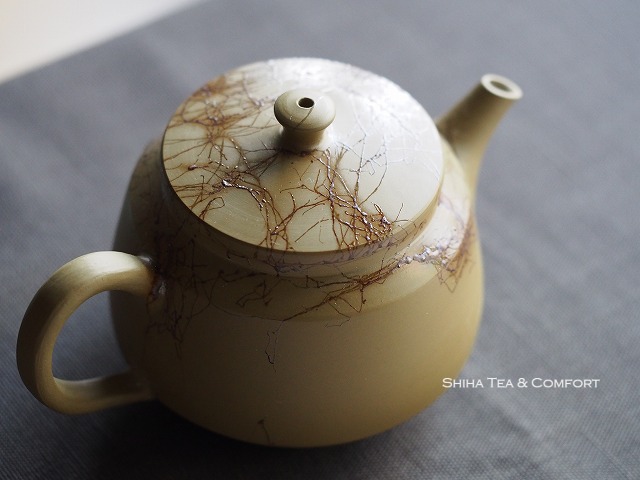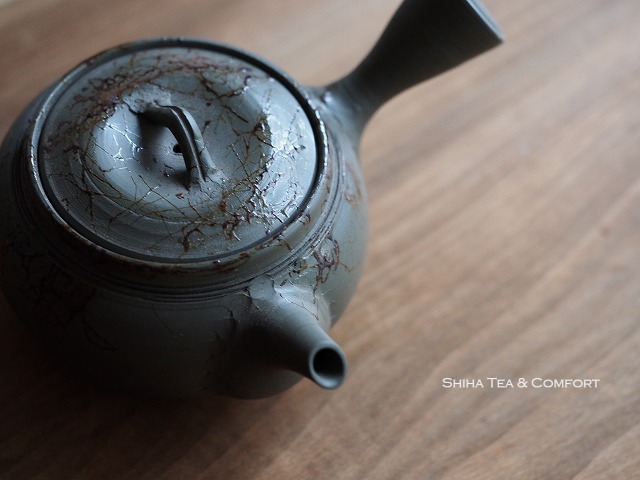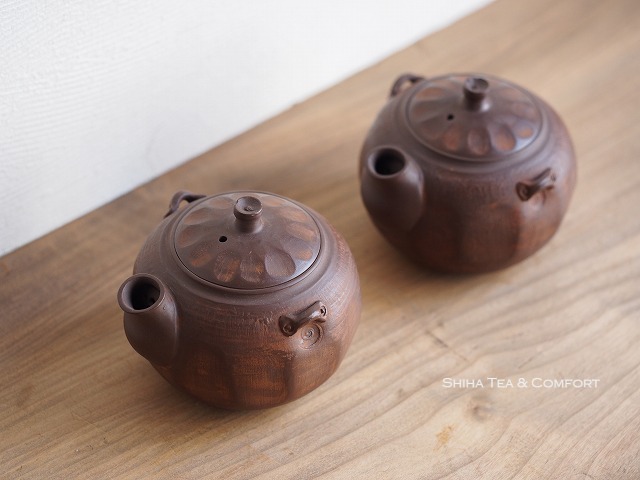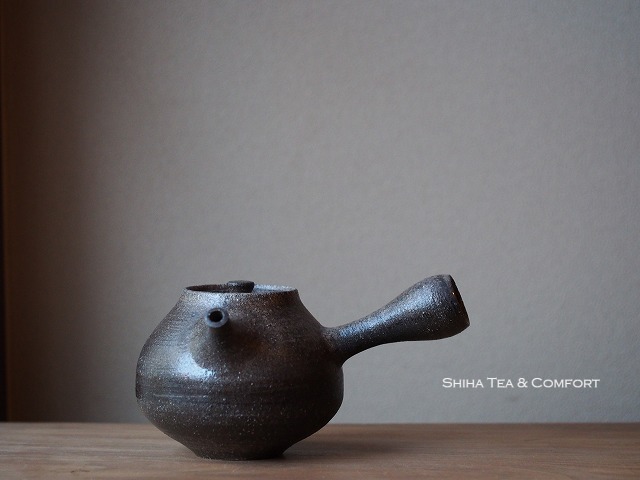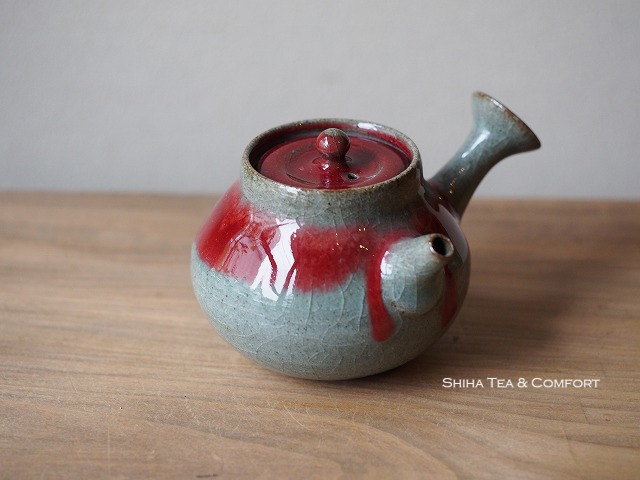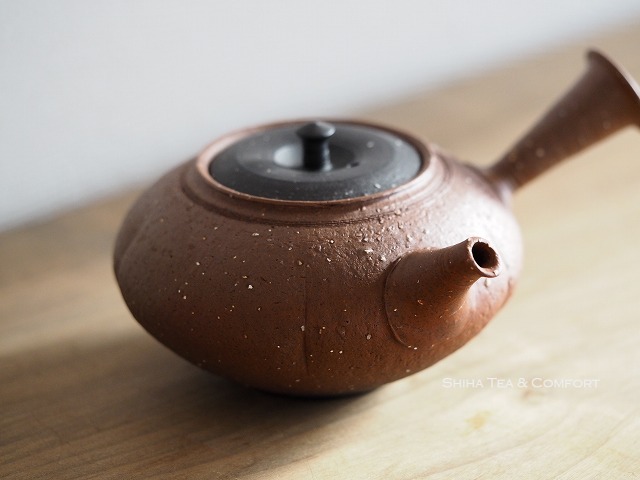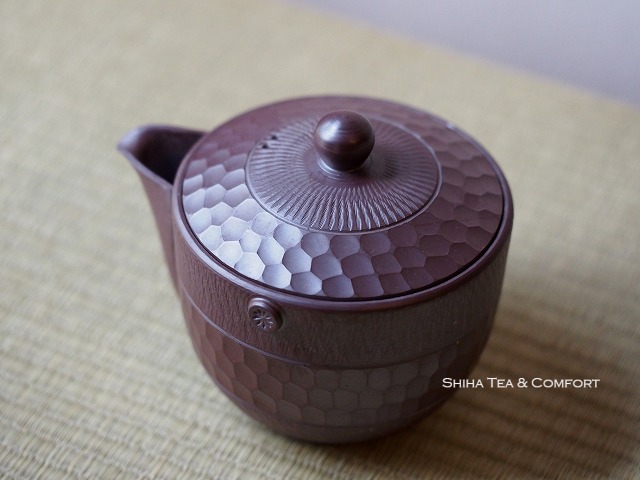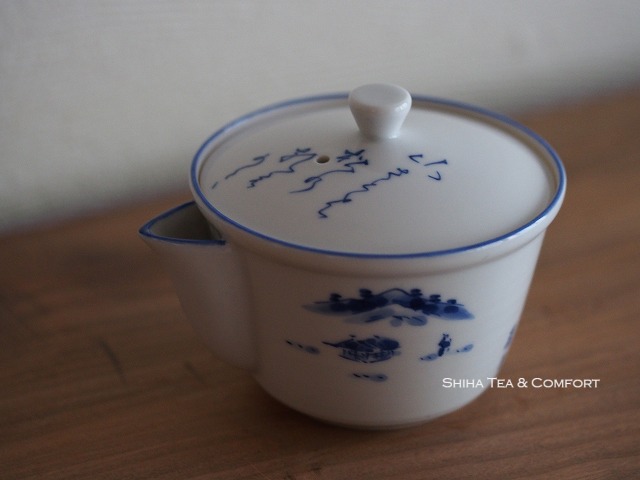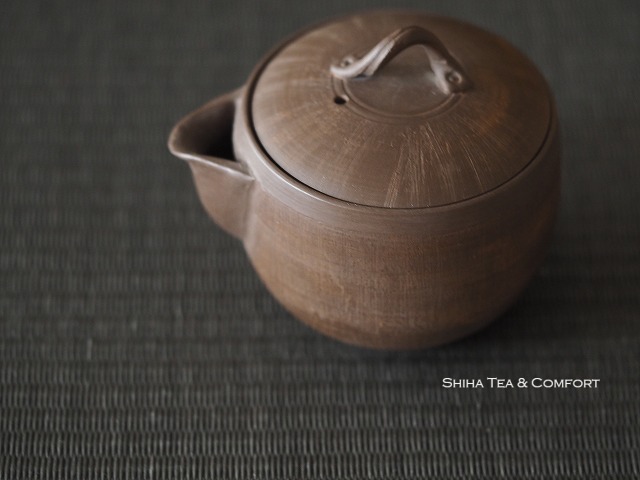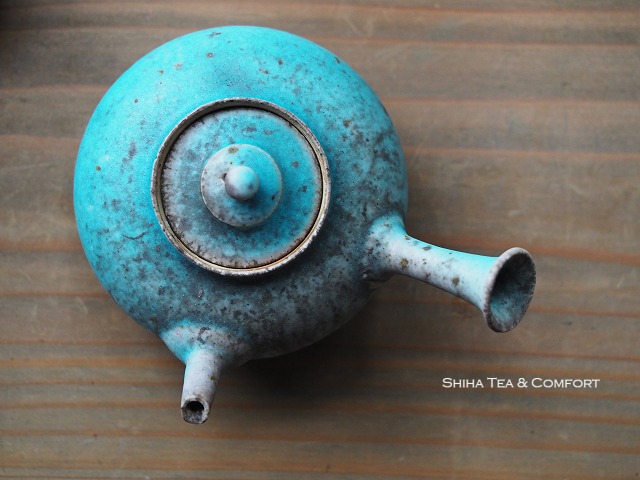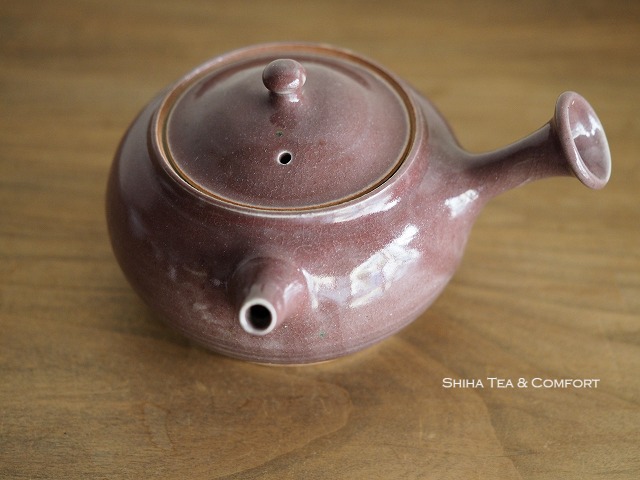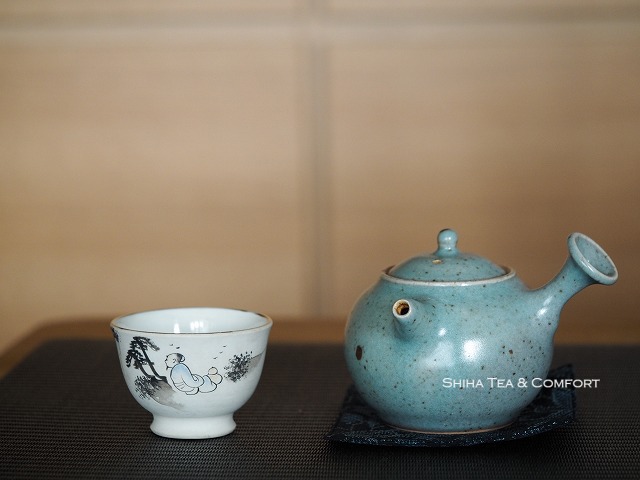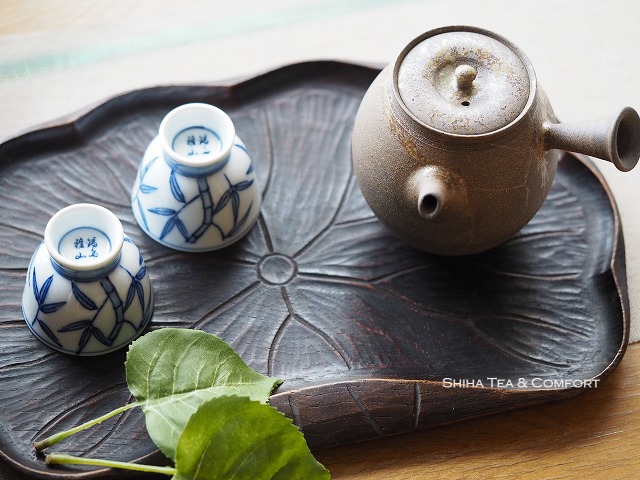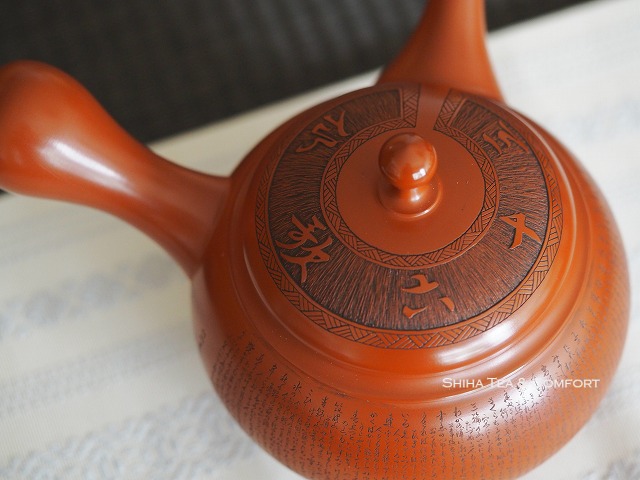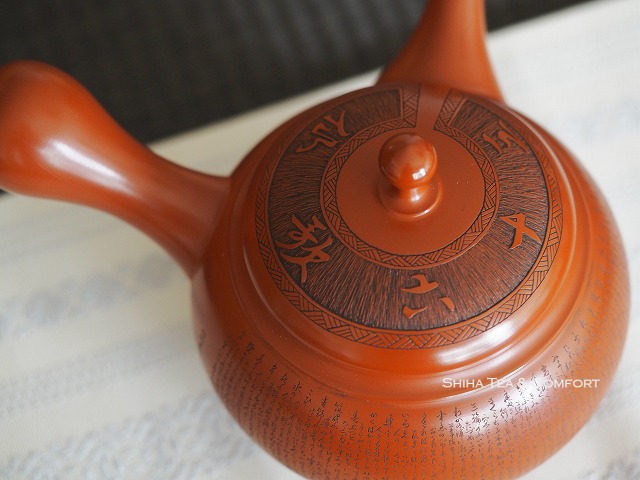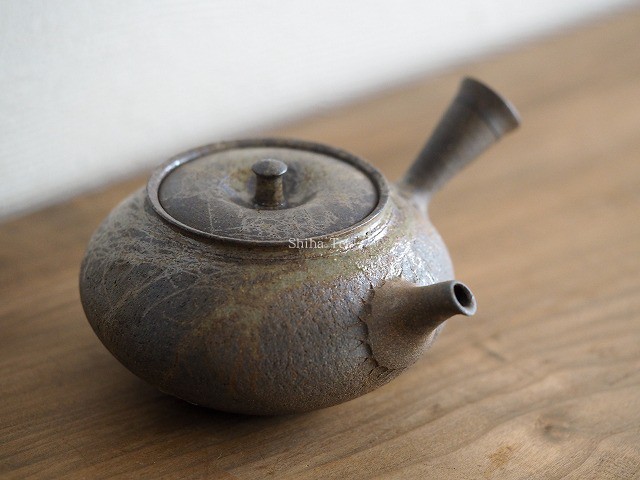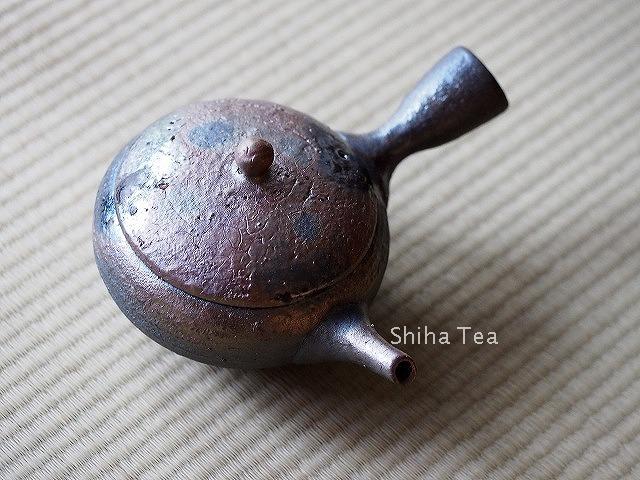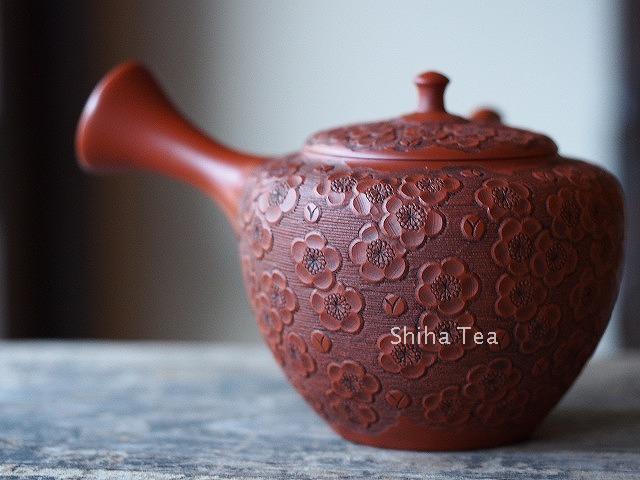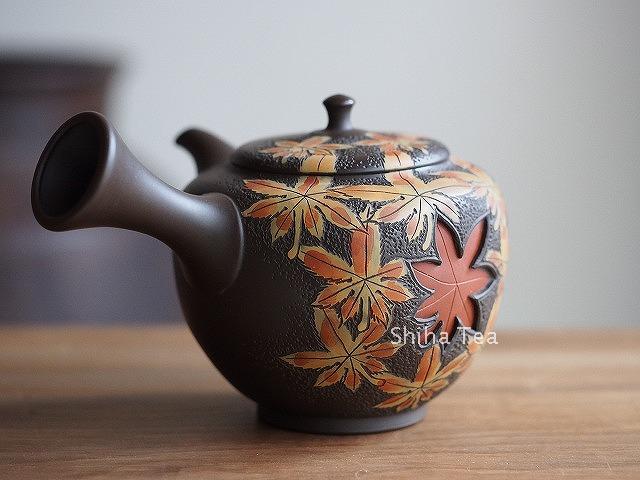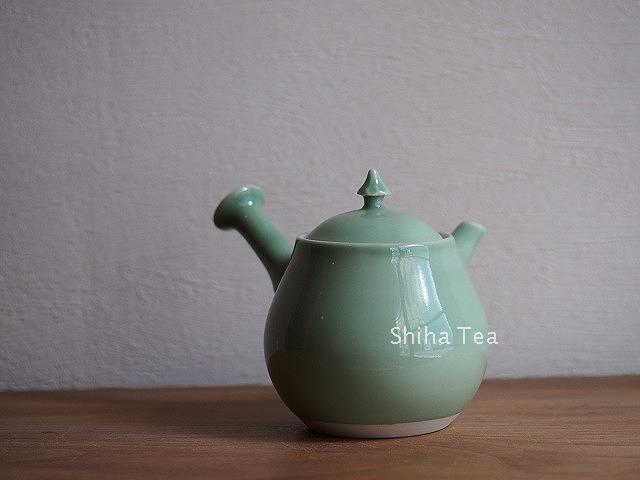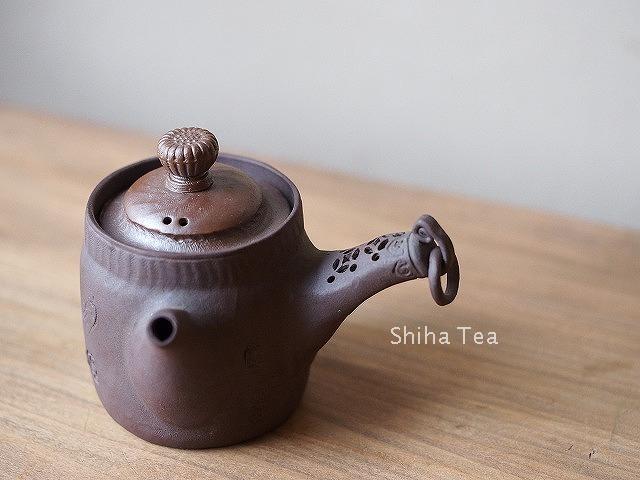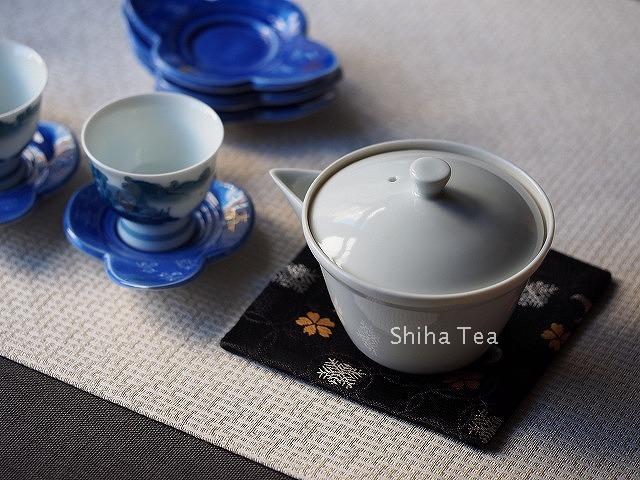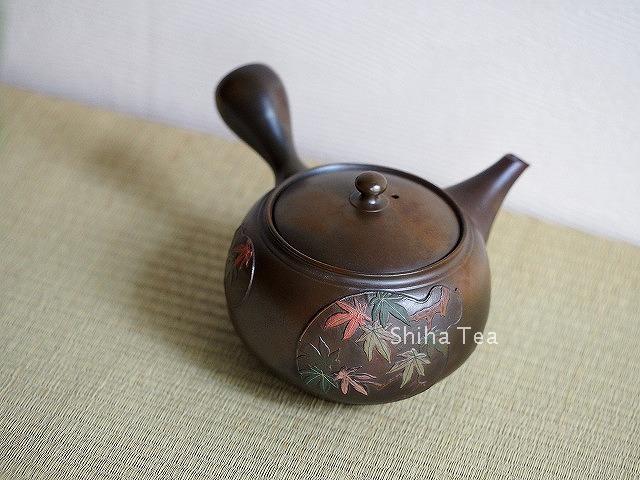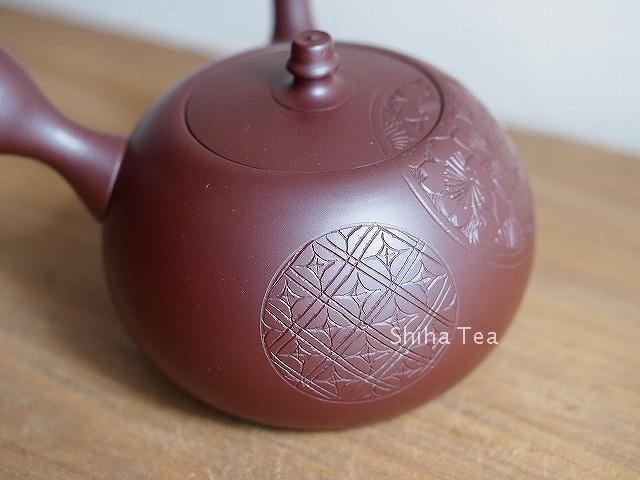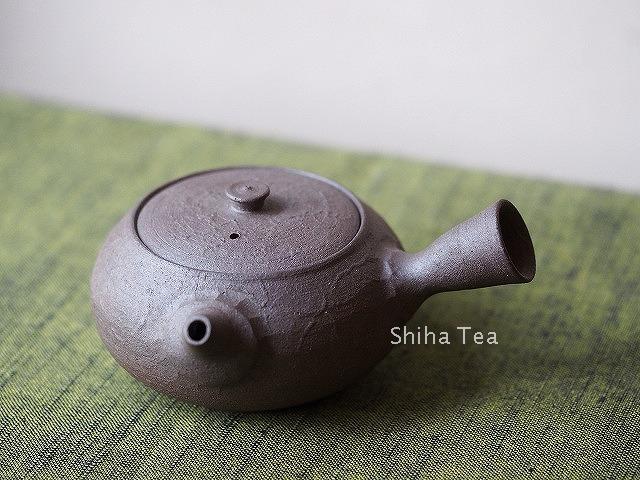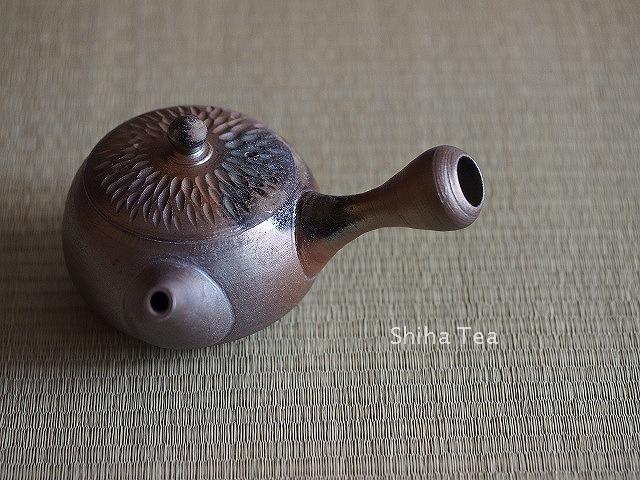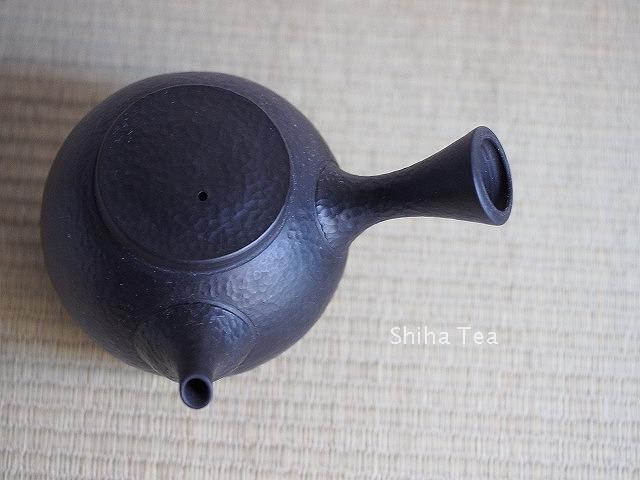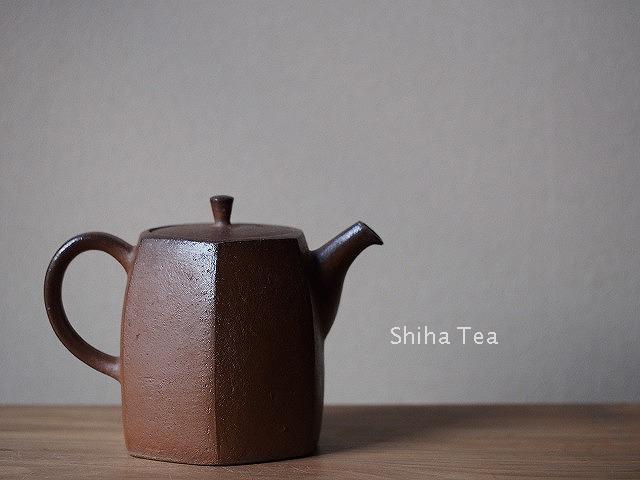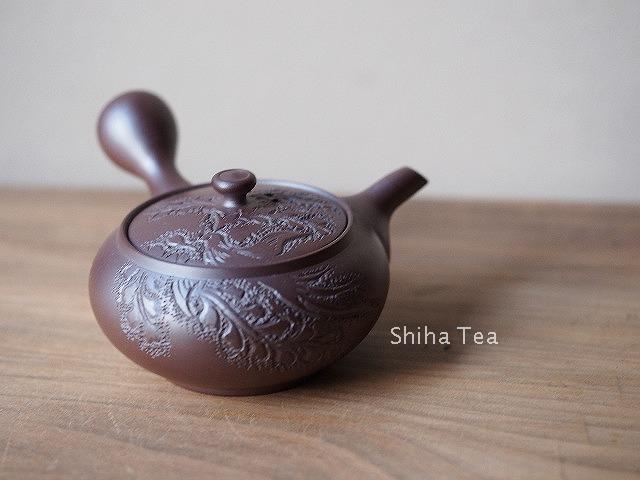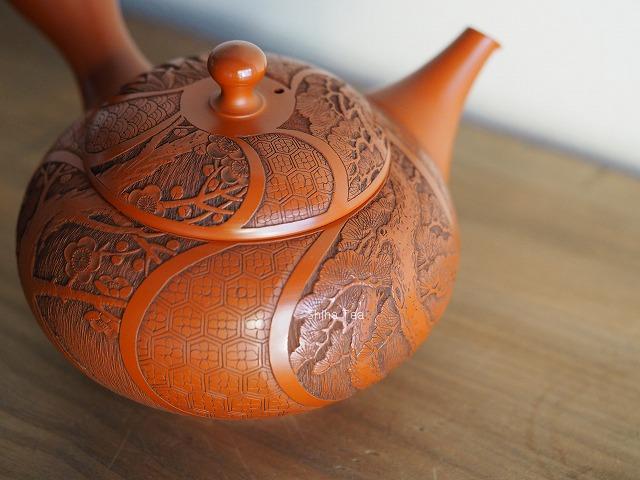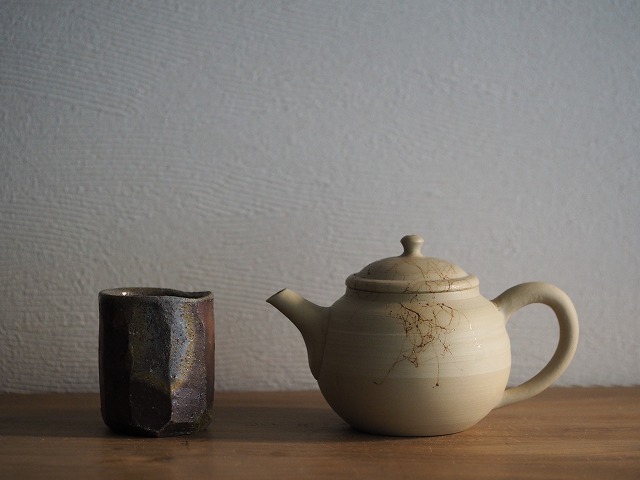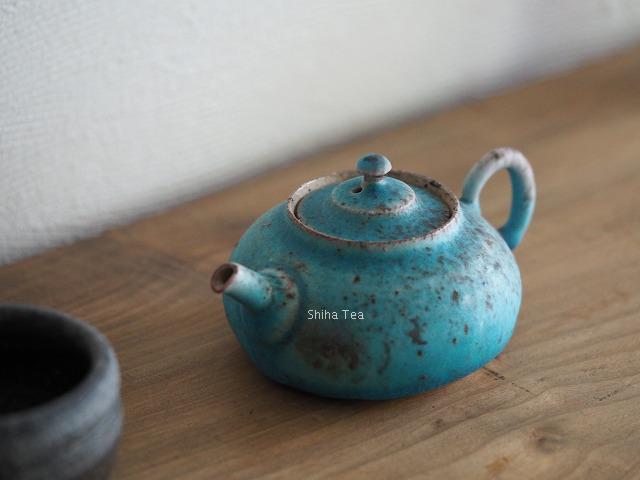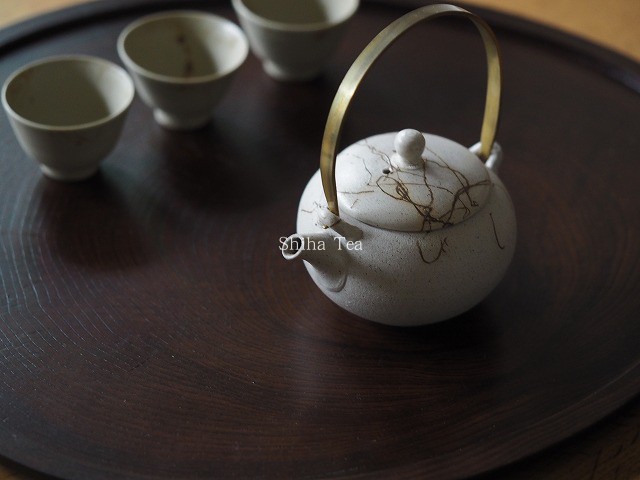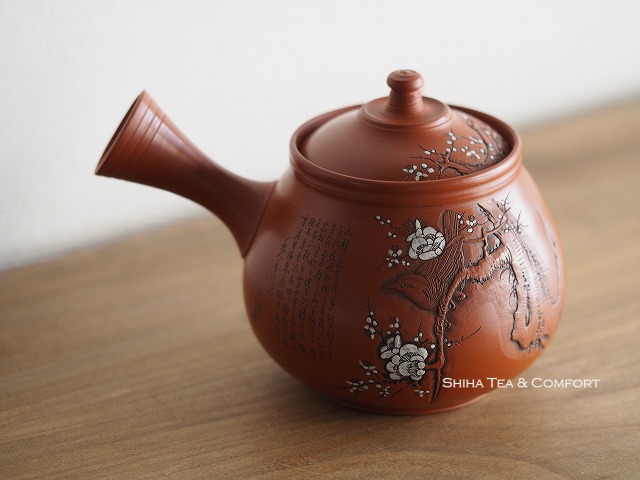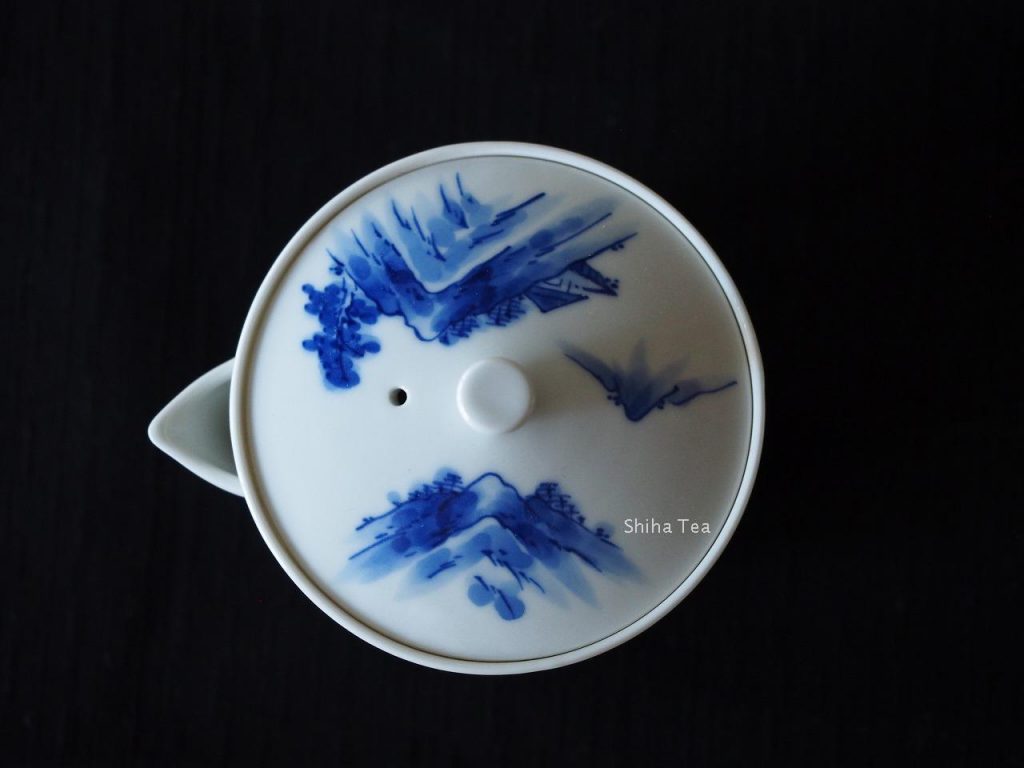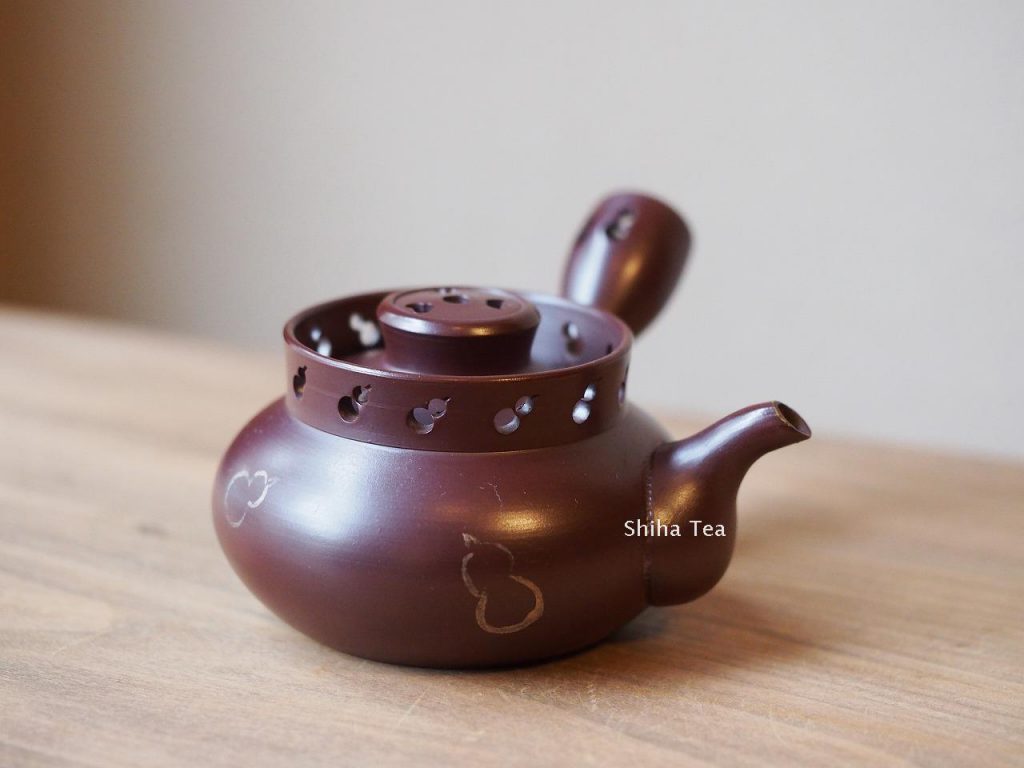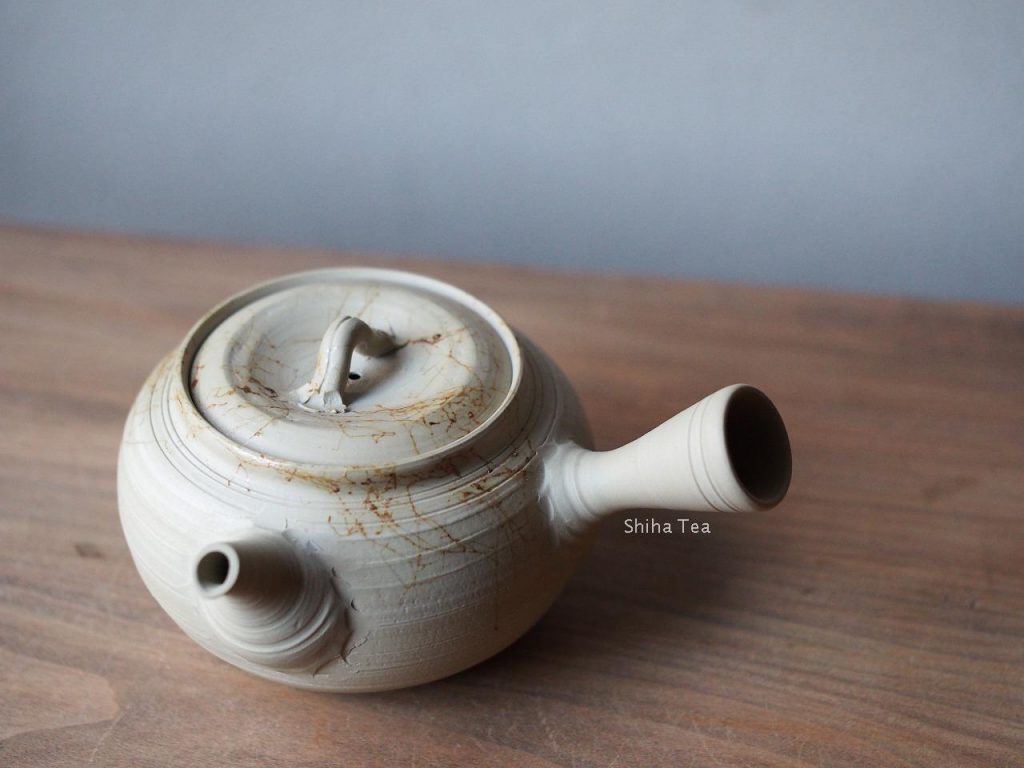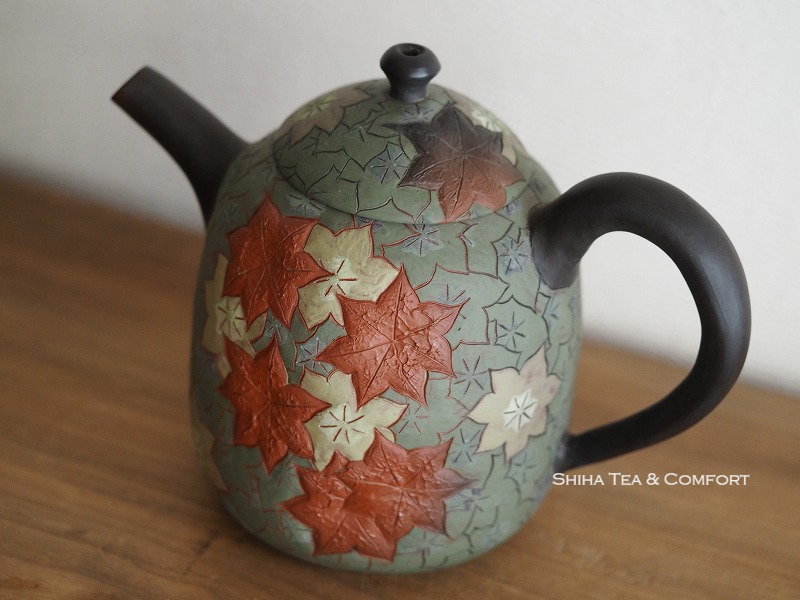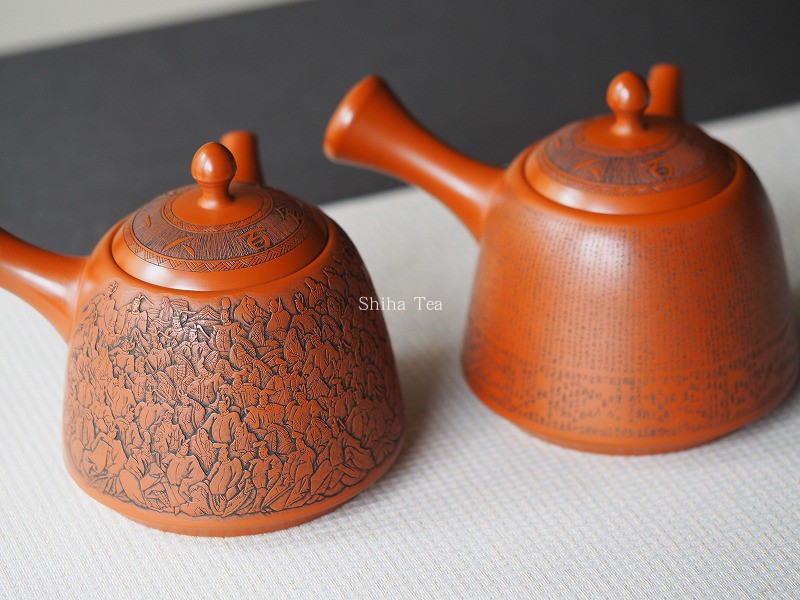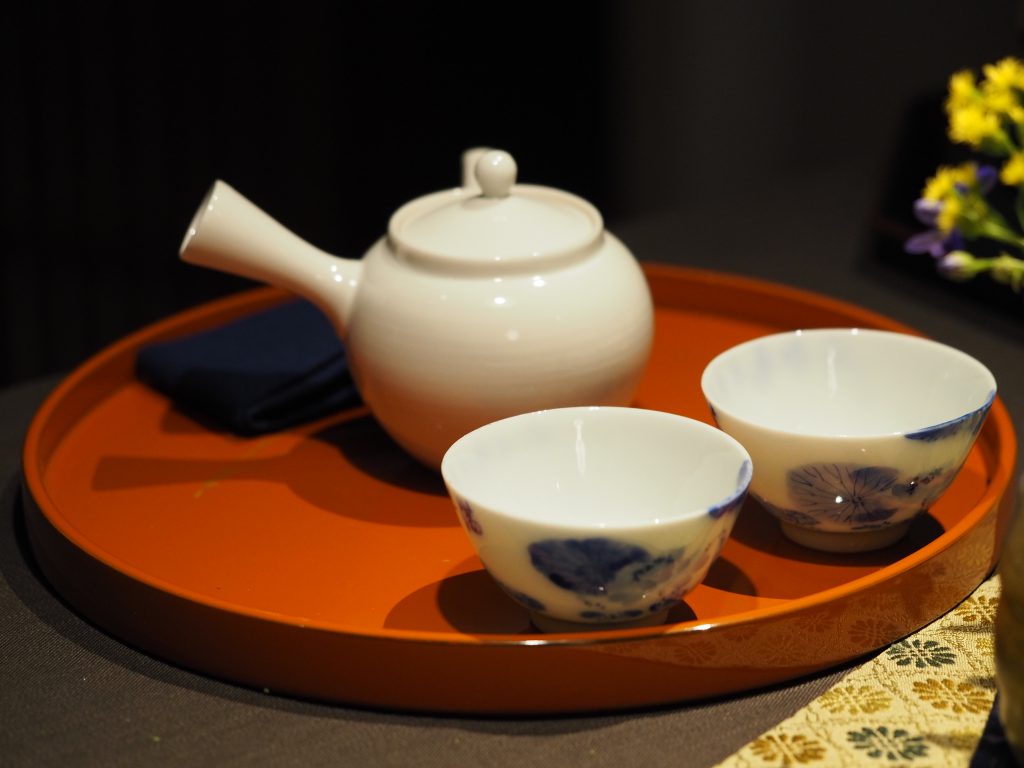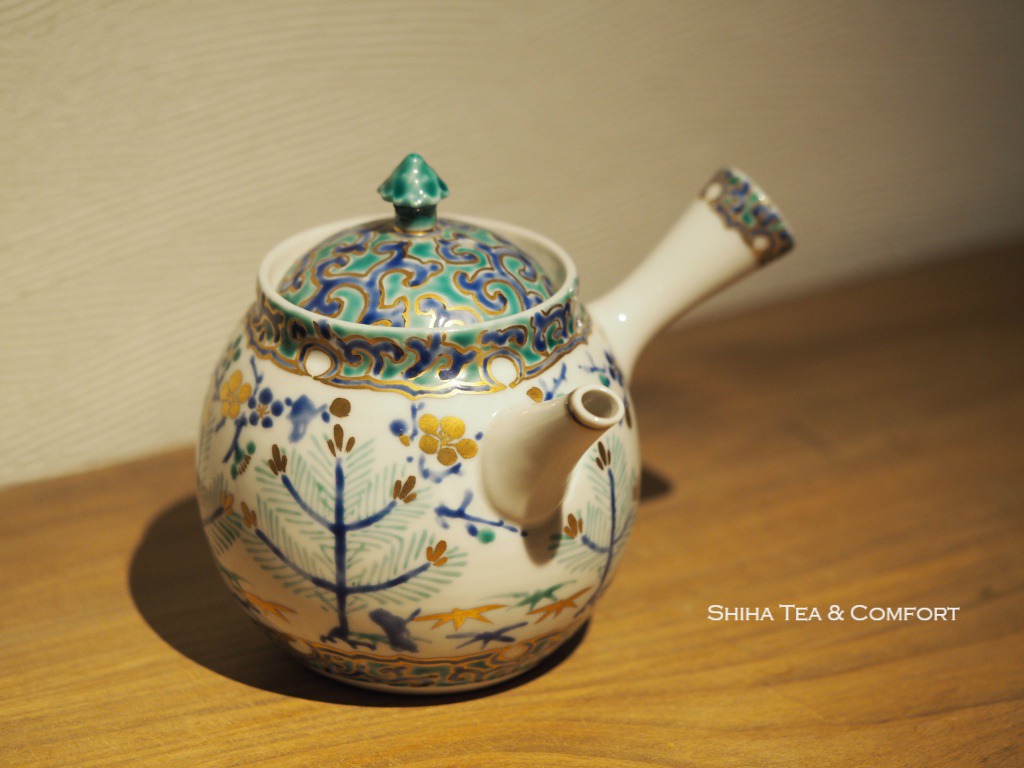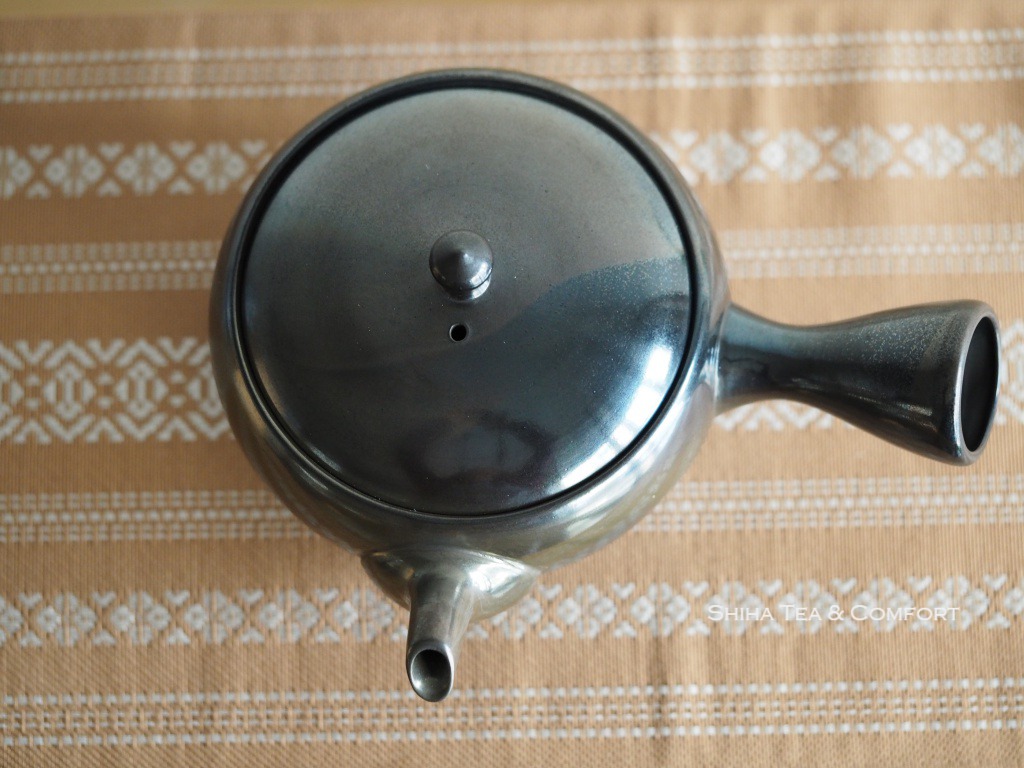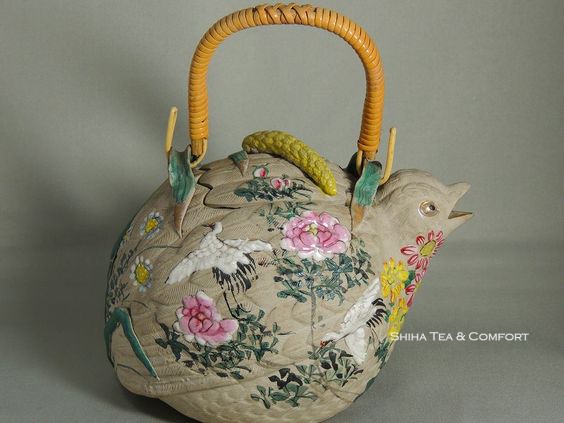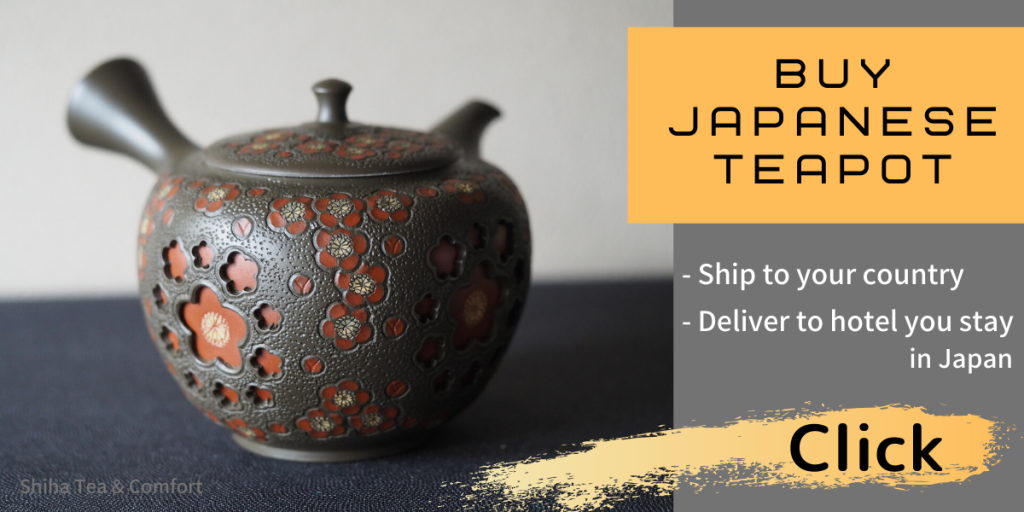 === About SHIHA TEA & COMFORT===

We are Japanese Teapot, Pottery Tea Ware Shop in Tokyo, Japan, founded in 2012. Specialize in high-end Japanese teapots.

Website: https://shihateacomfort.com
Online shop: https://shihateapot.com