What is Tokoname Kyusu Teapots? What is Special for SHIHA TEAPOT SHOP's Teapots?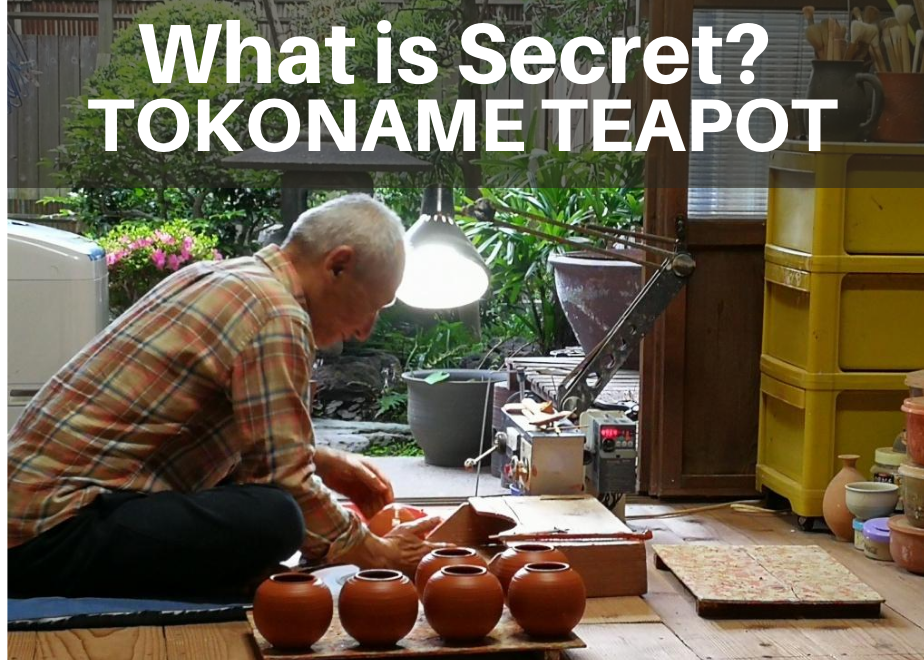 Hello! We are SHIHA TEAPOT SHOP loacated in Tokyo Japan. We specialize in high-end teapots.
Unglazed Stoneware Teapot
Most of our teapots are unglazed stoneware made with local clay in Japan. They are made in Tokoname pottery teapot town in Japan.

(They are not earthenware. Tokomame teapots are fired 2012F /1100C or higher.)
Make Taste of Tea Richer and Round
Unglazed means that tea and water touch to the clay in a teapot. It is said that the clay reduce astringency and make taste of tea richer and round, especially for Japanese green tea.
The Reason is the Clay and No Glazing
Typical and traditional Tokoname teapots are red clay teapots. The clay effect is well known among tea lovers in Japan.
Teapots with glaze don't have such a effect. Some type of lower price Tokoname teapots are glazed (and often they have stainless filters) . Please pay attention to the glazing when you select.
Some Teapots, like Shoryu Tenmoku Teapot as below, outer is glazed, inner is not glazed. This case, tea touches to the clay and make good effect to the taste.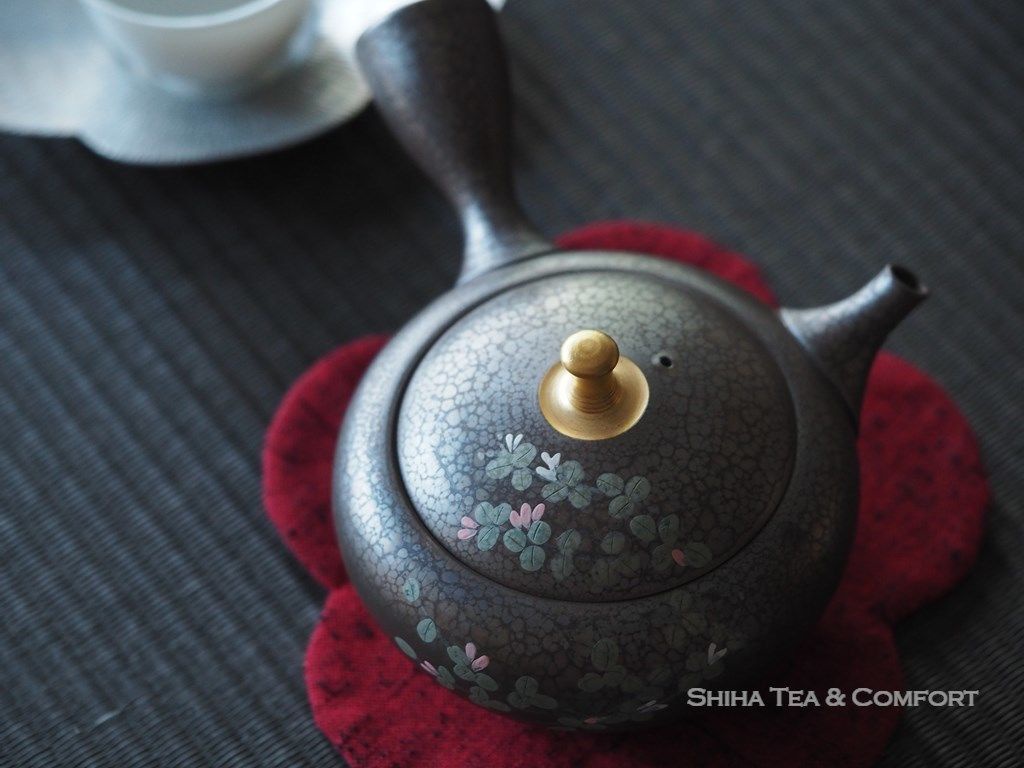 This teapots have been very poplar in east Asia countries. I also use some. Good function, pretty and good price.
Grab if you find one you like!
If you find a teapot you like, I recommend to buy it soon. I have seen many cases that production of nice teapots suddenly discontinued for many reasons. Model changes often. You see the fact that some of popular models from 5 -10 years ago are no longer obtainable.
All Handmade by Artist?
Shiha Teapot Shop's teapots are handmade basically. Many of the artists make teapots by himself alone. Some are made with family members. They don't have big factory. They make teapots at small studio (workshop).

In those cases, most of process are done by himself or/and his family members. The process is;

Clay selection, purification, design, forming, carving (some artist), kiln adjustment, firing, polishing, lid adjustment and even shipping..
Quality Control & Production Volume
It means that ;
Artists himself control quality at every steps
Making process is longer than mold-made teapots
Production volume is not big
Teapot users can "feel the artist" in every details and in whole teapot
Good Function & High Technique
Many of Tokoname Teapots at SHIHA TEAPOT SHOP are made by artists in his 60s, 70s, 80s. They have been making only teapots as their works.
It means that;
They fully consider about function of teapots and put their all techniques into teapots they make. Water flow is good, water stopping is good, lid fits body well, comfortable in your hand etc.

Please watch the details of our teapots at online shop carefully. Photo also shows the quality.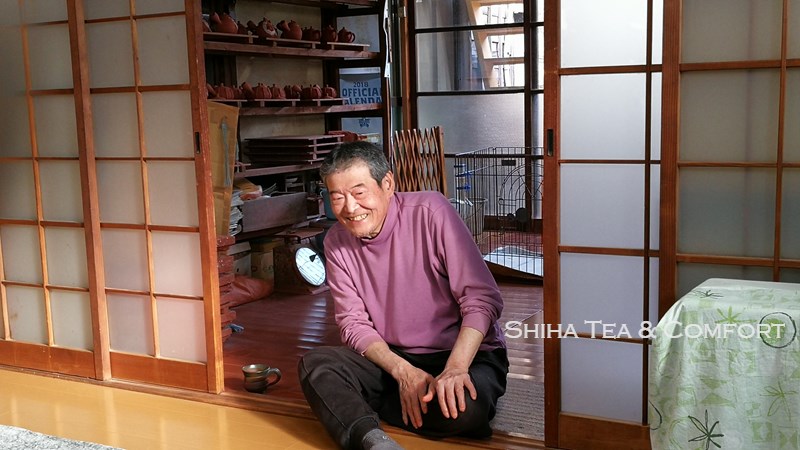 Motozo – a great teapot artist in Tokoname. His works are warm, timeless, unique.
Tokoname Teapot Handmade Filters
Artists pull clay on potter's wheel.

Some of teapots have handmade filters. Holes of filters are made by artist one by one. (Hand punching holes). Material(clay) is the same as teapot body.
If it is not handmade, it is half handmade. Shape of filer is made by the artist, and holes are made by using a tool (pucher). The puncher had been invented by a potter in Tokoname some decades ago. The filter made with the pucher are called Ceramesh or Sasame.
About "Traditional Craft Man"
Many of Tokoname teapots of SHIHA TEAPOT SHOP are made by artists certified by the Minister of Economy, Trade and Industry of Japan (Called traditional craft man) .

They are making teapot for some decades, some are more than 50 years. They are teapot professionals 👑 Beauty and perfect functions come from their long years experience and technique.
Style of Teapot shows Japanese Culture
Most of SHIHA TEAPOT SHOP's Tokoname teapots are authentic and classical style. They are a practical tool to brew tea, also art works. They show our culture and tradition! Please feel Japanese Culture with your favorite tea.
And so much of high technique is in a small teapot to brew tea well 😊 Enjoy the comfortable feeling.
Quality Check by SHIHA TEAPOT SHOP
We would like customers to feel good with our teapots. We check each teapot carefully before shipping. Our standard of the checking criteria is high.

The president of SHIHA TEAPOT SHOP has studied tea culture in China (origin of tea and tea ware) and Japan for long time. We deliver teapots to Chinese customers, who have high demand for the quality and function to teapots, for long years. We get high score for our teapots from them.
Bring a Joy to Your Teatime and Life
SHIHA TEAPOT SHOP was founded in 2012 and run by Tea Specialists. We would like to deliver fun, joy, calmness and happiness to your teatime and life.
We are membership of Japanese Tea Instructor Association and National Japanese Senchado Association, versed in Japanese and Chinese Tea Culture.

Please visit our online shop and website for tips of Japanese teapot and tea.
SHIHA TEAPOT SHOP ONLINE : https://shihateacomfort.shop
SHIHA TEA & COMFORT WEBSITE : https://shihateacomfort.com