SHORYU Flower Oil Drops Teapot + Yuzamashi Pitcher Set 昭龍梅花 (Made in Tokoname Japan)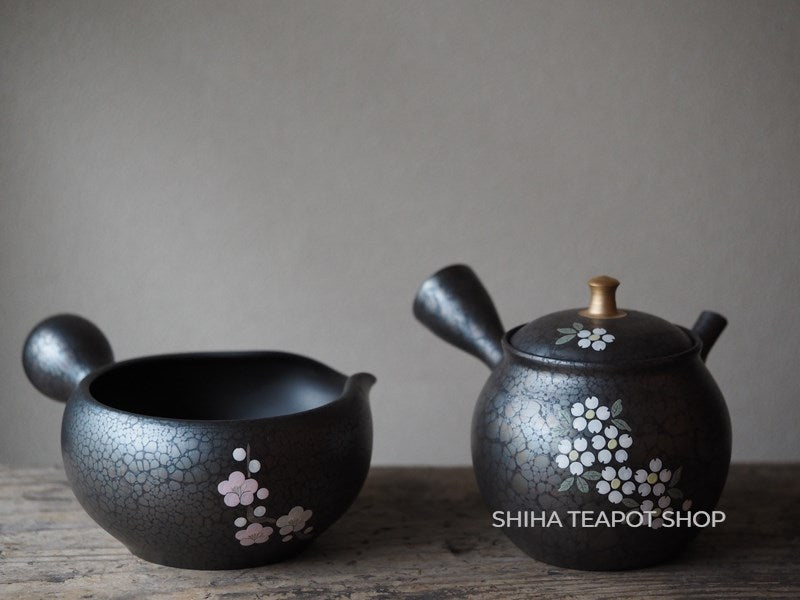 SHIHA TEAPOT SHOP Online Store: https://shihateapot.com
Lovely, elegant black Japanese handmade teapot set with flower paint. 
Yuzamashi pitcher can be used as water cooler (Yuzamashi) and pitcher (Gong dao bei)

Body is carbon black with oil drop pattern with delicate shine. The black comes from reduction firing with rice-hulls in kiln. (Smoked)

Melt pure gold was applied on lid knob, that makes teapot look gorgeous. And the gold lid makes the black more beautiful.

This teapot was fired 5 times in kiln. After 1st firing (red teapot), paint flower (2nd), glazing on surface (3rd -oil drops), reduction firing (4th – becomes black teapot) , apply pure gold on lid-knob (5th).

Good to brew any kind of tea. There are many good reputation especially green tea, white tea brewing.

Artist Bio: Born in 1945. 62 years of teapot work , as of 2022.

In 2018, received The Order of the Sacred Treasure, Silver Rays from the government for his long year contribution to the Japan's traditional art craft.