Arita Porcelain Cups Greenish Crystal, Celadon, White-Blue Crystal, 3pc Set 有田茶杯套装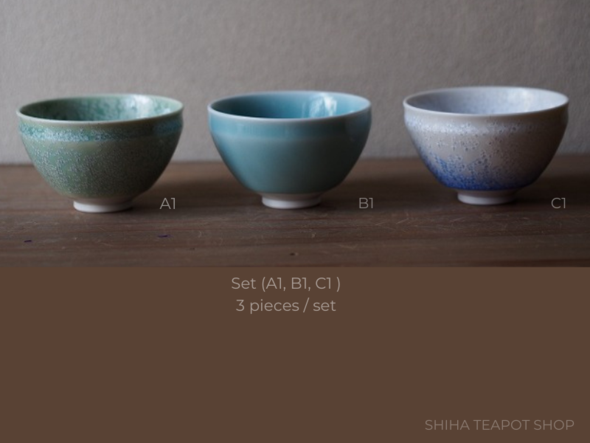 SHIHA TEAPOT SHOP Online Store: https://shihateapot.com
Shape of the cups are traditional style of Japan – it is  called Tenmoku-shape.
In Japanese tea/ceramic history, this shape of match bowl have been popular several hundreds.

Arita is the earliest production are of Japanese porcelain. It started in the 1610s. It has a history of 400 years. Arita-yaki (Arita ware) is one of the highest level porcelains in Japan.
It is authentic shape for tea and sake.
The lip of cup is smooth and appropriate thinness – you can feel taste of tea well without stress.
Shinemon kinl's porcelain stone is very while like snow.
Pay attention to unglazed part, which is bottom of the cup and foot ring.
It is purely white.
Shinemon kiln uses high grade material. It also the reason to gives good effect to the color of glaze.
Shinemon manipulate kiln atmosphere (flame, temperature, oxygen etc) and create beautiful colors. (Glazes on cups turn to unexpected colors if it is not controlled well.)