JINSHU Flat White Mogake Seaweed Tokoname Kyusu Teapot (Wood Box with artist's signature) 甚秋藻掛 (Made in Tokoname Japan)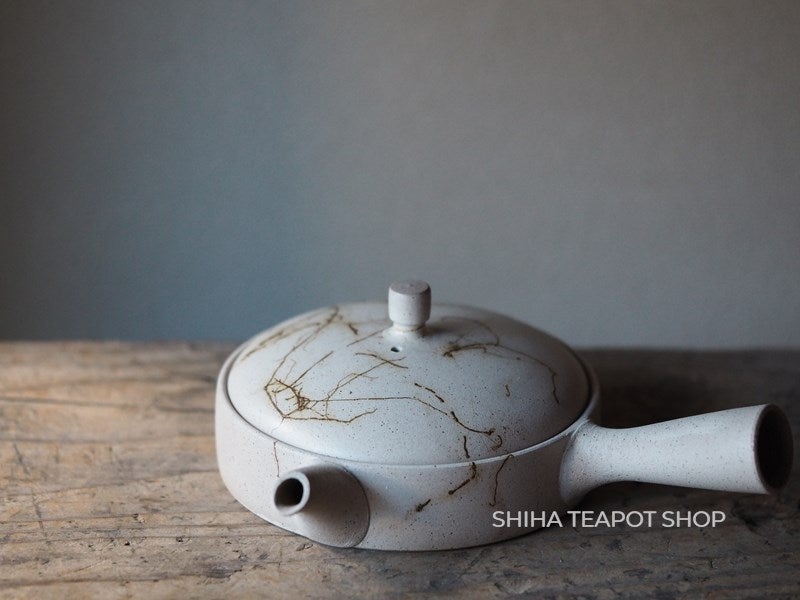 SHIHA TEAPOT SHOP Online Store: https://shihateapot.com
Seaweed line art differ every piece. It is unique for each item. 
We send you this #JN89.
Jinshu special blend clay is used. Surface of the body has white make-up clay. Mo (Seaweed) look  beautiful on the white body.
Beautiful filter mounted inside of the body. This is a teapot that you can enjoy the inside design. Dome filter is invented by Jinshu.  This filter make it possible to pour till last drop. 
125ml (larger capacity than before with new filter structure)
<Story of new filter structure>
Every time Jinshu brewed a cup of tea with his teapot , he observed the comfortability of using the teapot and the optimal capacity. Those elements are reflected in the new form. Jinshu took on this challenge over a long period of time and repeatedly  improve the product even in the face of difficulties.
Please try the new model that Jinju has created based on his actual experience of continuous improvement. 
<Production Story>
After long years of trails and studies , Jinshu made beautiful and practical design flat Teapot. Most difficult part is mounting a thin mesh filter to shallow body stably.
Other Jinshu teapots
https://shihateapot.com/search?q=jinshu

Jinshu – World Ceramic Teapot Art Competition Winners
https://shihateacomfort.com/teapotcompetition