Koie Hiroshi (Reiko) Red Rim Drizzle Rain Black Teapot 玲光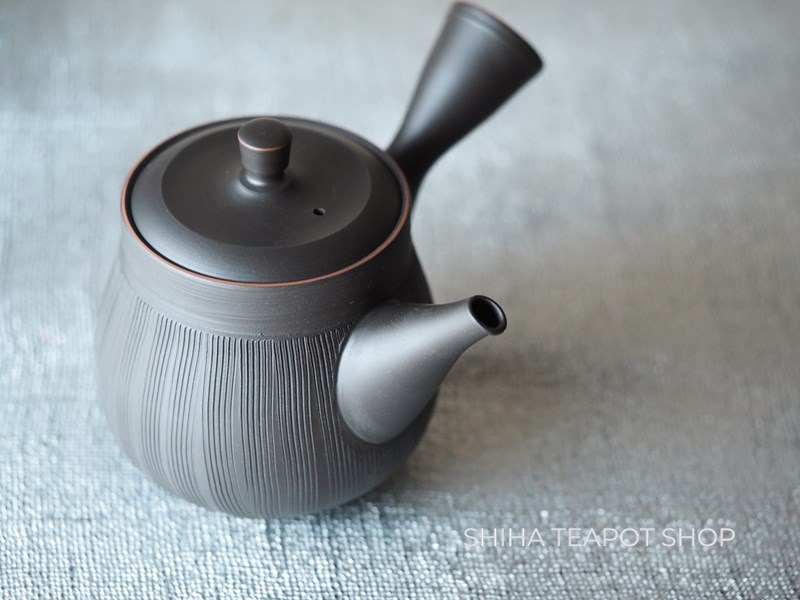 SHIHA TEAPOT SHOP Online Store: https://shihateapot.com
Smoked Black Color
This is red clay teapot and it is smoked to black.
At first firing, red clay teapot is made. Then at second firing (fired in oxygen-reduction atmosphere), red color change to black.
Surface of outer and inner of the teapot is black. You see red color on the rim of the openings and the handle. That is original color.
After smoking process, Reiko made the rim trim/shave to show the red of the inside.
Smoked black on over red clay is soft, deep, feel layers and attractive. It more "absorb light" than "reflect light". It has nice glow.

This teapot is "unglazed" and "smoked" . Because it is unglazed, you can get benefit of the clay for taste of tea.
Basic Specification
Water flow is good. Stopping water is good, too. Lid is just fit – Good feeling of placing lid in the position.
Reiko's Special Red Clay
Reiko's red Clay is very fine. You may able to tell from the photos.
He mixed clay taken UNDRER THE POND of Tokoname 20 YEARS AGO and one from 40 YEARS AGO.

After purification, the clay became smooth and fine– and then clay has natural shine(glow) and become more tasteful. As you use it will have more shine(glow).
The texture gives you calmness in your mind, every time your eyes catch the teapot, it will bring you a joy.
The clay make good brewing effect.
All the process of teapot making has been done by Reiko himself alone. From clay selection/making to firing. Holes on strainer was also made by himself, please see the video in https://www.youtube.com/watch?v=muVW75CaCYw