Message from Umehara Soukou – Japan Tokoname Teapot Master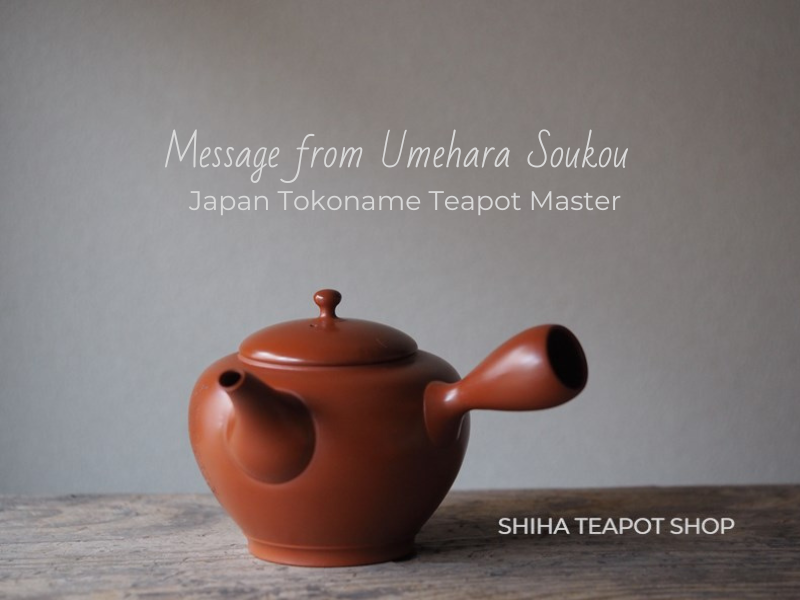 Tokoname ware (Tokonameyaki)
Red clay has been used since the Ansei era (1855-1860), when the first generation Jumon the first succeeded in make the tea ware.
The reason why many potters have come here since ancient times is because of the rich soil and environment.
I also taking advantage of the rich and ever-changing soil, currently producing mainly tea ware incorporating designs based on what our predecessors have created.
The life of a teapot is a tea strainer, so I'm making special strainers.
I only use fine clay to make the tea ware with fine texture and make them get a glow sooner.
We strive to create teapots that are "Loved by tea, pleasing to use, not easy to let go, pleasing to look at."
I hope it will enrich your life.
Please use it for a long time.
– Soukou from Tokoname City
(Original Japanese below)
常滑焼
朱泥は安政年間初代、寿門が茶器の完成以来時代を経て現在に至っています。
古くから数多くの陶工が手掛で来たのは、土と環境に恵まれているからです。
小生も恵まれた変化の多い土質を生かして、諸先輩方が作り上げてきたのを基礎にして、現在デザインを取り入れて茶器を中心に制作しています。
急須の生命は、茶こしでありますので、私自身特製の物をと思い作っています。
膚の良い一日でも早く光沢になるよう、細かい粘土だけを取り作り上げました。
「お茶に好かれ、使って喜ばれ、手放しがたい、みて喜ばれる急須」を目標に励んでいます。
生活の潤いになればと思っています。
幾久しくご愛用の程お願いします。
常滑市 宗光 敬白