Mt. Fuji / Land scape Japan Arita Hand Paint Blue & White Porcelain Cup Pair 2 pcs (Premium model)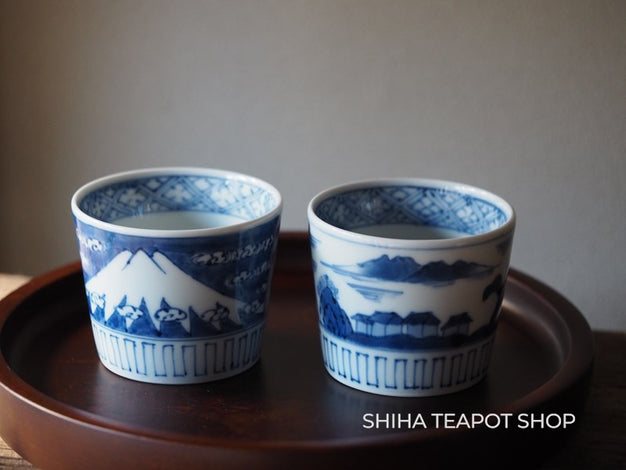 SHIHA TEAPOT SHOP Online Store: https://shihateapot.com
The art painting/pattern is the same as the ones made in the Edo period (17-19th century) .  Each cup has a Kanji (letter) on the bottom  of inside.
Beautiful blue paint on Arita white body.
Arita is most famous porcelain town in Japan. It has 400 years porcelain production history in Japan.  "Arita" are famous for the pure white body, which are made of high quality porcelain stone. 
Mt. Fuji, which is highest mountain in Japan in painted on the cup. 
Mt. Fuji is beautiful and has long been depicted in crafts and paintings. 
Back side of Mt. Fuji, land scape of old time of Japan is depicted. 
This cup is good for tea. Inside color is  clear white.  You can enjoy color of tea liquid. Also, aroma stays well on the surface of the cups comparing to unglazed cup. Smooth texture will give you good sense of feeling in your hand.
This shape of cup can be also used for coffee, dessert, soup…
High quality and it is also good for gift.