Japan Arita Blue & White Porcelain Hand-Paint Traditional Line Art Cup Set 4 pcs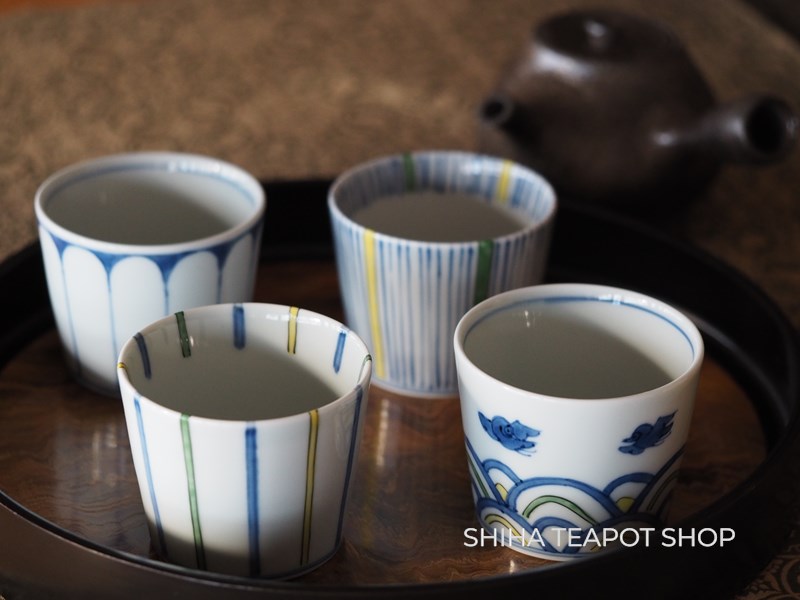 SHIHA TEAPOT SHOP Online Store: https://shihateapot.com
Blue hand paint on beautiful white porcelain body.
Attractive Japanese traditional  pattern.
Beautiful shade of blue. Smooth texture.
It is good for tea. This is made of high-quality porcelain stone, the cups body are pure white.  You can enjoy color of tea liquid. Also, aroma stays well on the surface of the cups comparing to unglazed cup. Smooth texture will give you good sense of feeling in your hand.
It is not thin not too thick.
(Japanese way of poring tea in a cup is not filling more than 70 %, leave 30 % unfilled. Hold the upper area (the 30% area )by right hand, place left palm under the cup to support the cup ) 
Very stable when placing on your table. Nice to watch, good to use.
This shape of cup can be used for tea, coffee, dessert, soup…
Arita is most famous porcelain town in Japan. It has 400 years porcelain production history in Japan.  "Arita" are famous for the pure white body, which are made of high quality porcelain stone.
High quality cups, it is also good for gift, too
This is hand-paint items, pait and shade of color are different each piece slightly.  We appreciate your understanding.