Murata Yoshiki 村田益規, Japanese Shiboridashi Teapot, Tokoname Red Clay with Somoked Black. How to use.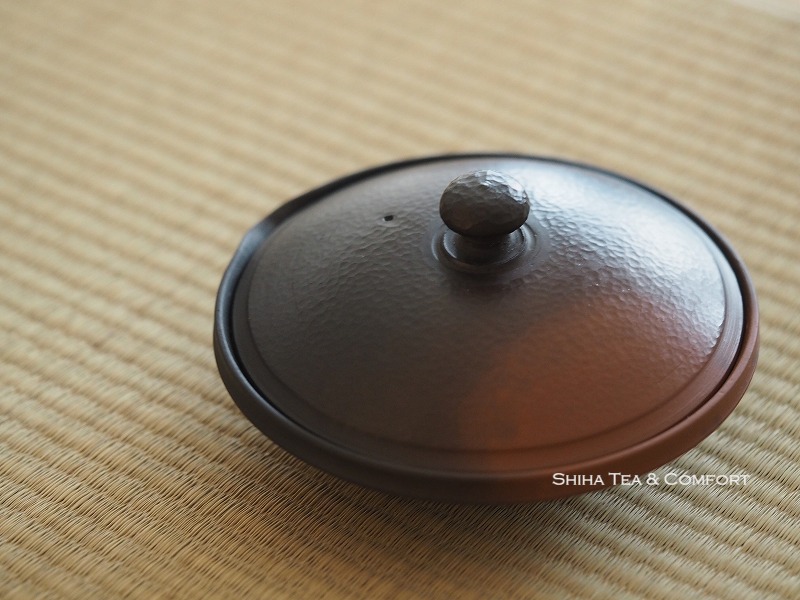 Online Store: https://shihateapot.com
Online Store: https://shihateacomfort.shop
This shape of flat teapot is called Shiboridashi in Japanese which doesn't have filter inthe body. (Houhin has filterin it) Please refer Type of Japanese Teapot for use of it and difference from Houhin. Shiboridashi is similar to Gaiwan of China, Shiboridashi has shallower body.
Yoshiki Murata is an teapot artist from Tokoname, Japan. He creates many style of teapots. According to other artist in Tokoname said about him that "Yoshiki can make anything". Variation of Yoshiki Murata's teapots are wide. Side-handled, back-handled, cups, unique-shaped etc.
This Shoboridashi is made of red clay and smoked (reduction fired) in second firing. Surface of lid and body and has Tsuchime pattern, which mean beaten pattern by special tool. Body of Tsuchime pattern reflect light very soft and unique. When you change angle to see it, you feel it more. Inside doesn't have Tsuchime, so that you can enjoy the contrast of texture.
This is 10.5 cm diameter (big size). There is 9.5 diameter's available as well (small size).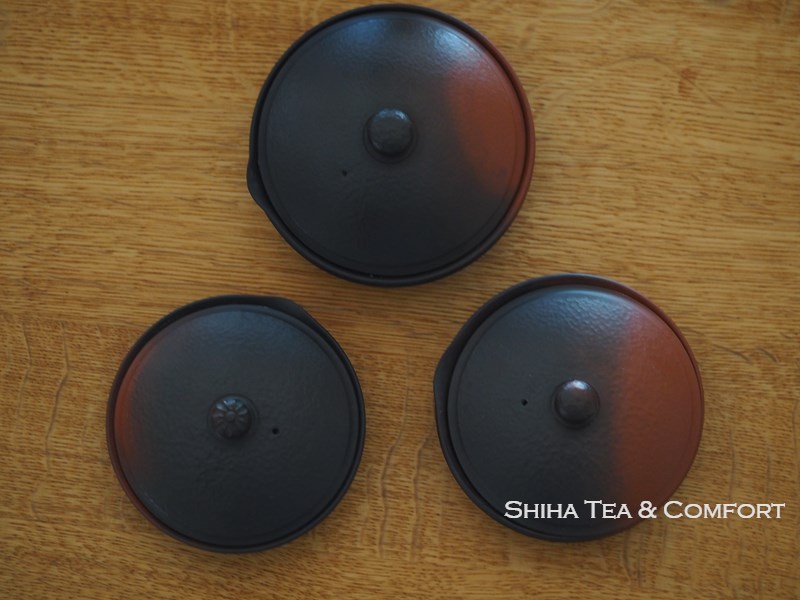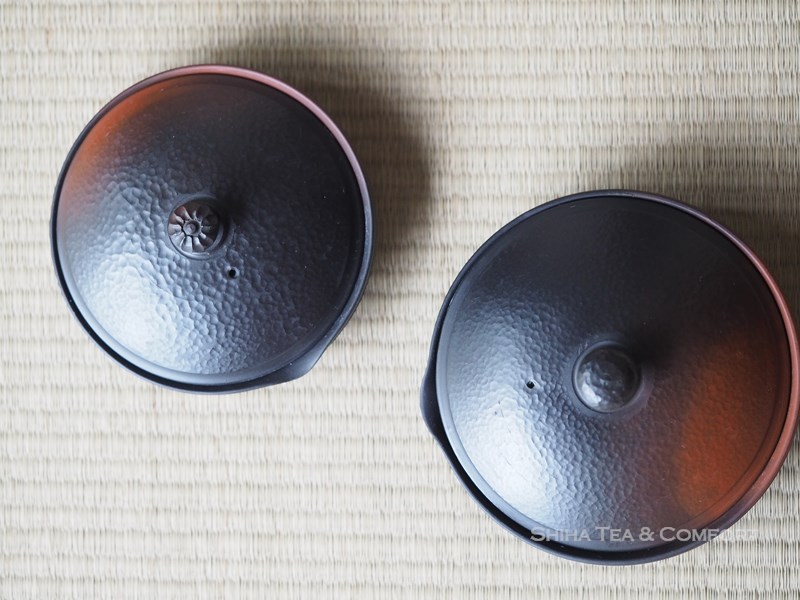 How to hold (2 way):
1 Put your hand over Shiboridashi, third finger on lid and hold the whole body.
2 Lift whole body and put it on your left hand first, then put your thumb on lid at 180 degree from spout and put other 4 fingers under the body and hold.
Shiboaridahi is used for brewing Gyokuro tea or high grade green tea in Japan, which requires low temperature of water, such as 50- 60℃. That is why the above holding method can be used. If water is around 80 ℃ , it it too hot to hold it.
Gyokuro and high grade green tea is to enjoy umami. Thoese tea has lots of umami (amino acid) in leave , that comes out into water even around 60℃.
Those tea also contains bitterness (catechin and caffeine), which comes out a lot over 80 ℃ . To fully enjoy purer umami in your mouth, use low temperature of water not to let bitterness come out. Amount you drink a time is very little, especially Gyokuro. Small cups go with Shiboridashi. (see cups in the bottom of the page)
Small Cups go with Shiboridashi, please refer the following cups.