Sekisen Chocolate Brown Engraved Carving Calligraphy, Teapot, Japan, Tokoname, Antique.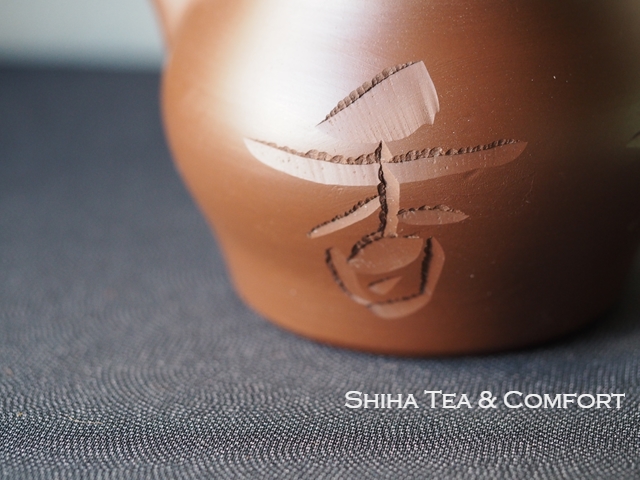 Artist: Sekisen
Age: 30-40 years ago (Not used)
Color is calm and warm like chocolate brown, shape has air of solidness. Texture of the body is natural, unglazed. This teapot gives you feeling of stability and calmness. Impression can be rustic and simple – this is considered valuable to enjoy tea (can be similar value of Wabi-Sabi)

Well balance of shape, size, color and 2 Kanji letters, that are carved on the body. This kanji letters can be the most tasteful part. Two letter "香 妙" are carved like they are written with writing brush (Japanese calligraphy) . "香 " literary means, flavor, aroma, fragrance, scent.. "妙" is wondering, amazing, excellent,beautiful. "香 妙" together, it means, excellent aroma. Touch of carving has strength and elegance, you may enjoy the taste of line by line of each kanji character. Blank space is also perfect. There are not so many teapot with 2 big letter carved with artistic style. Very unique in this way, too. It is from 30-40 year's ago, kept unused. Simple style teapot may bring you inner joy and good tea time.