Nagasaki SONOGI Cha Tea, Japanese Tea Leaves, Hidden Treasure (そのぎ茶)Tamaryokucha, Good Umami & Aroma, SAIKAIEN 西海園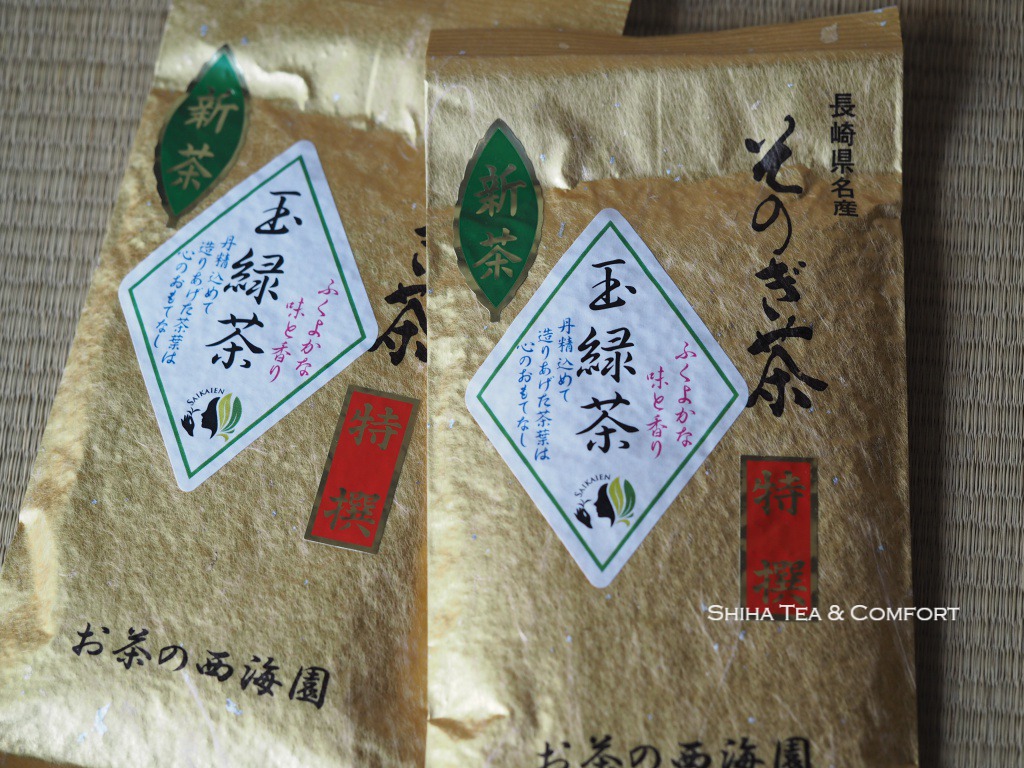 Latest news in March, 2020

SAIKAIEN (Sonogi-cha) Japanese Green Tea company🏆Won an award on Japanese Tea Selection Paris
https://www.picuki.com/profile/Japanese.tea.selection_paris
https://www.nagasaki-np.co.jp/kijis/?kijiid=612839814076859489

We sell Saikai-en' Tea Farm's Tamaryokucha (玉緑茶 ) Green Tea, which belong to Sonogicha tea area at our online Shop. https://shihateacomfort.shop/
This tea has lots of sweetness (Umami), and has 火香/hika (literally fire aroma, means roasted aroma) slightly. Quality is higher than it costs (price).
We selected this tea, not because Saikaien is award won tea farm. Because simply, taste is good and price is reasonable, it is impressing.
Saikaien recommends to brew in 70℃ water.
The package is vacuum-packed. Good for preservation. Tea leave packages material that are made in Japan have several layers to keep tea leaves fresh. (Please keep tea leaf bag in low temperature place)

What is Sonogi Cha (Sonogi Tea 彼杵茶)?
Sonogi-cha (そのぎ茶/彼杵茶 ) is tea leaves that are produced in Higashi sonogi district (東彼杵) in Nagasaki prefecture.
Japan has famous tea production brand area such as Shizuoka-cha and Uji-cha. This Sonogi-cha is not known so much yet.
But Tea lovers in Japan focus on this area because tea leaves are high quality and high cost performance. I can say it is hidden treasure.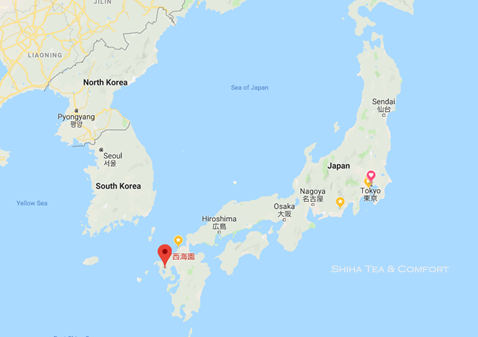 Higashi Sonogi district is located to administratively next to Ureshino city in Saga, which is famous tea brand area in Kyushu.
Actually Ureshino-cha and Sonogi-cha are produced geographically in the same mountain area. Please look at the map of Northern Kyushu (九州) as below.
Saikai-en tea farm is loacated on the star ☆ in the map. They are in Higashi Sonogi district.
By the way, Higashi Sonogi is good place to visit. Environment is not commercialized, you will see local life of Japan. (Guide of Sonogi) I think that not many travelers go there. I like such a place, just enjoy nature and local food and relax!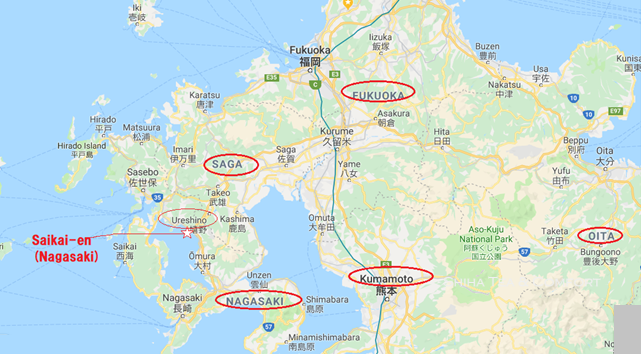 Kyusu produce lots of good tea. Sonogi-cha is one of the good tea area.

What is Tamaryokucha (玉緑茶)?
Tamaryokucha and Sencha both are categorized in Japanese green tea. Simply says, shape of tea leaf is different. Tamaryokucha is coiled/curly shape, Sencha is needle/straight shape. Tamaryokucha is also called Guricha.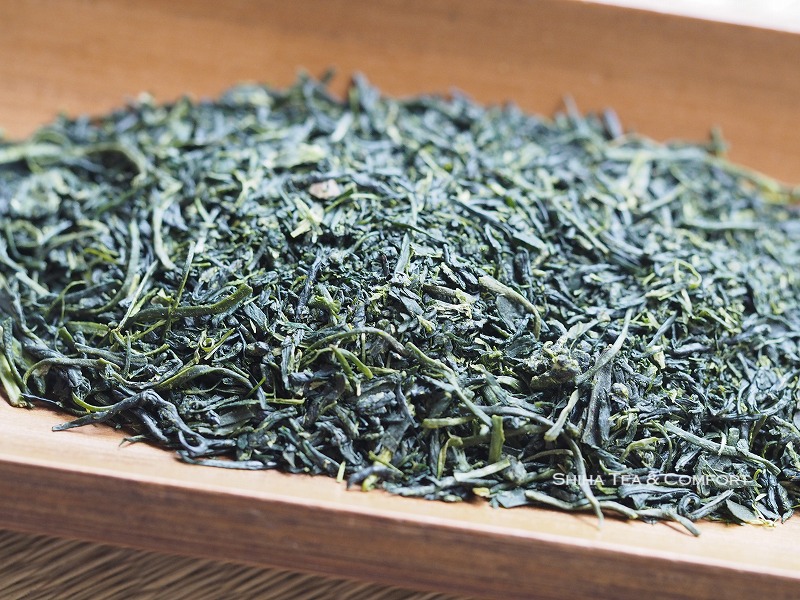 Taste of Tamaryokucha is, slightly stronger than sencha, I feel. But some sencha is strong so it is not right word in this case. However my impression from the experiences for a few decades, Tamaryokucha usually thick. According to Saikaien, taste of Tamaryokucha is like "condensed". In the rolling process, the extract from tea leave is rolled into tea leaves well.
Tamaryokucha has 2 kinds. One is pan-fried. The other is steamed. Pan-fried is called "Kamairi" in Japanese.
Pan-fried: Tea leaves are heated by contacting heated metal(pan)
Steamed: Tea leaves are heated by heat of steam
(to keep tea leaves' fresh green color & aroma & taste (inactivating enzymes))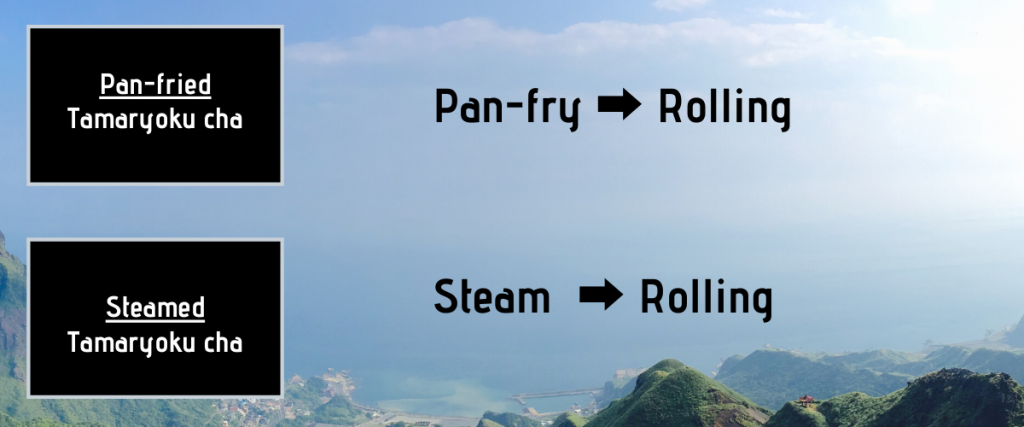 Saikaien used to make pan-fried one. But now they only make steamed one. Pan-fried is traditional style, which was influenced by Chinese tea production method.
The reason they changed the method is to adjust to customer needs. Nowadays people like green color in a cup. Steamed one has green color. Pan-fried tea shows yellowish color in cups. Also, pan-fried roasted-like-aroma is too strong for some people. Steamed one has fresher aroma.
Their rolling process (machine) has not been changed, still the same as before, they said.
Kyushu area produce Tamaryokucha more than other area, especially Nagasaki, Saga, Kumamoto prefecture.

About Saikaien 西海園 Tea Farm
Saikaien has more than 50 years history in tea leave production.
Saikaien Tea Farm (西海園)
Location: 長崎県東彼杵郡東彼杵町三根郷1349 (1349 Minego, Higashisonogi-cho Higashisonogi-gun , Nagasaki, Japan)
We can also send the tea leaves bags together with your teapot order. Please ask us. Contact Form.
In case sending with teapot

– Maximum 2 bags of tea leave for the safety of tea ware
– Additional shipping charge is required. (measure actual total weight with tea ware)