Japanese Porcelain Senchado Cups Blue Lines, Blue & White, Used.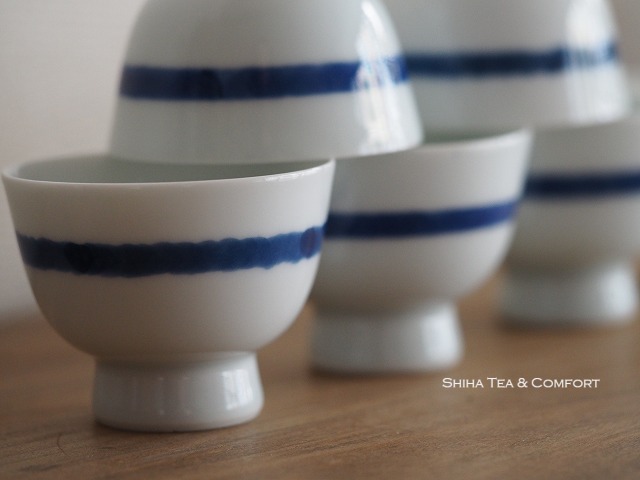 Status: Available
Item Status: Used
Capacity: Approx. 50cc
Size: Approx. 6.2 cm Diameter, 4.0 cm high
Q'ty: 6 pcs
Price: JPY 20,000
Shipping fee: F(10)
Reference: (Approx. 188USD, 1330人民元 ) 
Box: Wood box
Please send us mail through contact form for purchase/inquiry.
Please read Shopping Guide
Used Senchado Tea Cups, very thin body – which is good to taste delicate flavor of tea, also good feeling in your hand. Body color is clear white, which indicates good material. Color of this blue is between dark and bright, means give you impression of calmness and lightness. Hand painting simple lines shows warmness and freedom, good to enjoy the differences between each cups – actually it is not just a simple. Blue lines are beautiful on pure white. Total impression of these cups has both modern style and traditional style. Size is just right, not too big, not too small to enjoy high quality tea, Japanese green tea, Chinese green tea, black tea… any kind of tea.
Good tea cup sets are beautiful even when piled up – it is also important factor in Senchado ceremony.