KOSHIN Black Red Marble Seaweed Flat Tokoname Kyusu Teapot (Iron Teapot texture)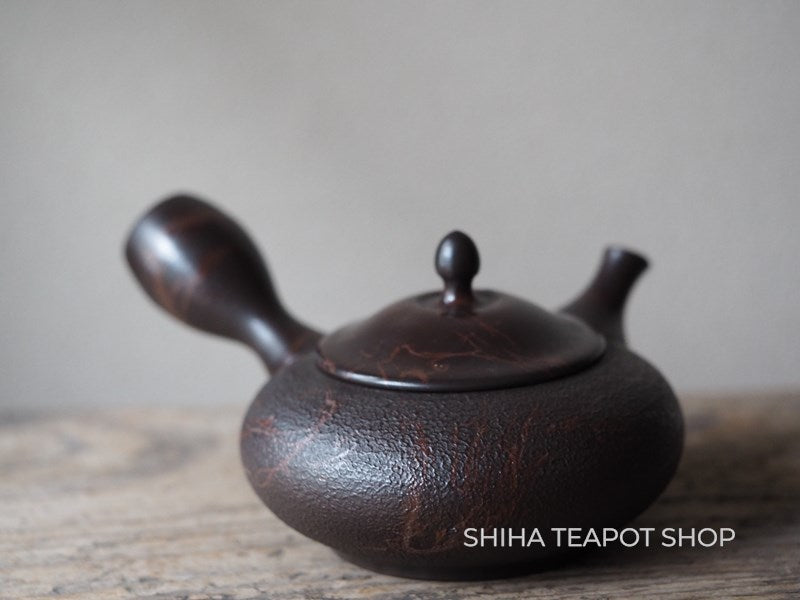 SHIHA TEAPOT SHOP Online Store: https://shihateapot.com
Black red Marble Teapot Story at our website https://shihateacomfort.com/koshin-marble

The marble pattern comes from SEAWEED. Seaweed is from sea of Chita Peninsula Area, where Tokoname city is located. 

<This teapot was fired 3 times>
1 Make red clay teapot
2 Bind seaweed and fire to make marble pattern.
3 Fired in reduction (Smoked) and change to black red marble.

Red and Black is so harmonious. Total impression is glorious, traditional, dignity.

<Effect of Red Clay Smoked>
Body looks dark brown under less light. It looks reddish brown under much light. It show you different impression depends on the light it receives.

Red clay smoked to black is deep, feeling of layers.

<3 different texture in a teapot>
1 Lid and handle is well polished and it looks like real marble. So shiny and smooth.
2 Body texture is like fine sand . In Japan this texture is called "Pine Tree Peel". The artist made it feel like iron teapot.
3 Foot part is smooth texture.
Holding this teapot, you will feel like iron teapot is your hand. The weight is also gives you such a sense.

There are so much to enjoy in this teapot. Good water flow.