Kodo & Setsudo, Yoshikawa brothers, Red clay The Lan Ting Qu Shui hand Engraved carving Japanese Tokoname Kyusu Teapot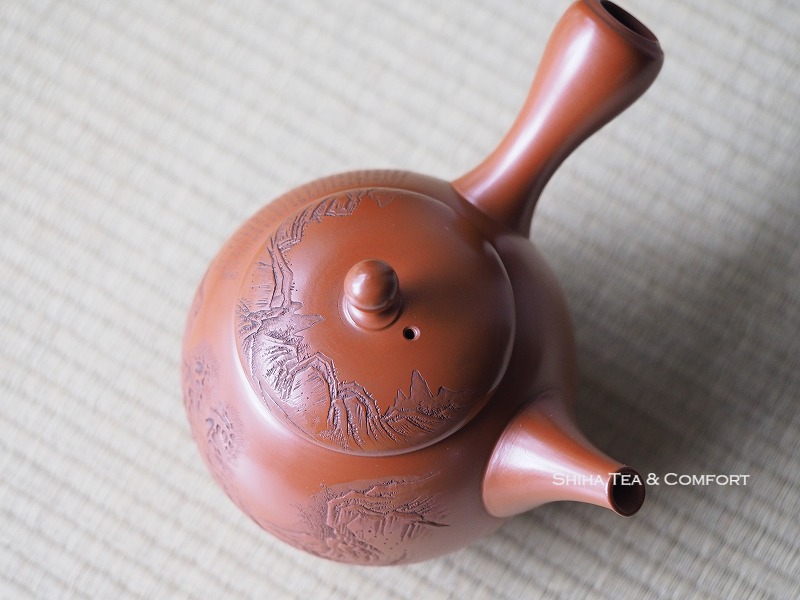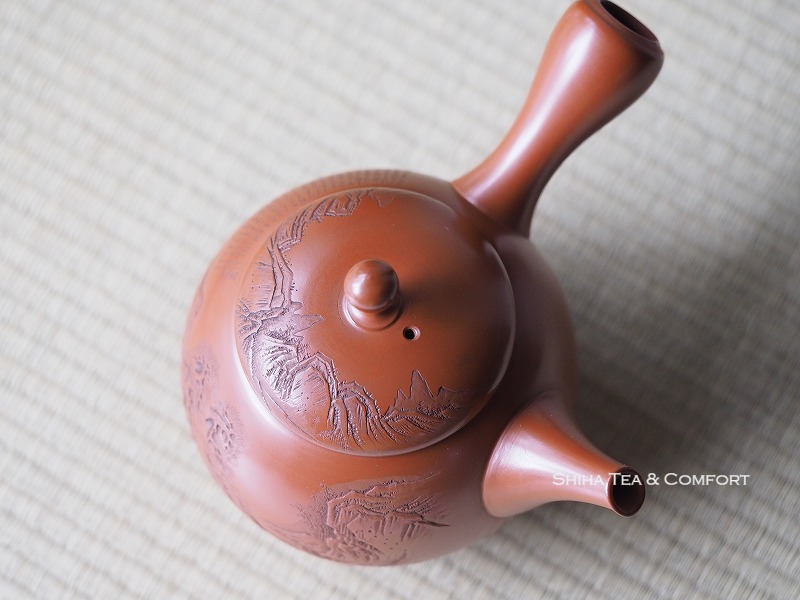 "The Lan Ting Qu Shui " is the scene of mountain, stream, people, pavilion in nature from old time of China (A.C.353), which express literature and culture scene. "The Lan Ting" means "The Orchid Pavilion" , "Ting" is a pavilion which has pillars and roof. "Qu shui" means widing stream.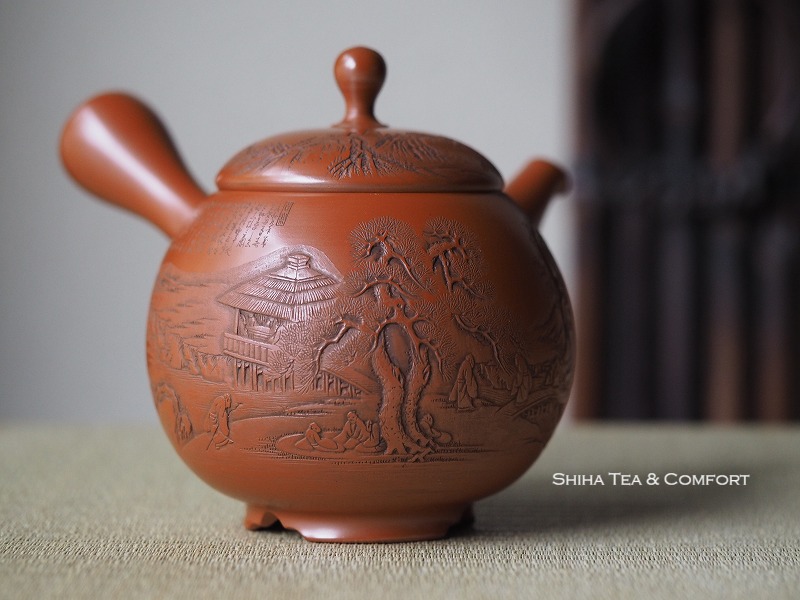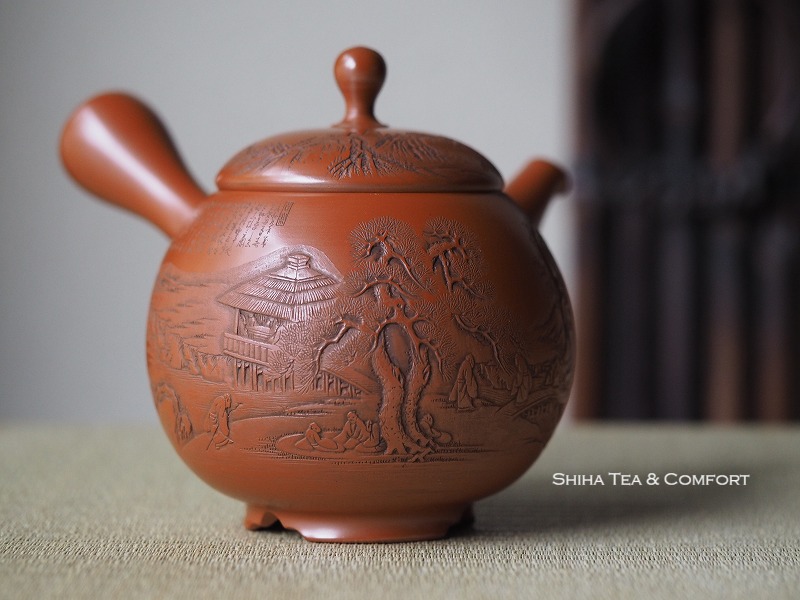 The scene is that Chinese intellectuals gathered together and making poems.
Japan absorb Chinese culture from old time, especially literature and calligraphy. It means that "The Lan Ting Qu Shui" is related to the root of Japanese literature.
In this art, you can see Kodo's various carving technique. Trees, rocks, mountain, calligraphy(poem).. enjoy the details. Kodo's carving technique was qualified as Important intangible cultural property of Japan.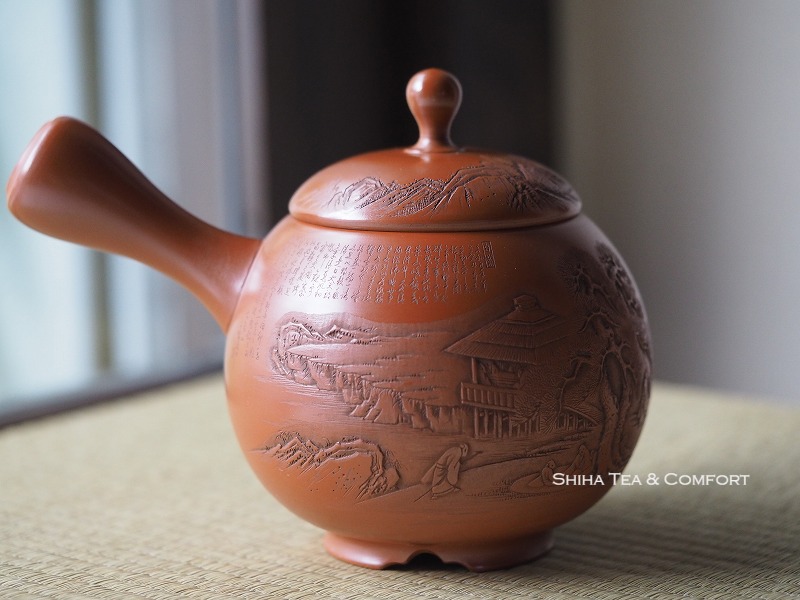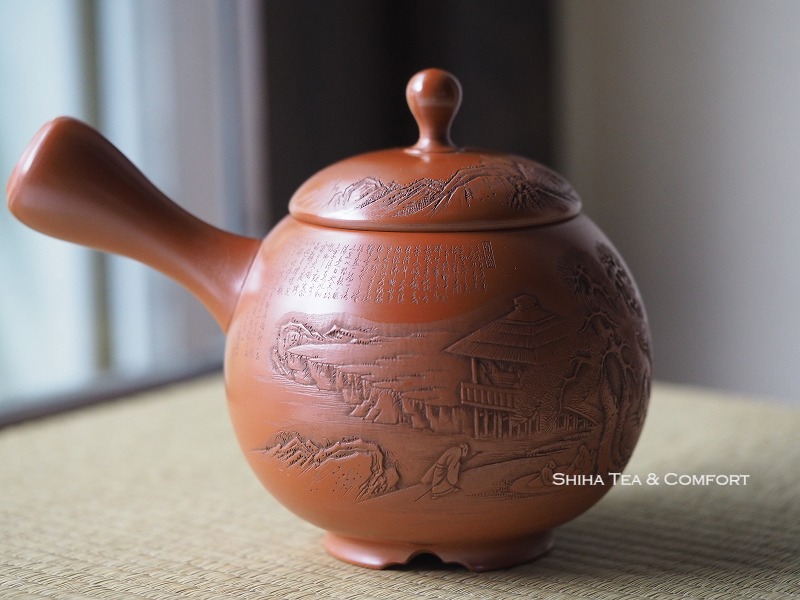 Detailed carving only can make it on fine clay. Kodo Yoshikawa says that his carving is most effective on Setsudo's teapot, who is younger brother of Kodo's. Two professionals collaboration work.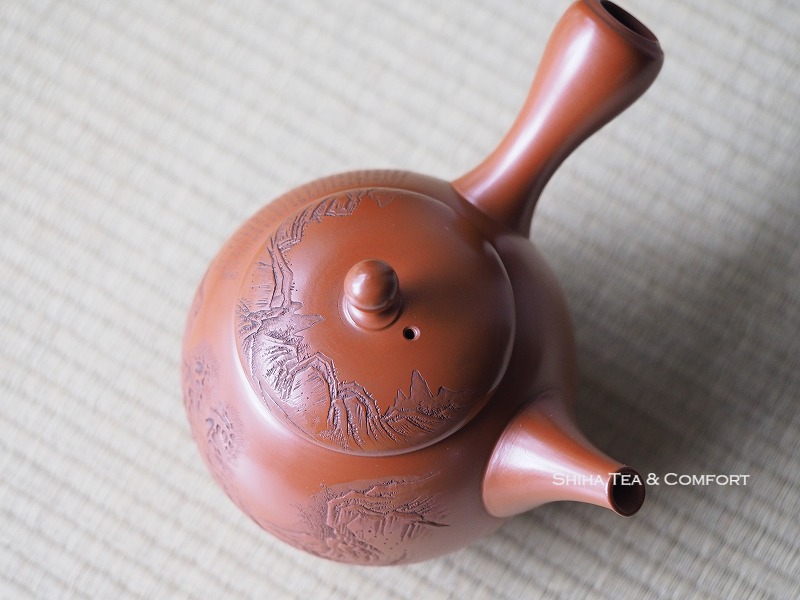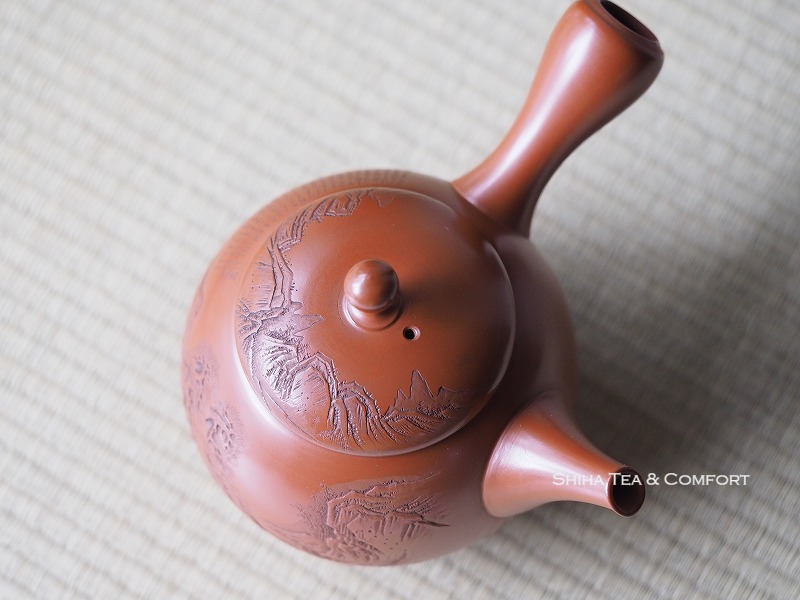 Setsudo Yoshikawa's teapot is famous for the fine quality, and it is called Silky red clay teapot. Because texture is smooth like silk.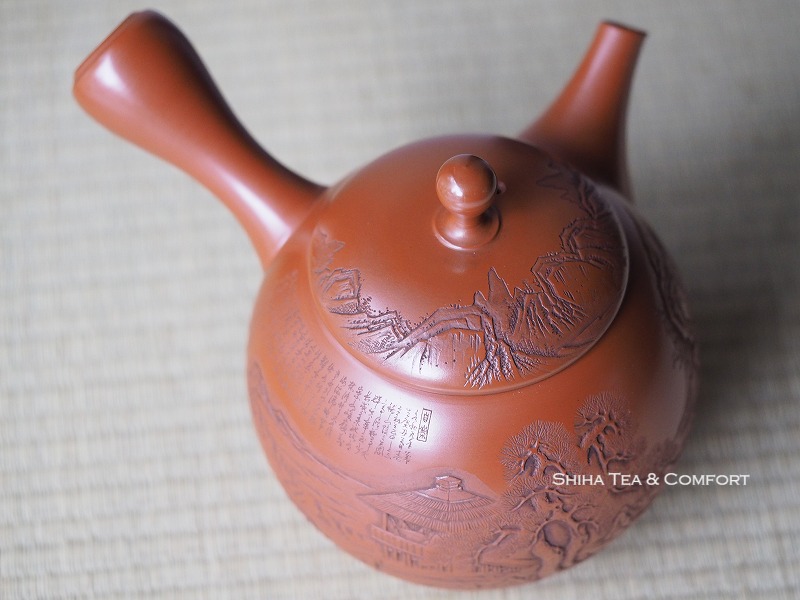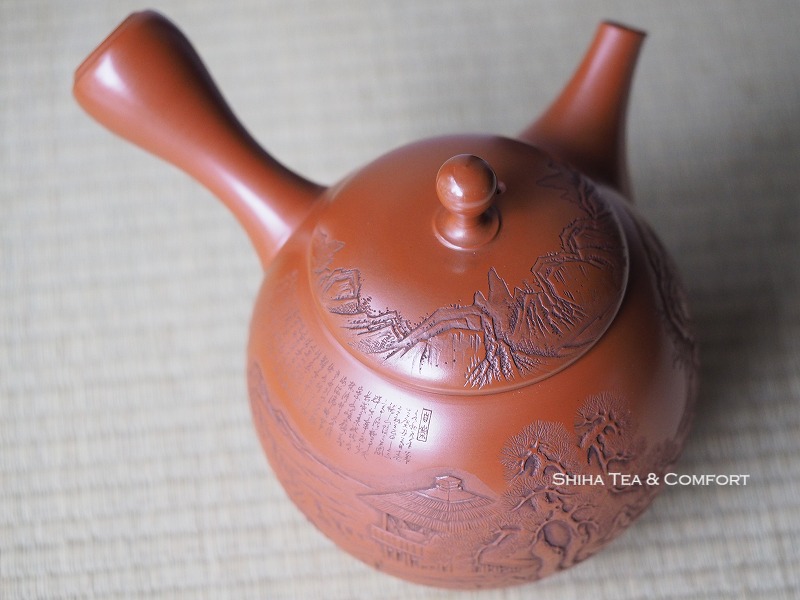 Kodo Yoshikawa was born in 1947. He is his 70's. Those detailed carving on teapot is only produced by Kodo.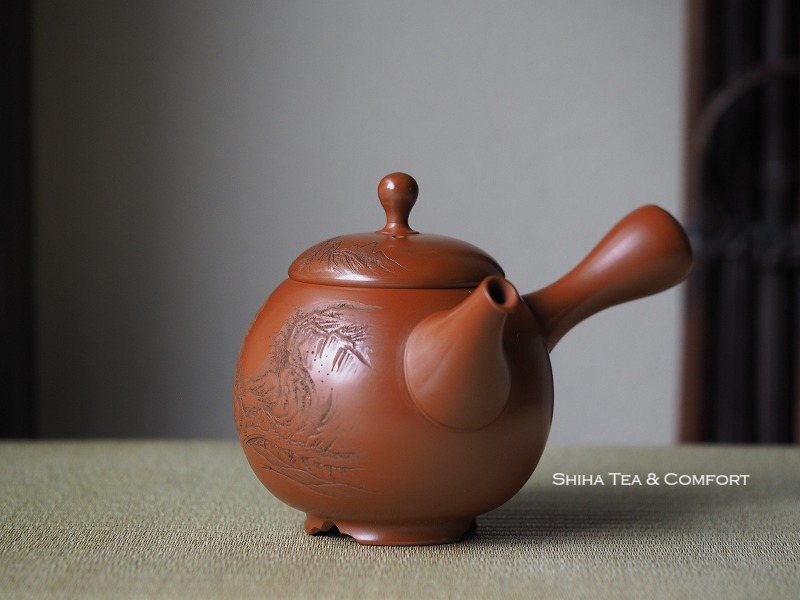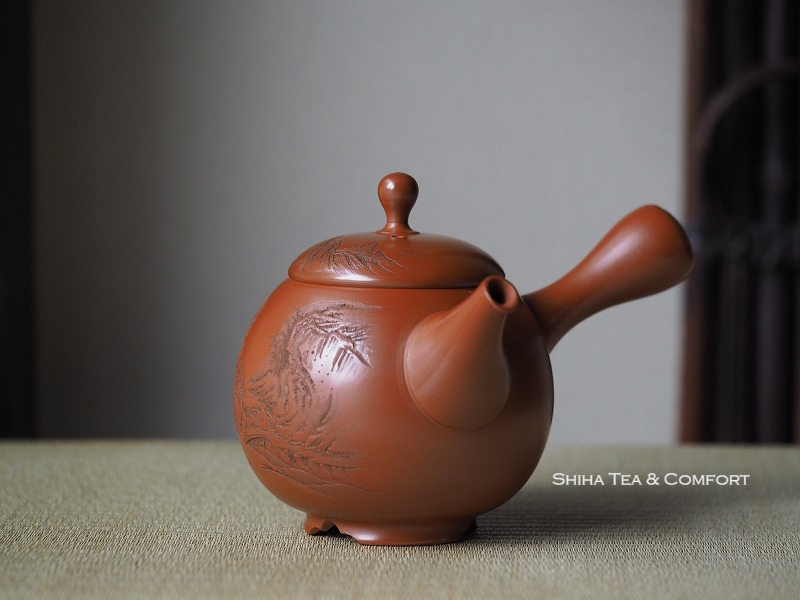 This teapot has gorgeous foot, which make the teapot very noble. The lid has inner wall and perfectly fit to the body, not to loose, not to tight.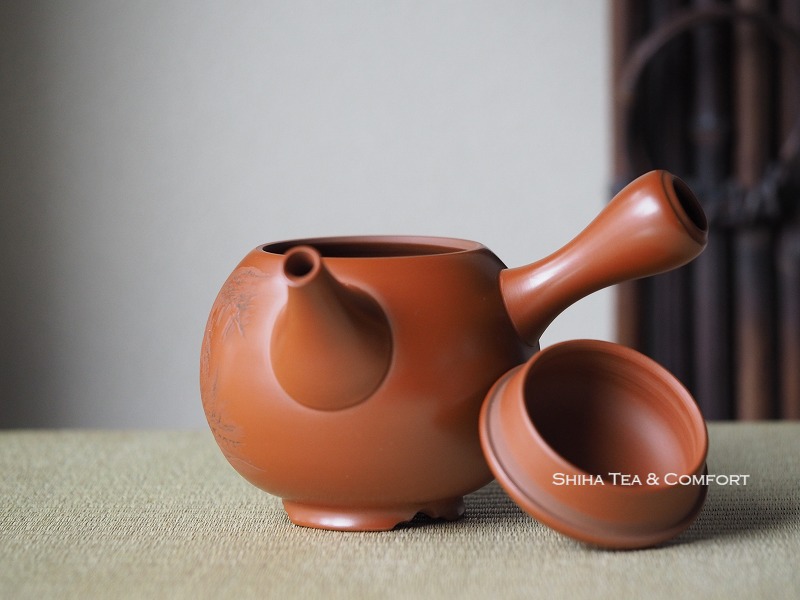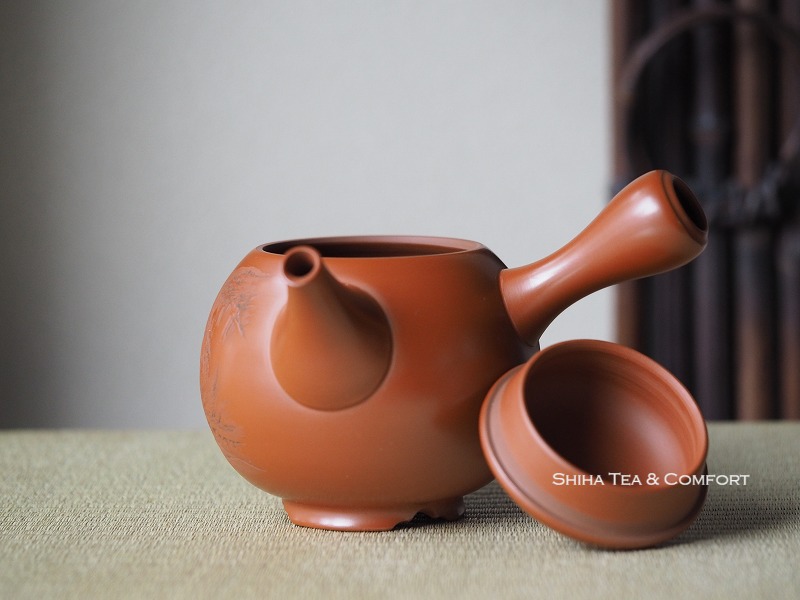 Combination of deep and shallow carving,contrast of near and far, hard and soft. So much to enjoy.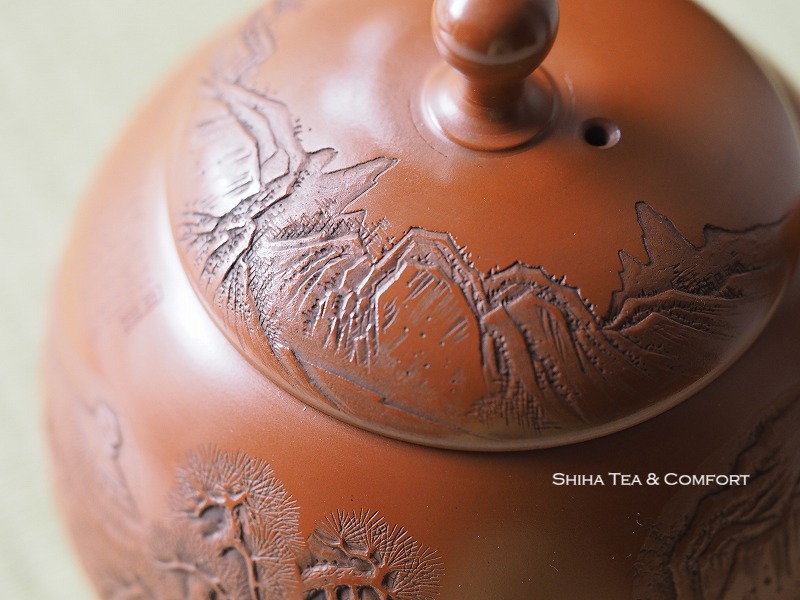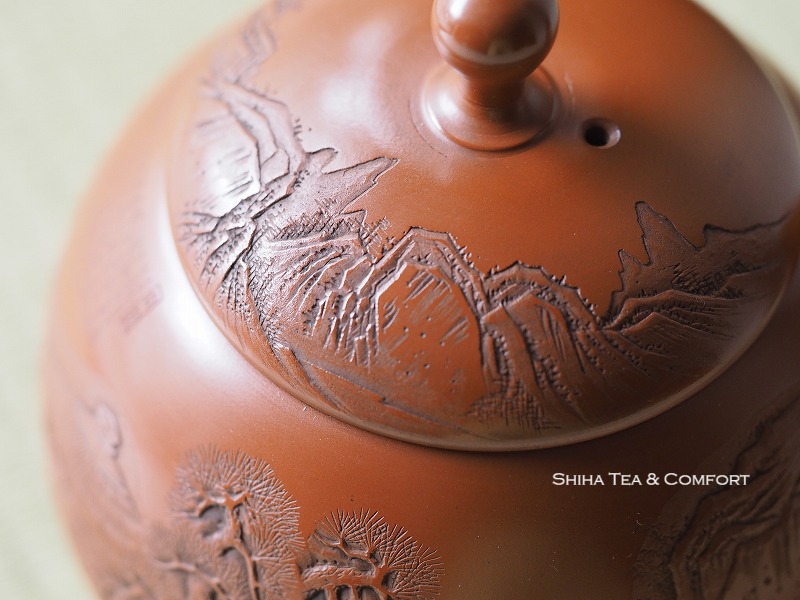 Carved rocks, mountains really emphasize smooth texture of red clay.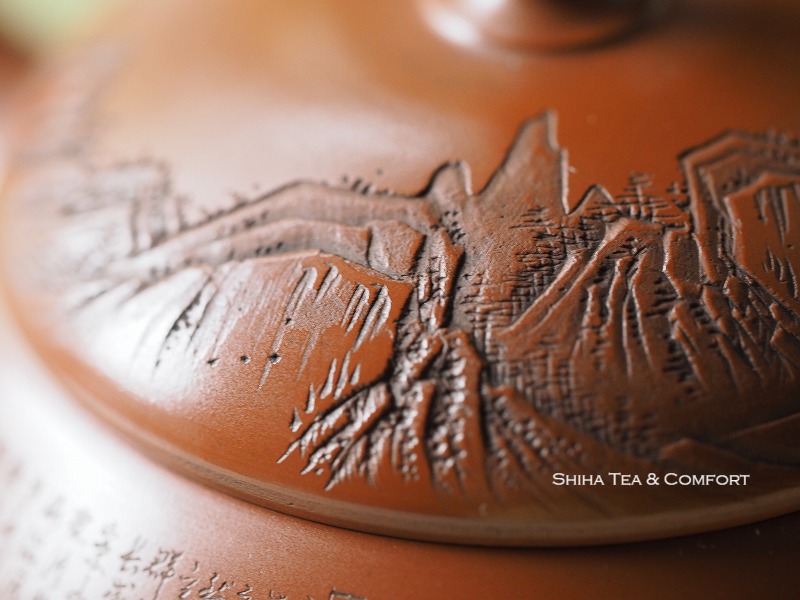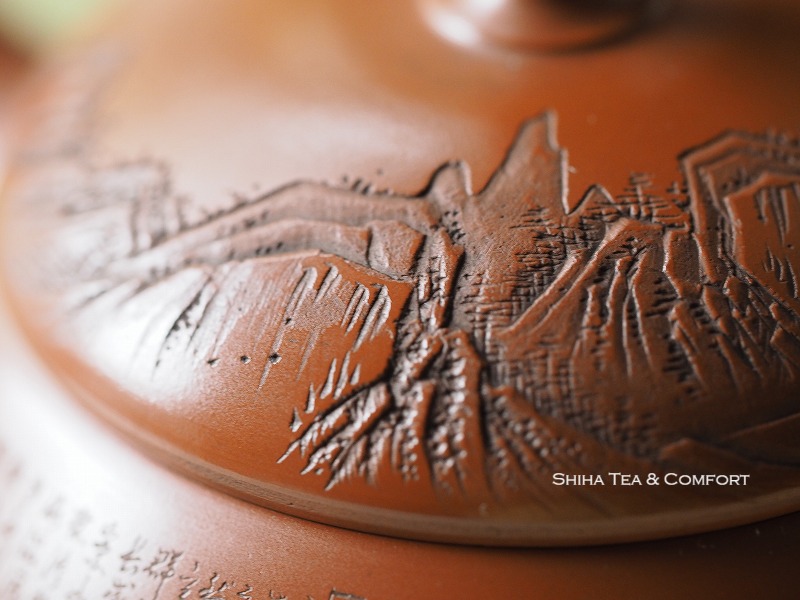 You will find something new in this art every time you watch.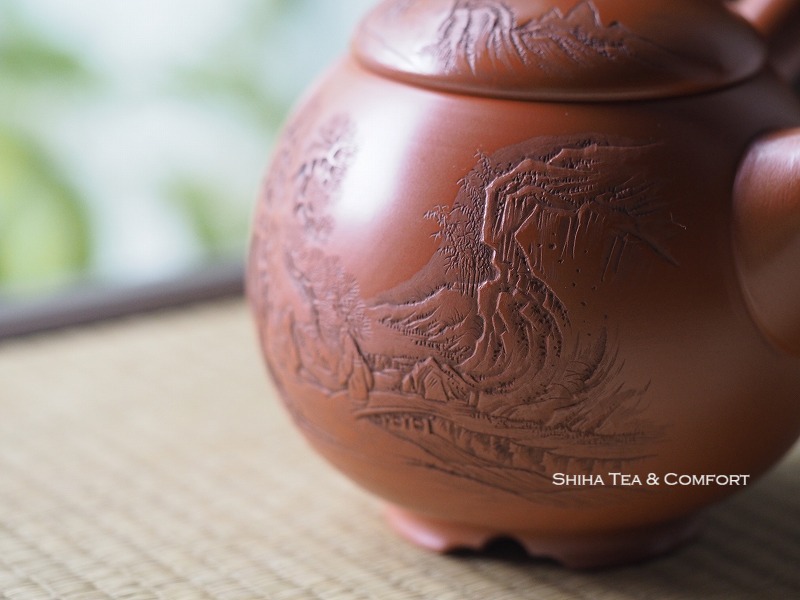 Yoshikawa Kodo's pine tree carving is so beautiful. One of major view point of the scene. He says that carving trees take time most – you see the detailed carving and the beauty.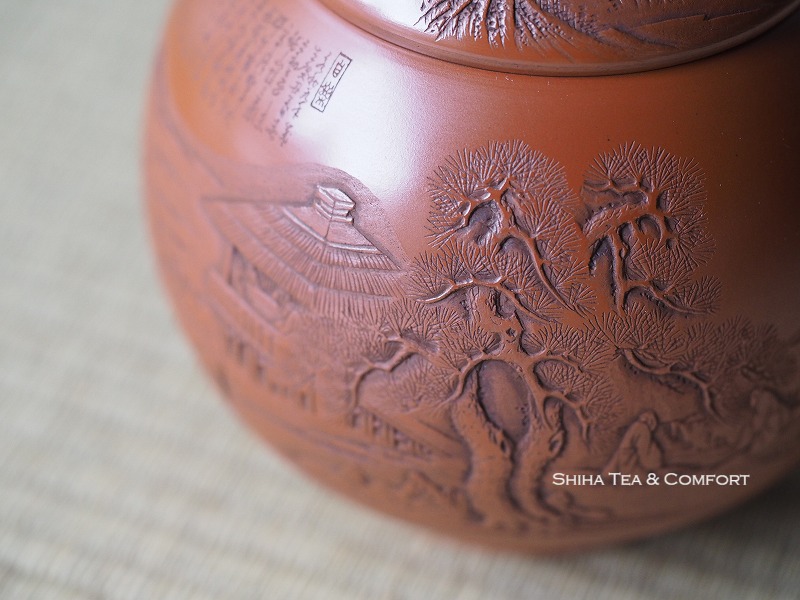 The art takes you into the scene.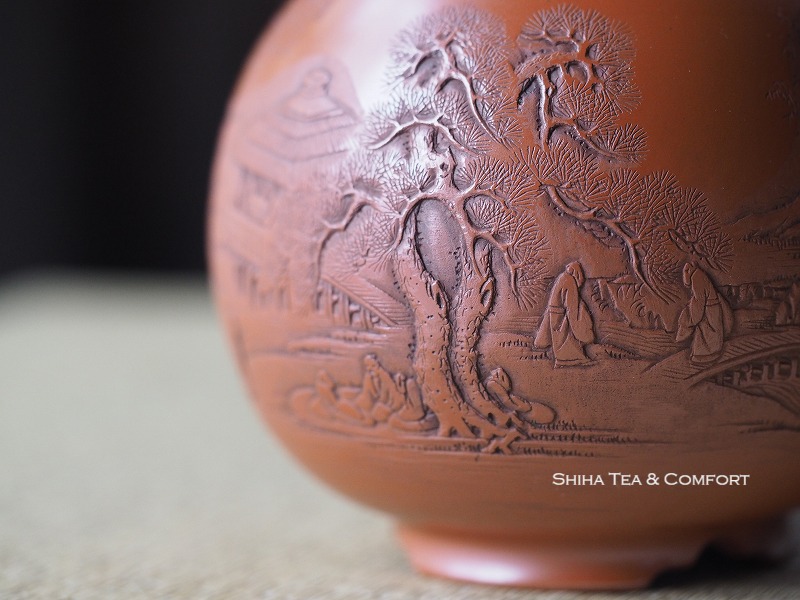 "The Orchid Pavilion"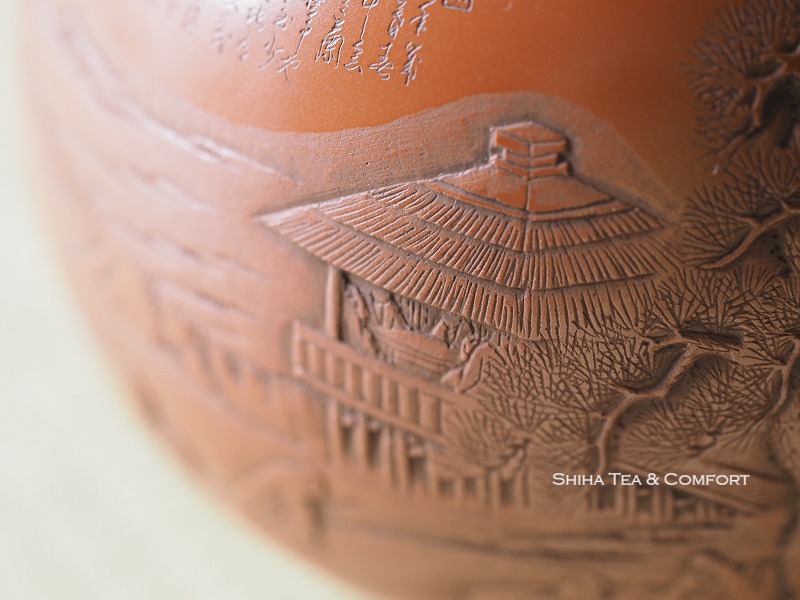 Water running through the scene.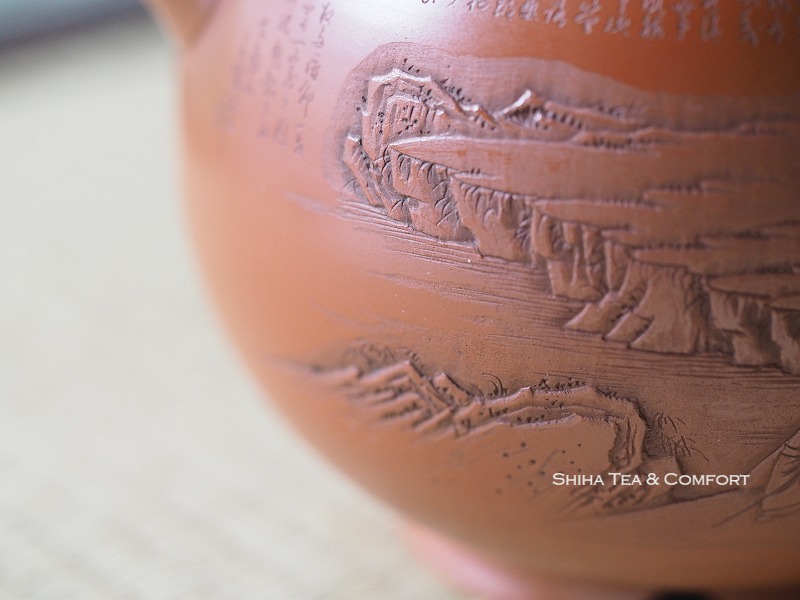 The calligraphy and the art are harmonious.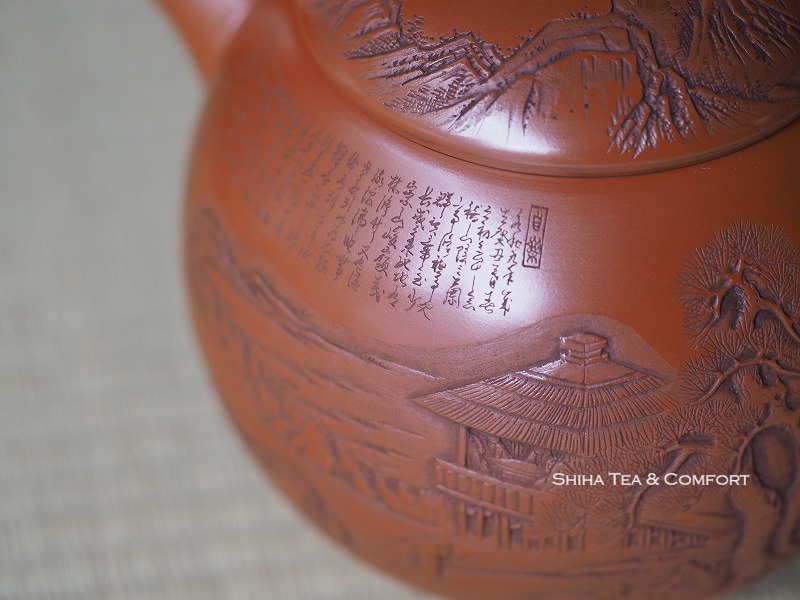 This is "Lan Ting Xu". Preface of a collection of the poems that was made in the scene. It is very famous both in China and Japan, origin of calligraphy.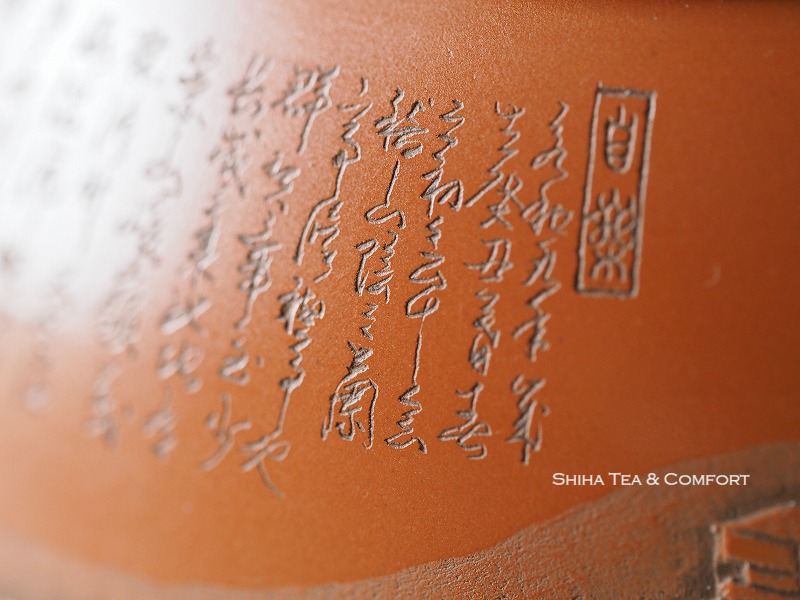 Setsudo Yoshikawa's spout is perfect. Brewing tea with his teapot gives smooth water flow.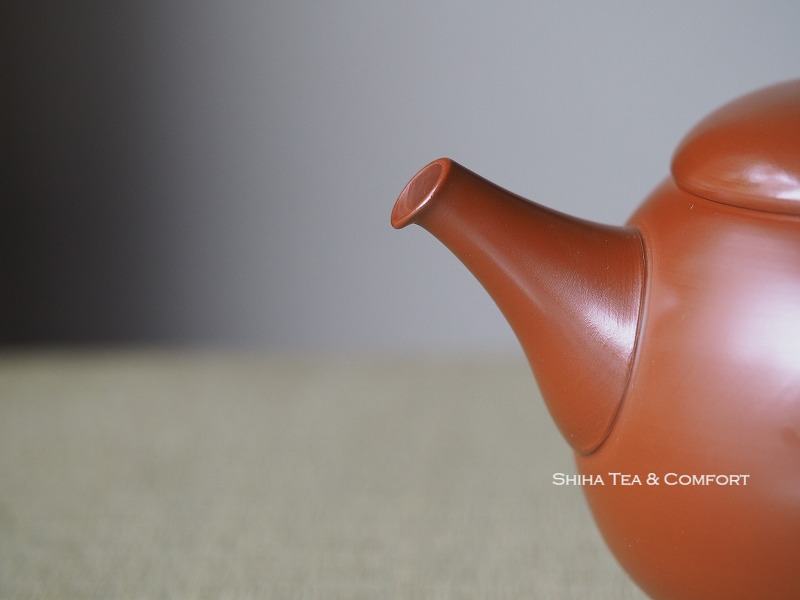 Handle with elegant curve. Setsudo says there are some style of holding handle, it is depends on the person. I made the handle well for any kind of style.
You will be comfortable with holding it with your style.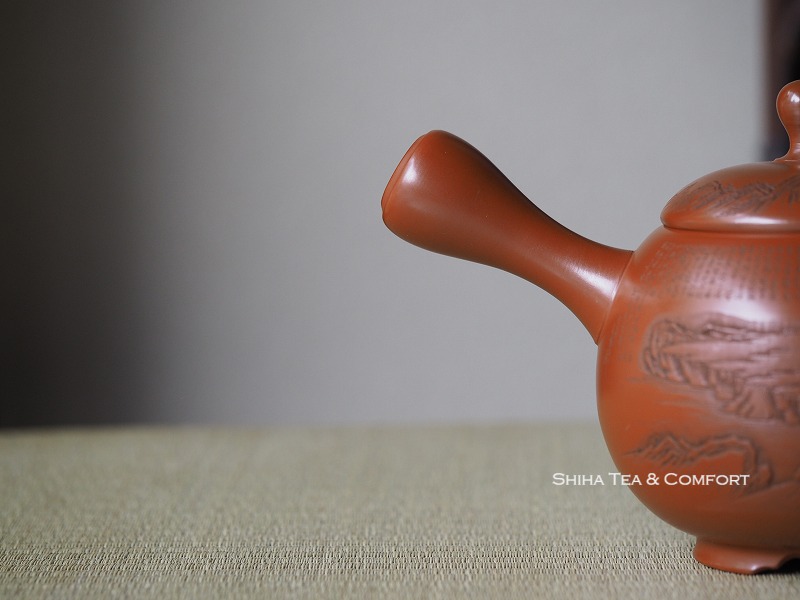 Kodo Yoshikawa's sign (carving) "方南山 壺堂"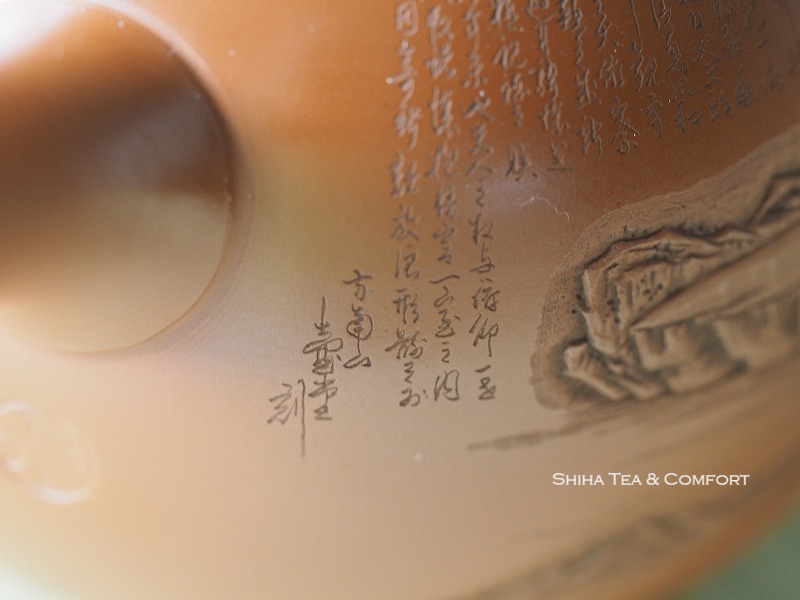 Setsudo Yoshikawa's seal, it is Setsudo 雪堂. The present Setsudo is Setsudo the second. His father is Setsudo the first, who was also a teapot artist.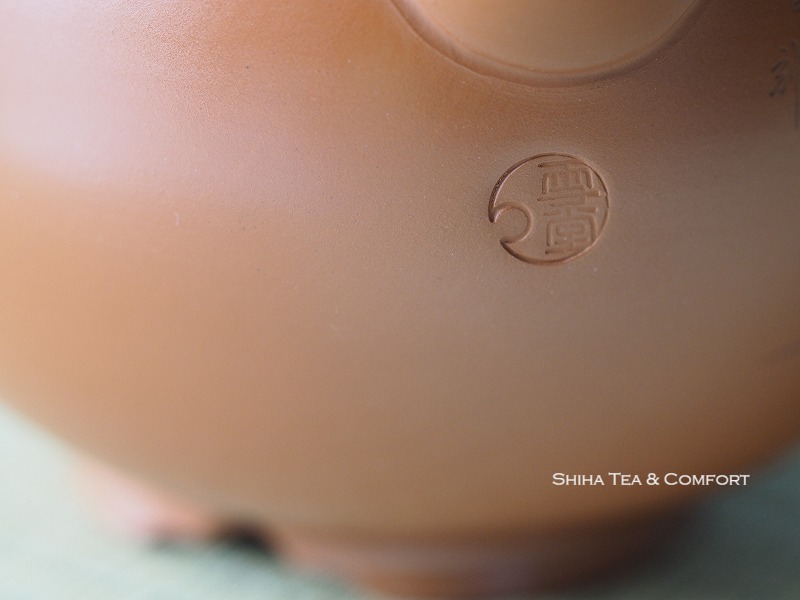 This is one of the highest grade of Japanese teapot in respect of art, quality and function. Please enjoy it.