Mini Portable Japan Akita Cherry Tree Bark Tea Canister Master Craftsman Arakawa Keitaro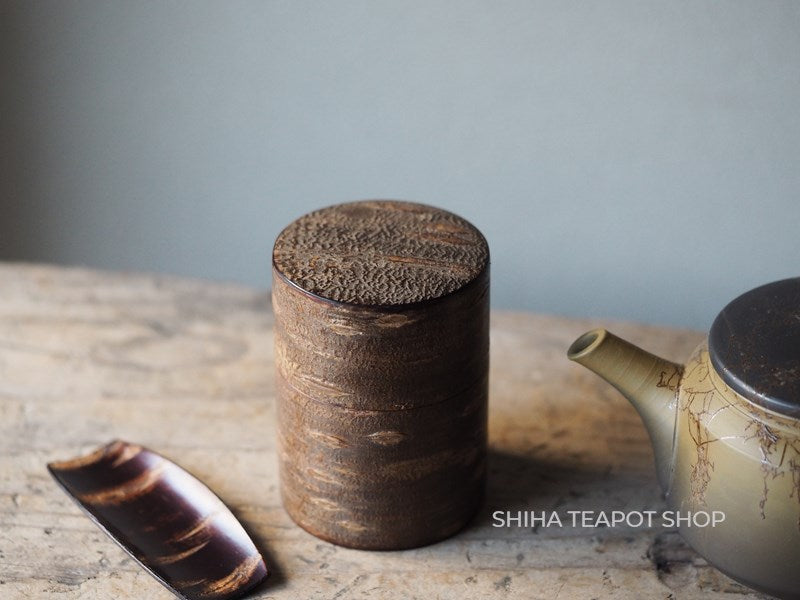 SHIHA TEAPOT SHOP Online Store: https://shihateapot.com
Mini Portable Japan Akita Cherry Tree Bark Tea Canister Master Craftsman Arakawa Keitaro with tea spoon
Japan Akita Cherry Tree Bark Tall Tea Canister Master Craftsman Arakawa Keitaro.
Very detail work and finishing especially surface and edge.
Enjoy the beautiful pattern of tree.
Arakawa Keitaro's signature on the bottom back (慶)
This is Japan AKITA 's "Traditional Art Craft". Traditional Art Craft means ;
1 The technique has more than 100 years history (technique is used more than 100 years)
2 Using the same material as 100 years ago
3 The items are used in peoples ordinary life.
Mountain Cherry Tree bark Tea Canister is one of "Japanese Traditional Art Craft" which designated by the Minister for Economy, Trade and Industry.
——Durability——
Cherry Tree bark Tea Canisters are loved by Japanese several decades. It is durable. It can be used in 2-3 generations.

Durability is one of the prerequisite for "Japanese Traditional Art Craft"
——Benefit——
Cherry Tree bark is antibacterial.
Cherry Tree bark canister has high sealability and keep things inside dry (moisture proof). Due to the reason, cherry tree bark cases used be used as medicine and tobacco case in Edo period.
Cherry Tree bark canister will keep quality of your tea leaves well!
——How to use——
Please put tea leaves to carry in the canister.
The rest of tea leaves should be kept in refrigerator.
Please refer our article of how to store tea leaves:
https://shihateacomfort.com/preservegreentea
Lid of the canister can be a measure cup. You can put appropriate amount(volume) of tea leaves in the lid cup from tea canister, then put it into a teapot.
——Production——
The artisan explains that most difficult part is to let tree bark stick and stay on the body firmly.
The artisan produce canister based on the their sense and experience.
Peel off bark from tree, dry the bark 2-3 years because it contain certain amount of moisture. If it is used without drying, it shrinks.
Make the surface of the bark smooth and according to its color and pattern on the bark, decide how to use. As you can imagine, each piece of canister have unique pattern.
Make form. The body is wood (Japanese wing nut) and the inner and outer surface is cherry bark.
As you see in the photo, inner cylindrical case is placed in outer cylindrical case.
Recent years they are facing shortage of raw material (tree bark). It is becoming valuable to have cherry Tree bark Tea canisters.
——Production Area——-
They are made in Kakunodate city in Akita prefecture, which is located northern Japan. Northern Japan produce high quality wood products.
——Maintenance——-
Please keep away from moisture, heat.