Teatime Small Tray & Fork Set 4pcs Japan Tree Bark Wood Craft Sakura Petal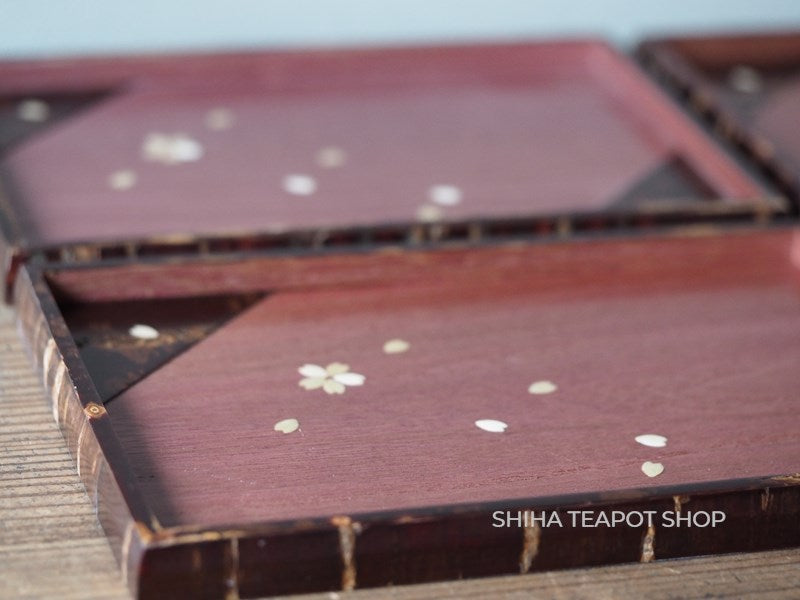 SHIHA TEAPOT SHOP Online Store: https://shihateapot.com
This tray is pretty and tasteful.
You can use as tray, dish, teapot mat etc.
This set has forks, you can put sweets on the tray and put fork on the tray for your guests.
It is wood craft from Akita prefecture of Japan, made with high technique of tree bark craft. Peel off bark from tree, dry the bark 2-3 years because it contain certain amount of moisture. If it is used without drying, it shrinks. Make the surface of the bark smooth and according to its color and pattern on the bark.
About fork: The body is lacquered in 2 layers. 1st layer (under) is reddish urushi (lacquer), 2nd layer (surface) is natural (darker transparent) urushi (lacquer). As you use longer time, the color changes slowly to more reddish. It will be good and tasteful change.
It also has tree bark decoration.
This tree bark craft  is made in Kakunodate city in Akita prefecture, which is located northern Japan. 
Northern Japan produce high quality wood products.