SATSUMA YAKI, Tea Cup, Graceful Hand painted, Flower with Gold, Crazing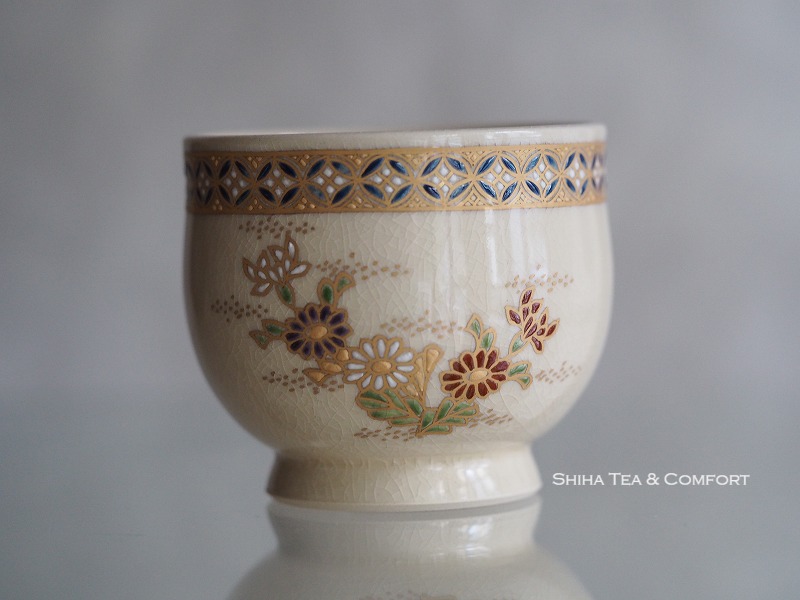 Item ID: ST001 / Status: Sold Out
Size: Approx. Hight 5.5 cm, Width 6.2cm.
Box: Wooden box

Satsuma Yaki (Satsuma ware) is pottery produced in Kagoshima prefecture in Japan. In Meiji era (late 1800's to early 1900's) of Japan , many Satsuma Yaki ware exported to Europe. Big pair of vase that have full decoration with gold were very popular in Europe.
There are White Satsuma and black Satsuma. White Satsuma has Ivory-like color originally. There is hand painted colorful decoration with gold on the body, which is elegant. And the surface is covered with delicate glaze crazing.
This cup was made with Satsuma original Ivory-like color. Shiha Tea & Comfort order-made the style that has Satsuma's decorative beauty & blank beauty. Having tea with this cup, hand painted decoration of the flower with dark tone of the color with gold bring you inner joy, blank space gives you calmness. The color of the body is warm and the crazing on the surface, in total, bring you a certain kind of fullness feeling. Inside of the cup also has decoration, so that when you look into the cup to see color of tea, the flowers also catch your eyes.
The design on the cup is combination of Shippo pattern (rim , indigo blue, white, gold ) and small chrysanthemum. The style of art is like the one often seen in art-craft in Meiji era of Japan. This cups gives impression of old time of Japan.
It comes with wood box. This is a tea cup for good tea time and also very nice present for a tea lover.
The box says "guinomi" that means cup for Sake. This size of cups is good for sake and tea.
Other types