White Plum Ume flolwer, red clay smoked black, full Engraved carving Japanese Tokoname, Kyusu Teapot, Morishita Munenori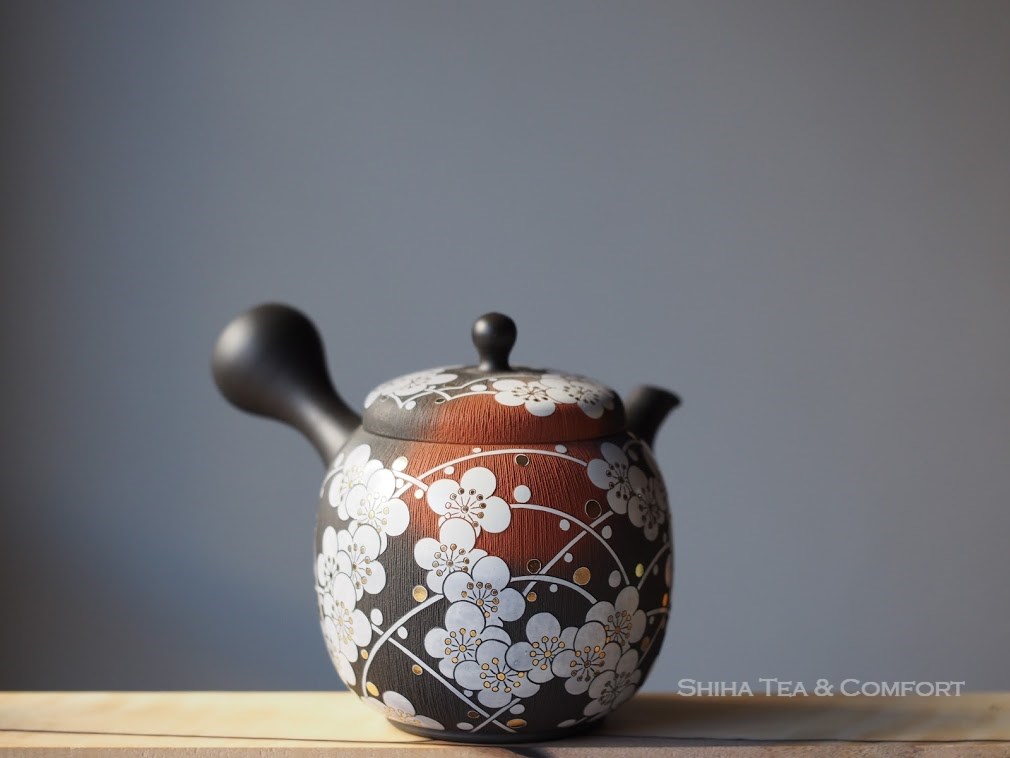 White Plum Ume flolwer emboss (浮雕) on black Kyusu teapot with red accent. Gold dots are charming and make it look gorgeous. The body is fully carved with horizontal lines. Plum flowers in blossom at spring night, it is like Mid spring in night's dream.
The artist Munenori is a teapot artist in Tokoname Japan. He does forming , designing and carving by himself. While most of artists make teapot but not carve, it is usually 2 artist's collaboration work to make carving teapot.
Embossed white flower is Munenori's long year style. Beautiful and gorgeous art on unglazed natural clay teapot. His precise carving and harmonious beauty is breathtaking.
This is red clay teapot, that is smoked (reduction firing) to black. You can see red and black natural gradation. (red part is not smoked) It is artistic teapot but also it has perfect function in brewing tea, such as good water flow, easy to hold and handle, lid is tight , no glazing inside (tea and water touches clay – make tea taste good).

Online Store: https://shihateapot.com
Online Store: https://shihateacomfort.shop