Suzu Yaki Woodfired Black Teapot SHINOHARA TAKASHI 珠洲篠原敬 (Made in Suzu Japan)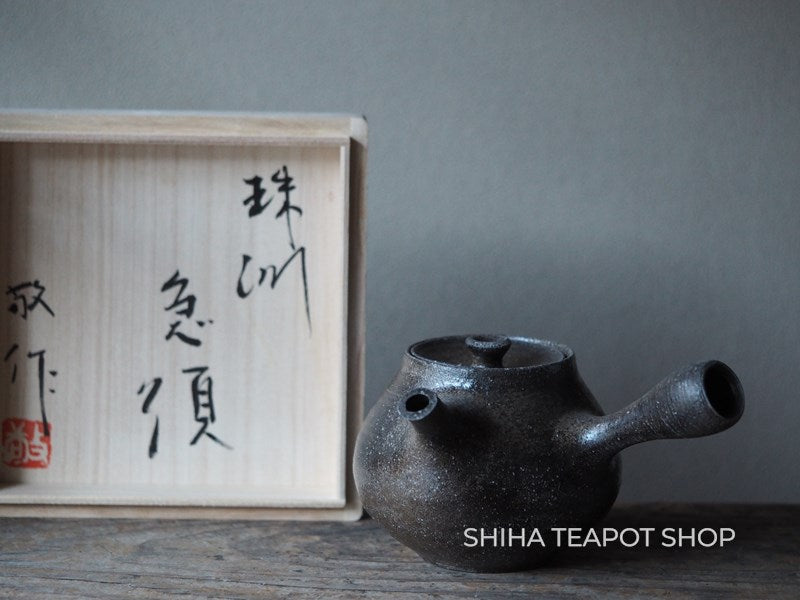 SHIHA TEAPOT SHOP Online Store: https://shihateapot.com
Suzu Ware (Suzuyaki)by Shinohara Takashi.
Shinohara Takashi's works has feeling of Zen. 
He used to be a monk, he started make pottery to express his inner world on his pottery. His works are quiet and give you calmness.
This is fired in wood-fire kiln. The black body has rich texture on the surface. 
The shape, color of the body, fly ash..  it is beautiful and touch to your heart.
Shine of the surface is made during firing due to high temperature in the kiln.
This item was made in early summer. After that a strong earthquake hit Suzu city in June, 2022. Shinohara Takashi's studio and kiln got damaged and hundreds of his works were broken. Fortunately some teaware like this item were safe and now we could introduce it on our shop. This is a report from his studio https://shihateapot.com/blogs/news/eathquake-suzu
About SuzuYaki ware (Black Wood-fired Pottery in Japan) in our website
https://shihateacomfort.com/oldsuzu
About Shinohara Takashi & His works on our website